Eugenio and his family are heading to Jamaica for some family relaxation and to try to forget the chaos of previous trips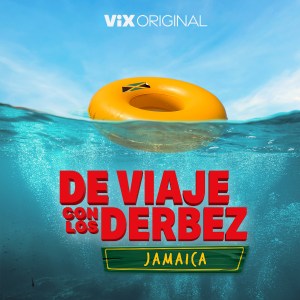 MIAMI – MARCH 3, 2023 – ViX+, the premium subscription level of streaming service ViX, announced today that season 3 of the documentary comedy series DE VIAJE CON LOS DERBEZ will premiere April 7 in the U.S. (including Puerto Rico) with two new episodes every week. In Mexico and more than 240 countries and territories, it will be available on Prime Video.
Following previous seasons, in which Eugenio Derbez led exotic and chaotic adventures, this time the family goes with Aislinn's plan to travel to a destination where they could enjoy themselves, have fun together and lower the level of craziness of prior trips. But this apparently relaxing plan will morph into delightful, surprise-filled chaos.
On this new season, our favorite family will travel to Jamaica, once again allowing their day-to-day dynamics to be captured on camera along with their most joyous and intimate moments during this adventure on the Caribbean Island.
DE VIAJE CON LOS DERBEZ is a six half-hour episodes documentary comedy (with an additional review episode) that follows one of Spanish-language TV's most-loved showbiz families as they travel together. The cast includes Eugenio Derbez, his wife, Alessandra Rosaldo, and their young daughter Aitana, as well as Eugenio's older kids: actress Aislinn Derbez and actors Vadhir and José Eduardo. The first two seasons of DE VIAJE CON LOS DERBEZ are currently available in the U.S on ViX+.
The series is produced by Eugenio Derbez and Ben Odell's 3Pas Studios, in association with Lionsgate Television, with Javier Williams and Nick Lee of 3Pas as showrunners. Aislinn Derbez's Ais Ais Baby Media Corporation is also a producer. Executive producers are Eugenio Derbez, Ben Odell, Javier Williams, Nick Lee and Aislinn Derbez. Visceral, 3Pas Studios' Mexican production company, oversaw physical production under the direction of Williams and executive producer Pablo Calasso.
3Pas and TelevisaUnivision currently have a first-look agreement that includes the creation of scripted and unscripted original projects in Spanish for ViX+, including "They Came at Night" (provisional title), a project in which Derbez will star.
DE VIAJE CON LOS DERBEZ premieres April 7 exclusively on ViX+ in the U.S. (including Puerto Rico), while in Mexico and 240 countries and territories it will only be available on Prime Video.
ViX+ offers subscribers more than 10,000 hours of premium content, with more than 70 ViX+ original series and films set to premiere the first year. ViX+ is available by subscription in the U.S., Mexico and Spanish-speaking Latin America on the web at VIXplus.com and through the ViX app on a variety of platforms and devices, including phones, smart TVs and digital subscription services.
Join the conversation using hashtags #vixplus and #DeViajeConLosDerbez, and follow ViX+ on Instagram, Twitter, Facebook and TikTok.
Click here to download image.
CONTACT:
U.S. and Puerto Rico
Casandra Blanco, Cmblanco@univision.net
###
 ¡VÁMONOS DE VIAJE CON LOS DERBEZ A… JAMAICA!
Eugenio y su familia viajarán a Jamaica para intentar relajarse juntos e intentar olvidarse del caos de los viajes anteriores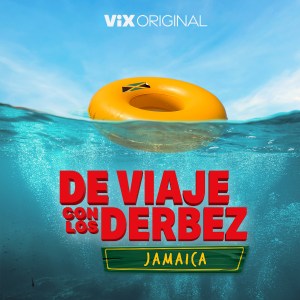 MIAMI – MARZO 3, 2023 – ViX+, el nivel premium por suscripción del servicio de streaming ViX, anunció hoy que la tercera temporada de la serie documental de comedia DE VIAJE CON LOS DERBEZ estrenará el próximo 7 de abril en Estados Unidos (incluyendo Puerto Rico) con dos nuevos episodios semanales. En México y en más de 240 países y territorios estará disponible a través de Prime Video.
Después de las temporadas anteriores en las que las exóticas y caóticas aventuras fueron lideradas por Eugenio Derbez, esta vez la familia se une al plan que Aislinn tenía pensado para viajar a un destino en el que puedan divertirse, pasarla bien juntos y bajarle a la locura de los viajes anteriores. Pero este plan aparentemente relajante se convertirá en un divertido caos lleno de sorpresas.
En esta nueva temporada nuestra querida familia viajará a Jamaica, dejando que las cámaras documenten nuevamente sus dinámicas día a día, así como sus momentos más divertidos e íntimos durante esta aventura en la isla del Caribe.
DE VIAJE CON LOS DERBEZ es una serie documental de comedia de seis episodios (con uno adicional de recuento) de media hora, que sigue a una de las familias más queridas del entretenimiento en la televisión hispanohablante, mientras viajan juntos. El elenco incluye a Eugenio Derbez, a su esposa Alessandra Rosaldo y a su joven hija Aitana, así como a los hijos mayores de Eugenio: la actriz Aislinn Derbez y los actores Vadhir y José Eduardo. Las dos primeras temporadas de DE VIAJE CON LOS DERBEZ están ya disponibles en Estados Unidos por ViX+.
La serie es producida por 3Pas Studios, de Eugenio Derbez y Ben Odell, en asociación con Lionsgate Television, con Javier Williams y Nick Lee, de 3Pas, como showrunners. También produce Ais Ais Baby Media Corporation de Aislinn Derbez. Eugenio Derbez, Ben Odell, Javier Williams, Nick Lee y Aislinn Derbez son productores ejecutivos. La compañía de producción de 3Pas Studios en México, Visceral, se encargó de la producción física bajo la dirección de Williams y Pablo Calasso como productor ejecutivo.
3Pas y TelevisaUnivision tienen actualmente un acuerdo de first-look (acceso preferencial) que incluye la creación de proyectos originales en español con y sin guion para ViX+, dentro de los cuales se anunció "They came at night" (título provisional), una comedia que será protagonizada por el mismo Derbez.
DE VIAJE CON LOS DERBEZ estrenará en exclusiva a través de ViX+ en Estados Unidos (incluyendo Puerto Rico) el próximo 7 de abril, mientras que en México y en más de 240 países y territorios estará disponible únicamente a través de Prime Video.
ViX+ ofrece a los suscriptores más de 10.000 horas de contenido premium incluidas más de 70 series y películas originales de ViX+, a estrenar durante el primer año. ViX+ está disponible mediante suscripción en EE.UU., México y América Latina de habla hispana a través de la web en ViXplus.com y desde la aplicación ViX en una variedad de plataformas y dispositivos tales como teléfonos y televisores inteligentes y servicios de suscripción digital.
Únete a la conversación con los hashtags #vixplus #DeViajeConLosDerbez y siga a ViX+ en Instagram, Twitter, Facebook,TikTok.
Haz clic aquí para descargar imagen.
CONTACTO:
Estados Unidos y Puerto Rico
Casandra Blanco, Cmblanco@univision.net  
###