Starring Natalia Tellez and Daniel Tovar, the romatic comedy will premiere exclusively on ViX+ on November 23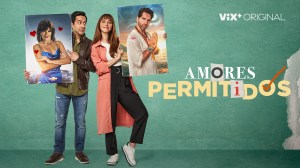 Click here for the movie's first trailer
MIAMI – NOVEMBER 18, 2022 – ViX+, TelevisaUnivision's premium Spanish-language subscription streaming service, today released  AMORES PERMITIDOS' trailer, providing a glimpse into the romantic comedy starring Natalia Tellez and Daniel Tovar. The original production will premiere exclusively on ViX+ on November 23.
AMORES PERMITIDOS mixes romance and comedy as it follows the story of Rodrigo and Gabriela, a couple who have been dating for several years. At times, their relationship seems more like best friends than a couple, but deep down, Rodrigo and Gabriela love each other more than anything. Their daily life is disrupted when their best friends, Luz and Jorge, ask them who their "allowed" would be. That is, who could they sleep with without arousing the other's anger? They both have it very clear; for Rodrigo it would be the famous actress Macarena Barrios while for Gabriela it would be life coach Manuel Jaliffe. What seems like an innocent chat between friends turns into a comedy that will change the course of their lives, when Rodrigo accidentally meets Macarena. The film keeps you guessing about what next twist the story might take.
Directed by Mexican Raúl Martínez, the original film will also feature Clara Lago, Veronica Bravo, Daniel Garcia, Mara Escalante, Miguel Burra, Arap Bethke and Erica Buenfil. 
Click here to download assets.
ViX+ offers subscribers more than 10,000 hours of premium content, including more than 70 ViX+ original series and movies scheduled for release during its first year. ViX+ is available by subscription in the United States, Mexico and most Spanish-speaking countries in Latin America through the web at vixplus.com and the ViX app on various entertainment platforms and devices such as smartphones, connected TVs and digital subscription services.
Join the conversation with the hashtag #ViXplus and follow ViX+ on Instagram, Twitter, Facebook and TikTok.
Visit televisaunivision.com for more information about TelevisaUnivision and follow us on Twitter.
CONTACTS: 
United States:
Estefania Diaz-Balart, ediazbalart@televisaunivision.net
Mexico:
Lorena Ruvalcaba,  alruvalcabago@televisa.com.mx
###
ViX+ revela tráiler de AMORES PERMITIDOS 
Protagonizada por Natalia Tellez y Daniel Tovar, la comedia romántica se estrenará exclusivamente en ViX+ el 23 de noviembre
Haga clic aquí para ver el tráiler de la película.
MIAMI – 18 DE NOVIEMBRE DE 2022 – ViX+, el servicio premium de streaming en español bajo subscripción de TelevisaUnivision, reveló hoy el tráiler de AMORES PERMITIDOS, con un avance de  la comedia romántica protagonizada por Natalia Tellez y Daniel Tovar. La producción original llegará exclusivamente a ViX+ el 23 de noviembre.
AMORES PERMITIDOS mezcla romance y comedia al seguir la historia de Rodrigo y Gabriela, una pareja que ha estado saliendo por varios años. Por momentos, su relación parece más de mejores amigos que de pareja, pero en el fondo, Rodrigo y Gabriela se aman más que nada. Su día a día se ve interrumpido cuando sus mejores amigos, Luz y Jorge, les preguntan quiénes serían sus "permitidos". Es decir, ¿con quién podrían acostarse sin despertar la ira del otro? Ambos lo tienen muy claro; para Rodrigo sería la famosa actriz Macarena Barrios mientras que para Gabriela sería el coach personal Manuel Jaliffe. Lo que parece una inocente charla entre amigos se convierte en una comedia que cambiará el rumbo de sus vidas, cuando Rodrigo conoce accidentalmente a Macarena. La película te mantiene adivinando qué próximo giro podría tomar la historia.
Dirigida por el mexicano Raúl Martínez, la película original también contará conClara Lago, Verónica Bravo, Daniel García, Mara Escalante, Miguel Burra, Arap Bethke y Erica Buenfil.
Haz clic aquí para descargar imágenes
ViX+ ofrece a los suscriptores más de 10,000 horas de contenido premium, incluidas las más de 70 series y películas originales ViX+ que se tiene programado estrenar durante su primer año. ViX+ está disponible por suscripción en Estados Unidos, México y la mayoría de los países hispanohablantes de Latinoamérica, a través de la página web vixplus.com y la app de ViX en diversas plataformas de entretenimiento y dispositivos como teléfonos inteligentes, televisores conectados y servicios de suscripciones digitales.
Únete a la conversación con el hashtag #ViXplus y sigue a ViX+ en Instagram, Twitter, Facebook y TikTok.
Visita televisaunivision.com para más información sobre TelevisaUnivision y síguenos en Twitter.
CONTACTOS: 
Estados Unidos:
Estefania Diaz-Balart ediazbalart@televisaunivision.net
México
Lorena Ruvalcaba,  alruvalcabago@televisa.com.mx
###