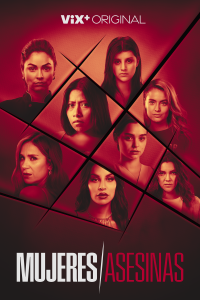 Click here to download key art
MIAMI – October 26, 2022 – The new version of the hit psychological dramaMUJERES ASESINAS will premiere exclusively on ViX+ on November 4.  The award-winning anthology that became one of the most popular series on Mexican television returns with a stellar cast and prominent writers and directors. The reimagined version of MUJERES ASESINAS will premiere a new episode every week:
Episode 1: "Las Golondrinas"  starring Macarena García – November 4
Episode 2: "La Niña Ladrona" starring Barbie Casillas – November 11
Episode 3: "La Insomne" starring Yalitza Aparicio – November 18
Episode 4: "Llámame Paula" starring Jedet – November 25
Episode 5: "Las Bodas de Plata" starring Catherine Siachoque – December 2
Episode 6: "Como Hermanas" starring Nicole Curiel – December 9
Episode 7: "La Chef" starring Claudia Martin – December 16
Episode 8: "La Condena" starring Sara Maldonado – December 23
Written by renowned Spanish writer Alicia Luna and inspired by Marissa Grinstein's book "Mujeres Asesinas," the original series features the stories of eight women who did not live simple, peaceful or happy lives. They dealt with violent partners, manipulative fathers or mothers, hostile bosses, and humiliating situations. All of them tried to improve their lives and failed. Without the resources or psychological help, they reached the limit, and jail or death was less terrifying than continuing to endure their situation. Pepe Castro, Carlos García Agraz, and Ana Lorena Peréz-Rios are the directors and Francisco Casasús Fernández, Rafael Cuadros Valle and Luis Luisillo Miguel serve as executive producers. MUJERES ASESINAS is a production of Plétora Productions.
ViX+ offers subscribers more than 10,000 hours of premium content, including more than 70 ViX+ Originals series and movies set to debut in its first year. Subscription to ViX+ is available in the U.S., Mexico, and most of Spanish-speaking Latin America via web at vixplus.com and through ViX app on a variety of entertainment platforms and devices, including smartphones, connected TVs and digital subscription services.
Join the conversation using the hashtag #ViXplus and follow ViX+ on Instagram, Twitter, Facebook and TikTok.
Visit televisaunivision.com for more information on TelevisaUnivision and follow us on Twitter and Instagram.
CONTACTS:
United States and Latin America
Casandra Blanco, cmblanco@univision.net
Mexico
Sandra Oropeza, soropezagonzalez@univision.net
###
La nueva versión de MUJERES ASESINAS se estrenará exclusivamente en ViX+ el 4 de noviembre con nuevos episodios cada semana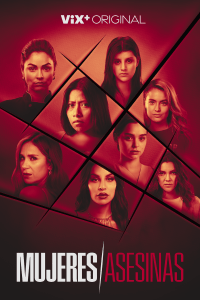 Haz clic aquí para descargar el póster
MIAMI – 26 de octubre de 2022– La nueva versión del popular drama sicológico MUJERES ASESINAS se estrenará exclusivamente en ViX+ el 4 de noviembre.  La galardonada antología que llegó a ser una de las más populares series de la televisión mexicana volverá con un elenco estelar y destacados guionistas y directores. Con la nueva versión de MUJERES ASESINAS se estrenará un episodio cada semana:
Episodio 1: "Las golondrinas" con la protagonista Macarena García – 4 de noviembre
Episodio 2: "La niña ladrona" con la protagonista Barbie Casillas – 11 de noviembre
Episodio 3: "La insomne" con la protagonista Yalitza Aparicio – 18 de noviembre
Episodio 4: "Llámame Paula" con la protagonista Jedet – 25 de noviembre
Episodio 5: "Las bodas de plata" con la protagonista Catherine Siachoque – 2 de diciembre
Episodio 6: "Como hermanas" con la protagonista Nicole Curiel – 9 de diciembre
Episodio 7: "La chef" con la protagonista Claudia Martin – 16 de diciembre
Episodio 8: "La condena" con la protagonista Sara Maldonado – 23 de diciembre
Escrita por la renombrada guionista Alicia Luna e inspirada en el libro "Mujeres asesinas" de Marissa Grinstein, la serie original presentará historias de ocho mujeres que no llevaron vidas sencillas, serenas ni felices. Enfrentaron parejas violentas, padres manipuladores, jefes hostiles y situaciones humillantes. Todas trataron sin éxito de mejorar su vida. Sin los recursos ni ayuda sicológica, llegaron a su límite, y la cárcel o la muerte les pareció menos aterradora que seguir soportando su situación. Pepe Castro, Carlos García Agraz y Ana Lorena Peréz-Ríos son los directores, y Francisco Casasús Fernández, Rafael Cuadros Valle y Luis Luisillo Miguel son los productores ejecutivos. MUJERES ASESINAS es una producción de Plétora Productions.
ViX+ ofrece a los suscriptores más de 10,000 horas de contenido premium, incluidas más de 70 series y películas originales de ViX+ que se tiene programado estrenar durante su primer año. ViX+ está disponible con suscripción en Estados Unidos, México y la mayoría de los países hispanohablantes de Latinoamérica en internet en vixplus.com y con la aplicación ViX en diversas plataformas de entretenimiento y dispositivos como teléfonos inteligentes, televisores conectados y servicios digitales con suscripción.
Participe en la conversación usando el hashtag #ViXplus y siga ViX+ en Instagram, Twitter, Facebook y TikTok.
Visite televisaunivision.com para más información en TelevisaUnivision y síganos en Twitter e Instagram.
CONTACTOS:
Estados Unidos y Latinoamérica
Casandra Blanco, cmblanco@univision.net
México
Sandra Oropeza, soropezagonzalez@univision.net
###