A new wave of Latin American horror writers and directors will present nine disturbing stories based on scripts from the mythic series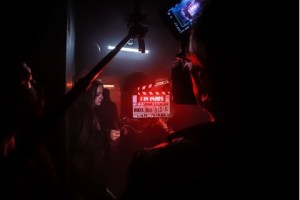 MIAMI, FL. – OCTOBER 12, 2022 – ViX+, the Spanish-language premium streaming subscription service, announced today the start of filming in Mexico City of a new version of the horror series that impacted several generations, LA HORA MARCADA. Produced by W Studios's Patricio Wills and Carlos Bardasano, the new ViX+ Original series will present a contemporary version of the classic show, which was an incubator for filmmakers who have achieved international success.
In this new interpretation, nine creative teams took the original scripts from LA HORA MARCADA as a basis for developing their vision of the iconic program. As a result, nine episodes capture and update the essence of the original series for the 21st Century creating a unique universe for each episode. Produced by Abe Rosenberg, this version features scripts from Latin American writers including Abia Castillo, Freddy Chávez, Josh Candia, Luis Reséndiz, Ramiro García Bogliano and Tomás Downey.
LA HORA MARCADA, which premiered more than 30 years ago, launched the careers of Alfonso Cuarón, Carlos Cuarón, Emmanuel Lubezki and Guillermo del Toro. Even today, the show is considered a cult hit among Spanish-speaking audiences and is held in high esteem by the community of horror creators and fans. That has allowed the signing of established moviemakers and promising young Latin American horror creators to give new life to the series. Among those creators: Andrés Beltran, Adrián García Bogliano, Andrés Rothschild, Gigi Saul Guerrero, Isaac Ezban, Laura Casabé, Lex Ortega, Michelle Garza Cervera and Roque Falabella.
"I am proud to make a reimagined version of the series that was an icon on Mexican TV in the '80s and was also the platform for the greatest talents in Mexico who later achieved international recognition," said Patricio Wills, president of W Studios. "Producing the series today with all the new technological resources and the best writers and directors of the suspense and horror genre in the world in Spanish is a privilege for W Studios and me personally."
On LA HORA MARCADA, as in life, everyone's days are numbered. Even though we may live as if our supply of minutes were limitless, our time is set, and the end often takes us by surprise. The premise of this anthology series will be simple: every episode will be independent, giving directors and writers complete freedom to explore blood-curdling visual environments, terror-inducing cases and heady social issues within the broadly defined limits of the science fiction and horror genres.
LA HORA MARCADA was broadcast on Televisa from 1988 to 1990 and produced by Carmen Armendáriz. The show had a key presence, known as "the woman in black," who appeared in every episode to decide the destiny of the characters. The stories were original and sought to convey fear to the audience while dealing with science fiction, horror or fantasy themes. In addition, the series launched the careers of Mexico's most acclaimed filmmakers. Today, LA HORA MARCADA is preparing a comeback, with established talents and promising young artists creating new frights for our times.
ViX+ offers subscribers more than 10,000 hours of premium content, including more than 70 ViX+ original series and movies scheduled for release during its first year. ViX+ is available by subscription in the United States, Mexico and most Spanish-speaking countries in Latin America through the web at vixplus.com and the ViX app on various entertainment platforms and devices such as smartphones, connected TVs and digital subscription services.
Join the conversation using hashtag #ViXplus and follow ViX+ on Instagram, Twitter, Facebook and TikTok.
Click here to download images.
Visit televisaunivision.com for more information on TelevisaUnivision and follow us on Twitter and Instagram.
CONTACTS:
United States and Latin America
Tatiana Oviedo, toviedo@univision.net
Mexico
Sandra Oropeza, soropezagonzalez@univision.net
###
ViX+ inicia grabaciones de LA HORA MARCADA, una renovada antología de cuentos sobre nuestros miedos
Una nueva ola de directores y escritores latinoamericanos del género horror presentarán nueve perturbadoras historias basadas en los guiones de la mítica serie
MIAMI, FL. – 12 DE OCTUBRE DE 2022 – ViX+, el servicio premium de streaming en español por suscripción, anunció hoy el inicio de grabaciones en la Ciudad de México de una nueva versión de la serie de horror que impactó a varias generaciones, LA HORA MARCADA. Producida por Patricio Wills y Carlos Bardasano de W Studios, la nueva serie ViX+ Original presentará una versión contemporánea del clásico programa que fue semillero de cineastas que alcanzaron éxito internacional.
En esta nueva interpretación, nueve equipos creativos tomaron como base los guiones originales de LA HORA MARCADA para desarrollar su visión de este icónico programa. El resultado son nueve episodios que capturan y actualizan la esencia de la serie original para el siglo XXI, creando un universo visualmente único para cada capítulo. Con Abe Rosenberg en la producción, esta versión cuenta con guiones de escritores latinoamericanos tales como Abia Castillo, Freddy Chávez, Josh Candia, Luis Reséndiz, Ramiro García Bogliano y Tomás Downey.
Estrenada hace más de treinta años la primera versión de LA HORA MARCADA lanzó las carreras de Alfonso Cuarón, Carlos Cuarón, Emmanuel Lubezki y Guillermo del Toro. Hasta hoy, el show se considera de culto entre la audiencia hispanohablante y cuenta con un enorme prestigio en la comunidad de creadores y aficionados al horror. Esto ha permitido fichar a cineastas consolidados y jóvenes promesas del horror latinoamericano para darle nueva vida a la serie. Entre estos creadores se encuentran directores como Andrés Beltran, Adrián García Bogliano, Andrés Rothschild, Gigi Saul Guerrero, Issac Ezban, Laura Casabé, Lex Ortega, Michelle Garza Cervera y Roque Falabella.
"Es un orgullo realizar una versión renovada de la serie que fue ícono en la TV mexicana de los 80's y además fue la plataforma donde se dieron los mayores talentos de México que posteriormente alcanzaron reconocimiento internacional", dijo Patricio Wills, presidente de W Studios. "Producir la serie hoy con todos los recursos tecnológicos y los mejores escritores y directores del género de suspenso y terror del mundo en español es un privilegio para W Studios y para mí en lo personal".
En LA HORA MARCADA, como en la vida, todo el mundo tiene el tiempo contado. Aunque vivamos como si nuestros minutos fueran eternos, nuestra hora está marcada y el final a menudo nos toma por sorpresa. En esta serie antológica la premisa será sencilla: cada episodio será independiente, dando a los directores y escritores total libertad para explorar atmósferas visuales espeluznantes, casos aterradores y temas sociales embriagadores dentro de los límites imprecisos de los géneros de ciencia ficción y terror.
La versión original de LA HORA MARCADA fue transmitida por Televisa durante los años 1988 a 1990, producida por Carmen Armendáriz. El programa tenía una presencia clave, conocida como "La mujer de negro", que aparecía en cada episodio para marcar el destino de los personajes. Las historias eran originales y buscaban transmitir miedo a la audiencia, pudiéndose tratar temas de ciencia ficción, terror o fantasía.  Además, la serie lanzó las carreras de los cineastas más aclamados de México. Hoy, LA HORA MARCADA prepara su regreso, con talentos consolidados y jóvenes promesas creando nuevas historias de horror para nuestros tiempos.
ViX+ ofrece a los suscriptores más de 10,000 horas de contenido premium, incluidas las más de 70 series y películas originales ViX+ que se tiene programado estrenar durante su primer año. ViX+ está disponible por suscripción en Estados Unidos, México y la mayoría de los países hispanohablantes de Latinoamérica, a través de la página web vixplus.com y la app de ViX en diversas plataformas de entretenimiento y dispositivos como teléfonos inteligentes, televisores conectados y servicios de suscripciones digitales.
Participa en la conversación con el hashtag #ViXplus y sigue a ViX+ en Instagram, Twitter, Facebook, TikTok.
Haz clic aquí para descargar imágenes.
Visite televisaunivision.com para más información sobre TelevisaUnivision y síganos en Twitter e Instagram.
Contactos:
Estados Unidos y Latinoamérica
Tatiana Oviedo, toviedo@univision.net
México
Sandra Oropeza, soropezagonzalez@univision.net
###