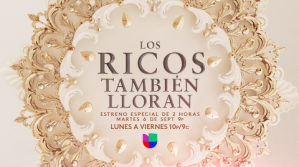 Click HERE for promo
MIAMI, FL.  – September 6, 2022 – One of the most iconic stories of all time is coming to Univision. LOS RICOS TAMBIEN LLORAN (THE RICH ALSO CRY) premieres tonight, September 6, during a two-hour special event, starting at 9 p.m. ET. Viewers can tune in to the show regularly Monday through Friday at 10 p.m. ET starting September 7. Don't miss Claudia Martín and Sebastián Rulli take on the iconic roles of Mariana and Luis Alberto as they overcome obstacles in this unforgettable remake involving love, tragedy and deceit.
WHEN: Tuesday, September 6 at 9 p.m. ET
WHERE: Univision
ADDITIONAL INFORMATION: Viewers can join the conversation on social media by following the hashtag #LosRicosTambienLloranUS on Facebook, Instagram and Twitter. For more information visit Univision.com
Visit televisaunivision.com for more information about TelevisaUnivision and you can follow us on Instagram and Twitter.
CONTACT:
Casandra Blanco cmblanco@univision.net
###
LOS RICOS TAMBIEN LLORAN estrena en un especial de dos horas esta noche a las 9 p.m./10c por Univision

Haz clic aqui para descargar material de promoción
MIAMI, FL. – 6 de septiembre de 2022 – Una de las historias más icónica de los tiempos llega a Univision. LOS RICOS TAMBIEN LLORAN, se estrena hoy, 6 de septiembre, durante un estreno especial de dos horas, que empieza a las 9 p.m. ET. Los espectadores pueden sintonizar el programa regularmente de lunes a viernes a las 10 p.m. ET a partir del 7 de septiembre. No te pierdas a Claudia Martín y Sebastián Rulli asumir los papeles icónicos de Mariana y Luis Alberto mientras superan obstáculos en esta inolvidable nueva versión que involucra amor, tragedia y engaño.
CUANDO: martes, 6 de septiembre a las 9 p.m. ET/ 8 CT
DÓNDE: Univision
INFORMACIÓN ADICIONAL: Los espectadores pueden unirse a la conversación en las redes sociales siguiendo el hashtag #LosRicosTambienLloranUS en Facebook, Instagram y Twitter. Para más información visita Univision.com.
Visiten televisaunivision.com para más información sobre TelevisaUnivision y pueden seguirnos en Instagram y Twitter.
CONTACT: 
Casandra Blanco cmblanco@univision.net
###