This limited series is the first ViX+ title as part of a deal with THE IMMIGRANT to produce Spanish-language scripted content
Paulina Dávila, Alicia Jaziz, and Christopher Von Uckermann star in the new original production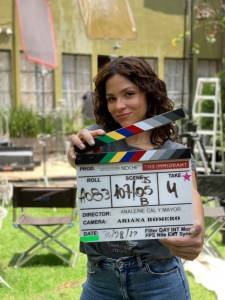 MIAMI – AUGUST 30, 2022 – TelevisaUnivision, the world's leading Spanish-language content and media company, today announced the start of production in Mexico City of "UNA NOCHE" (One Night, working title), an exclusive thriller series for ViX+, the recently launched premium Spanish-language subscription streaming service. Produced by THE IMMIGRANT, the production company founded by "El Chapo" producer Camila Jimenez and creator Silvana Aguirre, "UNA NOCHE" is the first title to go in production as part of a deal between THE IMMIGRANT'S and ViX+ to develop original scripted content. THE IMMIGRANT and ViX+ are currently developing two additional series under the deal.
Directed by Inés Barrionuevo, Analeine Cal y Mayor, and Cris Gris and written by Adriana Pelusi ("Control Z," "Rosario Tijeras," "El Hubiera Sí Existe"), the original production stars Paulina Dávila ("Luis Miguel, La Serie", "La Hora Cero," "El Comandante") Alicia Jaziz ("Ingobernable," "Caer en Tentación"), and Christopher Von Uckermann ("Diablero").
"We are excited to partner with the talented team at THE IMMIGRANT to tell diverse, compelling stories like 'Una Noche,'" said Rodrigo Mazón, executive vice president and general manager of ViX+. "This gripping limited series wraps you up in the story while exploring complex social topics. 'Una Noche' ultimately delivers a story of hope by showing how a sisterhood between two women of different generations can help them both move forward."
"'Una Noche' puts a twist on a classical 'whodunit' and turns it into a 'who's lying.' The poignant writing of Adriana Pelusi and the sensitive vision of our directors Inés Barrionuevo, Analeine Cal y Mayor and Cris Gris allow us to deliver on these themes in a way that will have audiences at the edge of their seats," said Silvana Aguirre, head of Development and co-founder of THE IMMIGRANT.
"Una Noche" delves into the story of Carla, a young high school teacher tasked with investigating sexual harassment accusations against one of her fellow teachers and friend, Ricardo. The accusations shock the school and its community, as Ricardo is a beloved teacher. Instinctively, Carla is hesitant to believe them, especially as they have been brought forward by Daniela, a complicated and troublesome student in the school. As the case unravels and the plot twists and turns, Carla relives haunting memories from her own teenage years. While searching for justice in the present, Carla tries to heal her past.
Co-founded by Camila Jimenez and Silvana Aguirre, THE IMMIGRANT recently partnered with Fremantle (producer and distributor of The X Factor and the Young Pope) and BRON Ventures (producers of Joker, Bombshell, and Euphoria). Previously, Jimenez executively produced projects such as El Chapo and Murder Mountain. Together the co-founders have written and produced over 60 hours of scripted content and created some of the largest Hispanic and Latinx TV content that is currently available.
ViX+ is available in the U.S., Mexico, and most of Spanish-speaking Latin America by subscription, online at vixplus.com and via the ViX app, on a variety of platforms and devices, including Mobile: Apple iOS and Android; connected TV: Fire TV, Google TV, Android TV OS, Apple TV, Roku, Samsung TV, DISH TV, and digital subscriptions: Prime Video Channels, YouTube TV, SLING TV, and izzi (only available in Mexico).
Join the conversation using the hashtag #ViXplus and follow ViX+ on Instagram, Twitter, Facebook, TikTok.
Click here to download images.
Visit televisaunivision.com for more information on TelevisaUnivision and follow us on Twitter and Instagram.
CONTACTS:
United States and Latin America
Tatiana Oviedo, toviedo@univision.net
Mexico
Sandra Oropeza, soropezag@univsion.net
###
"UNA NOCHE", la Serie Exclusiva de Suspenso de ViX+ Empieza Grabaciones en México 
Esta serie limitada es el primer título de ViX+ como parte del acuerdo con THE IMMIGRANT para crear contenido en español
Paulina Dávila, Alicia Jaziz y Christopher Von Uckermann son protagonistas de la nueva producción original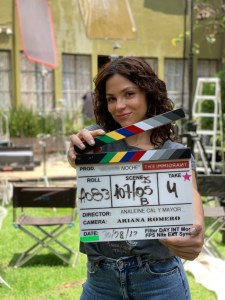 MIAMI –30 DE AGOSTO DE 2022– TelevisaUnivision, la compañía líder de medios y contenido en español en el mundo, anunció hoy el inicio de grabación en la Ciudad de México de "UNA NOCHE" (título provisional), una serie de suspenso exclusiva para ViX+, el servicio premium de streaming con suscripción en español que se acaba de lanzar. "UNA NOCHE" es el primer título en iniciar producción como parte del acuerdo entre THE IMMIGRANT, empresa fundada por la productora Camila Jiménez y la creadora Silvana Aguirre de "El Chapo", y ViX+ para crear contenido original. THE IMMIGRANT y ViX+  también están desarrollando dos otras series como parte del acuerdo.
Dirigida por Inés Barrionuevo, Analeine Cal y Mayor y Cris Gris, y escrita por Adriana Pelusi ("Control Z", "Rosario Tijeras", "El hubiera sí existe"), la producción original tiene como protagonistas a Paulina Dávila ("Luis Miguel", La serie", "La hora cero", ""El comandante") Alicia Jaziz ("Ingobernable", "Caer en tentación") y Christopher Von Uckermann ("Diablero").
"Estamos entusiasmados de colaborar con el talentoso equipo de THE IMMIGRANT para contar historias interesantes y con diversidad, tales como 'Una noche'", dijo Rodrigo Mazón, executive vice president y general manager de ViX+. "Esta fascinante serie limitada hace que la historia te cautive mientras explora complejos temas sociales. Al final de cuentas, 'Una noche' presenta un relato de esperanza al mostrar que la hermandad entre dos mujeres de diferentes generaciones puede ayudar a ambas a seguir adelante".
"'Una Noche' pone un giro en el clásico "whodunit" para convertirlo en un "who's lying": la brillante escritura de Adriana Pelusi y la sensibilidad en la visión de nuestras directoras, Inés Barrionuevo, Analeine Cal y Mayor y Cris Gris, nos permiten abordar estos temas de una manera que hará que las audiencias estén en vilo", dijo Silvana Aguirre, directora de Desarrollo y cofundadora de THE IMMIGRANT.
"Una noche" explora la historia de Carla, una joven maestra de secundaria a quien se le encarga investigar acusaciones de acoso sexual contra un colega y amigo, Ricardo. Las acusaciones sorprenden mucho a la escuela y su comunidad, pues Ricardo es un maestro muy querido. Por instinto, Carla no quiere creerlas, en particular porque las hizo Daniela, una alumna complicada y problemática en la escuela. A medida que desenmaraña el caso y con los giros de la trama, Carla vuelve a recordar su adolescencia. Mientras busca la justicia en el presente, Carla trata de sanar de lo pasado.
Camila Jiménez y Silvana Aguirre son las cofundadoras de THE IMMIGRANT y recientemente iniciaron una colaboración con Fremantle (productor y distribuidor de The X Factor y Young Pope) y BRON Ventures (productores de Joker, Bombshell y Euphoria). Anteriormente, Jiménez fue la productora ejecutiva de proyectos como El Chapo y Murder Mountain. Juntas, las cofundadoras han escrito y producido más de 60 horas de contenido con guion y han creado algunos de los programas de televisión en español más extensos entre el material actualmente disponible.
ViX+ está disponible por suscripción en Estados Unidos, México y la mayoría de los países hispanohablantes de Latinoamérica, por internet en vixplus.com y vía el app de ViX en varias plataformas y dispositivos, entre ellos: móviles: Apple iOS y Android; televisores conectados: Fire TV, Google TV, Android TV OS, Apple TV, Roku, Samsung TV, DISH TV y suscripciones digitales: Prime Video Channels, YouTube TV, SLING TV e izzi (solo en México).
Participa en la conversación con el hashtag #ViXplus y sigue a ViX+ en Instagram, Twitter, Facebook, TikTok.
Haga clic aquí para descargar imágenes.
Visite televisaunivision.com para más información sobre TelevisaUnivision y síganos en Twitter e Instagram.
CONTACTOS:
Estados Unidos y Latinoamérica
Tatiana Oviedo, toviedo@univision.net
México
Sandra Oropeza, soropezag@univsion.net
###