Univision Noticias Political Panelist Vianca Rodriguez to Participate in FreedomWorks Event in West Palm Beach to Discuss State of the Nation
Vianca Rodriguez, a political panelist from ViX's news debate show LINEA DE FUEGO will join a panel to discuss the economy, crime and safety, and education.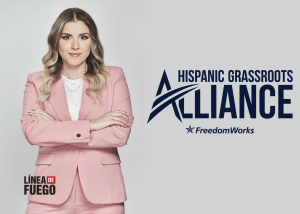 WEST PALM BEACH – AUGUST 17 – On Thursday, August 18, Vianca Rodriguez, an on-air political panelist on ViX's late-night debate show LINEA DE FUEGO will join the Hispanic Grassroots Alliance event organized by FreedomWorks – a conservative and libertarian grassroots advocacy group focused on helping concerned citizens hold their elected officials accountable – taking place in West Palm Beach, Florida.
The Hispanic Grassroots Alliance event will focus on elevating the voices of Hispanic leaders and having discussions and presentations focused on the economy and state of the nation.
Rodriguez will participate in a panel moderated by FreedomWorks' Communications Director, Peter Vicenczi – the panelists include FreedomWorks' Vice President of Legislative Affairs, Cesar Ybarra; Pastor Lydia Maldonado; Minister Martha Fierro. Rodriguez and panelists will discuss the economy, crime and safety, and education throughout the panel. In addition, Rodriguez will offer her insight as a political panelist who often discusses these issues on LINEA DE FUEGO, a bipartisan debate news program, with her colleagues, Adonias Arevalo, Franklin Camargo, and Janelle Rodriguez. The program streams on ViX Monday through Friday at 10 p.m. ET and is moderated by journalist Luis Carlos Vélez. 
Rodriguez, one of Univision Noticias' newer talents, is a political panelist who freelanced in various news programs across Hispanic networks prior to joining Univision Noticias. She graduated from Arizona State University with a Bachelor of Arts in Political Science.
Contact: Daniela Perez daperez@univision.net

About Univision News
TelevisaUnivision's award-winning News division is committed to informing one of the country's fastest-growing segments of the population across all media platforms, including TV, Radio, and Digital. Hispanics count on the latest and most relevant content that impacts the community through: "Noticiero Univision," the Network's noon, evening, late evening and weekend national newscast; Sunday public affairs program "Al Punto" (To The Point); newsmagazine shows "Aquí y Ahora" (Here and Now) and "Primer Impacto" (First Impact); as well as morning news segments on "Despierta América" (Wake Up America), and its newly launched streaming news channel "Noticias Univision 24/7" on ViX. Univision has strengthened its news team and expanded its news operations by adding Investigative, fact-checking, and Infographics Units.

About TelevisaUnivision
As the leading Spanish-language media and content company in the world, TelevisaUnivision features the largest library of owned content and industry-leading production capabilities that power its streaming, digital and linear television offerings, as well as its radio platforms. The Company's media portfolio includes the top-rated broadcast networks Univision and UniMás in the U.S. and Las Estrellas and Canal 5 in Mexico. TelevisaUnivision is home to 36 Spanish-language cable networks, including Galavisión and TUDN, the No. 1 Spanish-language sports network in the U.S. and Mexico. With the most compelling portfolio of Spanish-language sports rights in the world, TelevisaUnivision has solidified its position as the Home of Soccer. TelevisaUnivision also owns and manages 59 television stations across the U.S. and four broadcast channels in Mexico affiliated with 222 television stations, Videocine studio, and Uforia, the Home of Latin Music, which encompasses 57 owned or operated U.S. radio stations, a live event series and a robust digital audio footprint. TelevisaUnivision is home to the global streaming services ViX and Blim TV, which altogether host over 50,000 hours of high-quality, original Spanish-language programming from distinguished producers and top talent. The company's prominent digital assets include Univision.com, Univision NOW, and several top-rated digital apps. For more information, visit televisaunivision.com. 

###
Univision Noticias panelista política participará en evento de FreedomWorks en West Palm Beach para hablar sobre el estado de la nación
Vianca Rodríguez, panelista política de LINEA DE FUEGO , el programa de debate nocturno de ViX, se unirá a un panel para discutir la economía, el crimen y la seguridad, y la educación.
WEST PALM BEACH – 17 DE AGOSTO – El jueves 18 de agosto, Vianca Rodríguez, panelista política en el aire en el programa de debate nocturno LINEA DE FUEGO de ViX se unirá a el evento Hispanic Grassroots Alliance organizado por la organización FreedomWorks – un grupo de abogacía de base de base conservador y libertario centrado en ayudar a los ciudadanos preocupados a responsabilizar a sus funcionarios electos – en West Palm Beach, Florida.
El evento de Hispanic Grassroots Alliance se centrará en elevar las voces de los líderes hispanos y en tener discusiones y presentaciones enfocadas en la economía y el estado de la nación.
Rodríguez participará en un panel moderado por el Director de Comunicaciones de FreedomWorks, Peter Vicenczi; los panelistas incluyen al Vicepresidente de Asuntos Legislativos de FreedomWorks, César Ybarra; la pastora Lydia Maldonado; Ministra Marta Fierro. Rodríguez y los panelistas discutirán la economía, el crimen y la seguridad, y la educación a lo largo del panel. Además, Rodríguez ofrecerá su visión como panelista política que a menudo discute estos temas en LINEA DE FUEGO, un programa de noticias de debate biparista, con sus colegas, Adonias Arévalo, Franklin Camargo y Janelle Rodríguez. El programa, transmitido por ViX de lunes a viernes a las 10 p.m. ET – es moderado por el periodista Luis Carlos Vélez.
Rodríguez, uno de los nuevos talentos de Univision Noticias, es panelista política y trabajó de forma independiente en varios programas de noticias en las cadenas hispanas antes de unirse a Univision Noticias. Se graduó de la Universidad Estatal de Arizona con una Licenciatura en Ciencias Políticas.
Contacto: Daniela Perez daperez@univision.net
Acerca de Noticias Univision
La galardonada división de Noticias de TelevisaUnivision se compromete a informar a uno de los segmentos de la población de más rápido crecimiento del país en todas las plataformas de medios, incluidas TV, Radio y Digital. Los hispanos cuentan con el contenido más reciente y relevante que impacta a la comunidad a través de: "Noticiero Univision", el noticiero nacional del mediodía, la tarde, la noche y los fines de semana de la Cadena; programa dominical de asuntos públicos "Al Punto"; los noticieros "Aquí y Ahora" y "Primer Impacto"; así como segmentos de noticias matutinas en "Despierta América" (Wake Up America), y su nuevo canal de transmisión de noticias "Noticias Univision 24/7" en ViX. Univision ha fortalecido su equipo de noticias y ha ampliado sus operaciones de noticias al agregar unidades de investigación, verificación de datos e infografía.
Sobre TelevisaUnivision
Como la compañía líder de contenidos y medios en español en el mundo, TelevisaUnivision cuenta con la biblioteca de contenido propio más grande y capacidad de producción líder en la industria, mismas que impulsan sus ofertas de transmisión digital y lineal, así como sus plataformas de radio. La cartera de medios de la Compañía incluye las cadenas de transmisión líderes Univision y UniMás en Estados Unidos, y Las Estrellas y Canal 5 en México. TelevisaUnivision es el hogar de 36 canales de televisión de paga en español, incluidos Galavisión y TUDN, el canal de deportes en español número 1 en Estados Unidos y en México. Con la cartera de derechos deportivos en español más atractiva del mundo, TelevisaUnivision ha consolidado su posición como la Casa del Fútbol. TelevisaUnivision también posee y administra 59 estaciones de televisión en Estados Unidos y cuatro canales de transmisión en México con 222 estaciones de televisión asociadas, los estudios de Videocine y Uforia, the Home of Latin Music, que abarca 57 estaciones de radio propias u operadas en Estados Unidos, una serie de eventos en vivo y una sólida huella de audio digital. TelevisaUnivision es el hogar de los servicios de transmisión digital premium ViX y Blim TV, que en conjunto presentan más de 50,000 horas de programación original en español de alta calidad de productores distinguidos y talento destacado. Los activos digitales más relevantes de la empresa incluyen Univision.com, Univision NOW y varias aplicaciones digitales de primera categoría. Para obtener más información, visite www.televisaunivision.com.