By Georg Szalai
The Spanish-language broadcaster, led by CEO Randy Falco and eyeing an IPO, provides its latest financial update.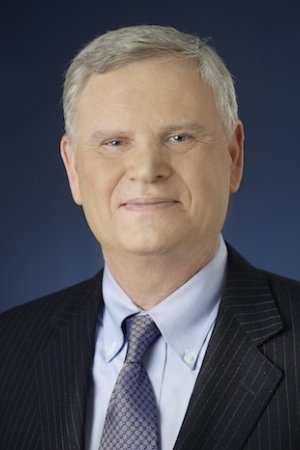 Univision Communications CEO Randy Falco
Univision Communications on Tuesday said it swung to a fourth-quarter profit amid lower impairment losses and lower interest expense and other items.
Its revenue edged up only slightly as higher subscriber fees and a gain in content licensing revenue was mostly offset by lower "other" revenue "primarily due to revenue associated with special events in 2014 that did not reoccur in 2015 and other contractual revenue decreases." And its programming costs increased as content companies across the industry continue to spend more on shows they hope will draw a bigger audience.
The Spanish-language media giant, which is planning an IPO, posted earnings of $8.8 million for the fourth quarter, compared with a year-ago loss of $136.2 million. Quarterly operating earnings of $90.3 million compared with a year-ago loss of $88.2 million. Adjusted operating income before depreciation and amortization (OIBDA), another profitability metric, rose 2.7 percent to $335.2 million.
Quarterly revenue climbed 1.1 percent to $735.9 million. Advertising revenue edged up just 0.1 percent to $502.2 million amid lower political and advocacy advertising, while subscriber fee and content licensing revenue on a combined basis rose 3.4 percent to $233.7 million. Subscriber fee revenue was the key driver with an increase of 8.5 percent to $183.2 million "primarily due to contractual rate increases and additional distribution of the Univision Deportes network.
Direct operating expenses related to programming, excluding variable program license fees, increased 9.3 percent to $133.5 million in the latest quarter. The company said that was "primarily due to an increase in entertainment programming costs of $8.3 million and an increase in other programming costs of $3.1 million."
The firm's media networks unit posted an adjusted OIBDA gain of 4 percent, with revenue up 2.8 percent. But radio OIBDA dropped 13 percent as revenue fell 12.2 percent driven by lower advertising and contractual revenue.
Univision, whose chairman is Haim Saban, operates such assets as broadcast networks Univision Network and UniMas, formerly Telefutura, as well as cable channel Galavision and sports network Univision Deportes. Univision earlier this year also acquired a stake in the company behind satirical news outlet The Onion.
The company filed for an IPO last summer, but the company's plans to go public have been delayed amid Wall Street jitters related to cord-cutting, audience fragmentation and other challenges faced by the TV industry. The company's private equity owners have been looking at ways to exit their investment. Univision has been privately held since a $12 billion buyout in 2007 by Thomas H. Lee Partners, Providence Equity Partners, Madison Dearborn Partners, TPG Capital and Saban Capital Group.
"We expanded our total unduplicated average monthly audience reach to 49 million media consumers across platforms – a 9 percent increase over the same period last year," said Univision president and CEO Randy Falco. "As the most trusted brand in Hispanic America, we remain focused on delivering a Univision branded experience to our audience across our multiple platforms,
including our strengthened cable portfolio and new direct-to-consumer offerings such as Univision Now."
He added: "As we look ahead, we are focused on continuing to drive innovation and enhance our distribution platform as we inform, entertain and empower a young, dynamic multicultural community that has increasing political and economic influence."
Source: The Hollywood Reporter