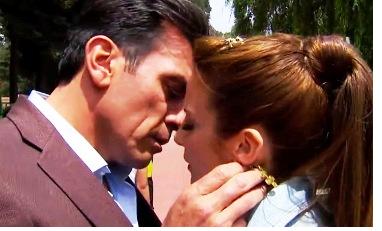 Mi Corazón es tuyo
This year Spanish-language broadcast was dominated by two shows, both of them on Univision.
That's according to Nielsen's list of top 10 regularly scheduled Spanish-language programs for the year (through Nov. 8), which was made up entirely of just two of the networks telenovelas.
"Mi Corazon es Tuyo" topped the list, claiming the top five spots (each night of a novela was classified as its own program).
The Tuesday night edition of "Corazon" was No. 1 for the year, averaging 3.73 million total viewers and a 7.5 rating among total viewers.
The Wednesday edition of the novela was No. 2 for the year with 3.66 million total viewers, followed by the Monday edition (3.61 million), the Thursday edition (3.60 million) and the Friday edition (3.54 million).
"Corazon" is a Mexican novela that stars Silvia Navarro and Jorge Salinas and premiered in the U.S. in July 2014 before wrapping up its run on March 27 of this year.
Meanwhile, the five editions of Univision's "Hasta el Fin del Mundo" claimed Nos. 6-10 for the year, led by the Monday edition at No. 6 with an average of 3.31 million total viewers.
The other four editions of the novela averaged between 3.19 million and 3.29 million viewers per night.
"Mundo" is also a Mexican novela, premiering in August of last year and finishing on May 15 of this year. It stars Marjorie de Sousa, David Zepeda, Claudia Álvarez and Diego Olivera.
Source: Medialife Magazine