Metea Students and Univision News Anchor Enrique Rodriguez Celebrate Latino Heritage
By Jane Donahue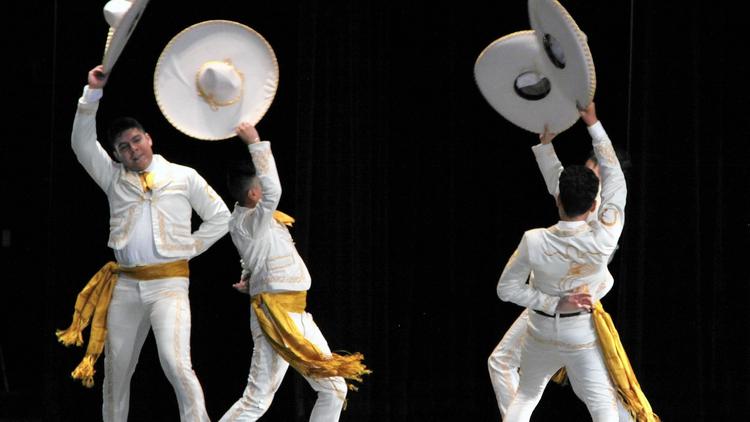 Metea Valley High School in Aurora recently celebrated its inaugural Latino Heritage Month recognition
---
More than 600 students and faculty members gathered at Metea Valley High School recently for the inaugural Latino Heritage Month celebration. The Mustang community – including future Mustangs from both Granger and Hill middle schools – were entertained by Latino dance troupe Ballet Folklorico Quetzalcoatl and inspired by Univision television anchor Enrique Rodriguez.
Jen Rowe, Metea's dean of students and coordinator of the "Honoring our heritage, building our future" event said learning about other cultures is critical for today's students.
"In order for us to have a more tolerant and accepting world, it's important for us to take that leap and learn about different people," Rowe said. "Sometimes we make judgments about things we don't know anything about; this way, we are able to experience something, learn about a different community and their traditions.
Principal Darrell Echols shared the sentiment. "As the most diverse high school in (Indian Prairie School) District 204, our staff and students have grown to expect us to recognize and celebrate different cultures and customs," Echols said. "These events are important because they give us all a different perspective into the Latino culture that is steadily rising in our area and our nation."
Sophomore Sebastian Duplessis said he appreciated the event because when students learn about other cultures, they gain a better understanding and appreciation for others. "Not only are the dancers from Ballet Folklorico celebrating their culture, they are teaching non-Latinos how amazing Hispanic culture can be," Duplessis said.
Following the dance performance, the Emmy-award winning TV journalist Enrique Rodriguez captivated the crowd with an inspiring message about never giving up and following your dreams. Born in Mexico, Rodriguez immigrated to the United States in 1985 with his family and encountered many obstacles on the way to becoming a successful journalist.
"I felt (Rodriguez') story was very inspiring since he was undocumented and was able to keep looking forward and not let his past control his future," said 15-year-old Alejandra Cavazos. "He was able to graduate college after all that was going on and now he's part of one of the biggest Hispanic TV chains, and I find that really inspiring." Cavazos said Rodriguez' story is an important one, and it's not simply for Latinos. "People who are part of the Hispanic culture – and everyone in general – often need the reminder that it's possible to make it when you're struggling because of the stereotypes that society has put on us," Cavazos said. "It also helps inspire students because it shows how you can achieve your dreams if you keep looking forward and not let common stereotypes define you."
Jane Donahue is a freelance reporter for the Naperville Sun.
Copyright © 2015, Naperville Sun
Source: Chicago Tribune
###