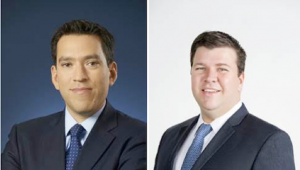 By Veronica Villafañe
Univision Deportes today announced two key appointments aimed at strengthening the division's efforts. Eric Conrad has been named Senior Vice President of Programming and Acquisitions and Olek Loewenstein is Senior Vice President of Strategy and Operations, effectively immediately.
Both will report directly to Juan Carlos Rodríguez, President of Univision Deportes.
As SVP, Programming & Acquisitions, Conrad will spearhead all sports programming, acquisitions and content development operations across Univision Deportes platforms.
He joined UCI in 2011 as VP of programming. He led the Univision Deportes' coordination of the World Cup and other FIFA properties and was instrumental to the successful launch of UDN (Univision Deportes Network).
Before joining Univision Deportes, Conrad was Senior Director of Programming and Acquisitions for ESPN and ESPN Deportes, and held a sales and marketing role at Major League Baseball (MLB).
Loewenstein will lead operations for sports, including strategic initiatives focused on the growth and profitability of Univision Deportes' content offerings and improving the audience experience across platforms.
He joined UCI in 2012 as VP of Planning for Univision Deportes and has managed planning of events including the CONCACAF Gold Cup and FIFA World Cup.
Prior to joining Univision Deportes, Loewenstein was with Samsung's global strategy group in Seoul, South Korea, working directly with the office of the chairman, overseeing and developing strategic initiatives across the world.
Source: Media Moves