by Rick Jervis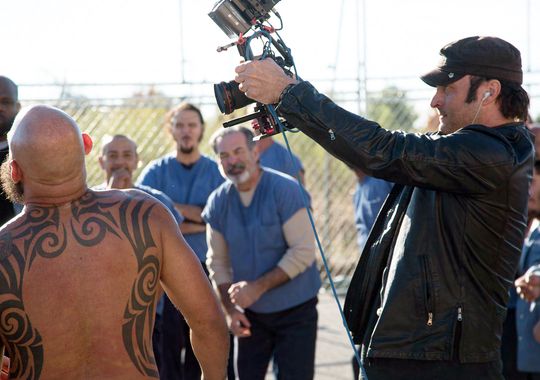 This image released by the El Rey Network shows director Robert Rodriguez on the set of "From Dusk Till Dawn: The Series," premiering Tuesday, March 11, 2014, at 9 p.m. EDT. (AP Photo/El Rey Network) ORG XMIT: NYET520 (Photo: AP)
AUSTIN — Robert Rodriguez has slain vampires, fought the undead, shot at Mexican cartels and blown up criminal thugs.
Now, the famed filmmaker known for his action-packed flicks faces one of the more daunting challenges of his career: delivering original English-language TV programming to the 55 million Hispanics living in the United States.
Through his El Rey cable network, Rodriguez, known for hit movies such as Desperado, Spy Kids and Sin City, is looking to put more Latinos behind and in front of the camera and give voice to the country's fast-growing Hispanic population.
El Rey (Spanish for "the king") was conceived two years ago after Comcast agreed to carry several minority-owned channels as part of its deal to take over NBC Universal.
Rodriguez landed one and has made it into his personal visual mixtape, boasting a blend of Kung Fu flicks, Miami Vice reruns, cult horror movies and original scripted programming such as From Dusk Till Dawn: The Series, an offshoot of the 1996 crime-vampire flick Rodriguez made with director Quentin Tarantino. The TV series, shot on location around Texas and at Troublemaker Studios in Austin, launches its second season Aug. 25.
"I have five kids and they don't see themselves represented in media," said Rodriguez, 47, who is from San Antonio and of Mexican descent. "I knew this is a way I could create new voices, new people, more Robert Rodriguezes, more people who could go tell these stories that need to be told."
Rodriguez burst into the Hollywood scene two decades ago when he famously made his first movie, El Mariachi, for $7,000 while a 23-year-old film student at the University of Texas, and parlayed it into a multimovie deal at Columbia Pictures. He stayed in Austin, conceiving his Troublemaker Studios in the city's east side, and followed with hits like Desperado, Sin City and the Spy Kids franchise.
For his latest project, Rodriguez partnered with Spanish-language media giant Univision Communications and received a $130 million cash infusion, allowing him to spend $3.5 million per episode on From Dusk Till Dawn, as much as comparable shows on bigger networks, he said. Today, El Rey reaches 40 million homes through carriers such as DirecTV, Time Warner Cable and DISH Network, Rodriguez said.
"When you create a show and have your own distribution system where you can go right into people's homes, that's a (complete) media company," he said.
The network still has its work cut out. Through June, El Rey averaged 33,000 prime-time viewers, well behind networks with similar programming, such as Spike TV, which averages 790,000 prime-time viewers, or FX with 1.2 million, according to Nielsen NNTV.
But it's delivering something fairly unprecedented in the cable TV universe: original English-language programming aimed at U.S. Hispanic Millennials, said Alex Nogales, chief executive of the National Hispanic Media Coalition, a California-based group that monitors Latino representation and depiction in film and TV. For years, TV networks have underrepresented or mostly ignored the rapidly growing English-speaking Hispanic community, he said.
Even though Latinos make up nearly 18% of the population, they account for less than 6% of talent in front of the camera on entertainment-based TV shows and even less on news broadcasts, Nogales said. Other cable channels such as NuvoTV and California-based LATV have attempted to deliver bilingual programming to the U.S. masses. But they've mostly shied away from original, scripted programming, which tends to be more expensive to produce, he said.
"What Robert's attempting to do is really different than what has gone before him," Nogales said. "He needs to make a success out of it — not just for himself, but for the Latino community as a whole."
Advertisers are also closely watching El Rey, said Alex López Negrete, president and CEO of Lopez Negrete Communications, a Houston-based Hispanic marketing firm. U.S. Hispanics have a collective buying power of $1.2 trillion, according to Nielsen.
"My gut is that as El Rey gains more steam, you'll see more and more networks going after this," he said.
Rodriguez is quick to point out that El Rey is more than a niche "Latino network," as it offers a wide array of programming with general appeal to many audiences. But U.S. Hispanics — and particularly U.S. Hispanic Millennials, those between the ages of 18 and 34 — are becoming the "new mainstream," a fast-growing community of educated, English-speaking, technologically savvy citizens permeating all corners of society, he said.
He hopes El Rey untangles a conundrum that has dogged him throughout his two-decade career: Why aren't there more Latinos in Hollywood? The problem, he said, lies in an identity crisis among U.S. Latinos who too often don't see themselves in the movies, TV shows and online videos they consume.
"They don't have a real identity, because they don't see it reflected anywhere," Rodriguez said. "It's a huge problem that's going to grow if media doesn't change."
To that end, El Rey is launching the "People's Network" as a way for aspiring Latino filmmakers to submit their work and have it appear on the network.
"Before, they didn't have a place to go," Rodriguez said. "That's a place they can go now. That could change the whole thing."
On a recent day of shooting From Dusk Till Dawn's second season, a former trailer warehouse in East Austin was transformed into a truck stop/vampire's lair. The show's main stars — the Gecko brothers, played by actors D.J. Cotrona and Zane Holtz — wrestled on the dusty floor as Rodriguez viewed the action behind twin monitors. Pacing around the set and occasionally barking out lines was Carlos Coto, an executive producer and showrunner on the series.
During a break in the action, Coto, who is from Florida and of Cuban descent, explained how the series has roots in ancient Aztec and Mayan mythology — instead of the usual Bible or Tolkien myths found in other productions — and sprinkled with songs by Cuban crooner Beny Moré.
"There's all kinds of stuff in there, not only from my Cuban past but everything else I'm passionate about," Coto said. "We're just dropping it in there. And it works."
Jesse Garcia, who plays Texas Ranger Freddie Gonzalez in the show, also watched from behind the camera. He marveled at being part of an effort led by Rodriguez, manned by Latinos and aimed at U.S. Hispanics.
"There's often the discussion within the Latino community that we're not getting enough opportunities to be in front of the camera, behind the camera, behind the scenes," he said. "Robert's actually providing the solution. He's making stuff happen."
Source: USA Today