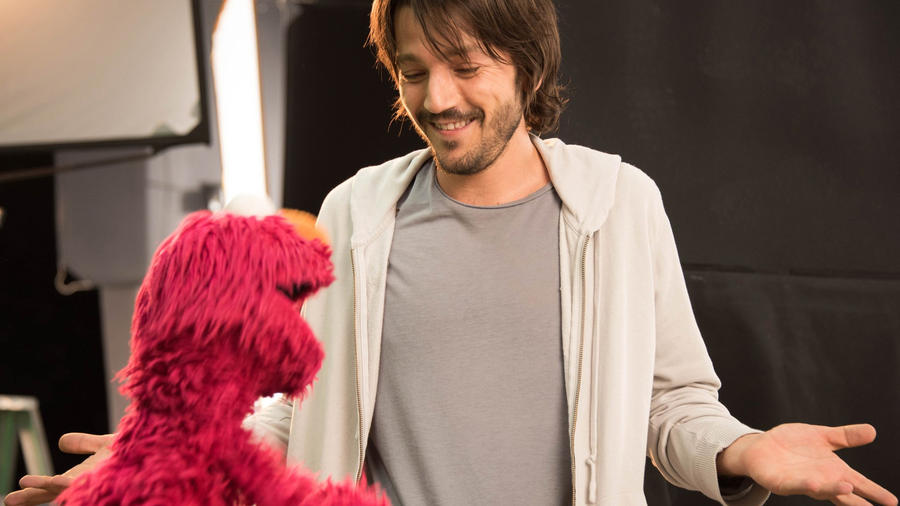 Actor Diego Luna appears with muppet character Elmo on the new Spanish-language series "Sesame Amigos," debuting Aug. 1 on Univision. (Sesame Workshop / Univision / AP)
---
By Nardine Saad
"Sesame Street" is getting a Spanish-language makeover at Univision, which is launching a new show called "Sesame Amigos" for Spanish-speaking U.S. audiences.
The 30-minute series, produced by the original series' Sesame Workshop, will debut Aug. 1 with 26 episodes during Saturday morning's Planeta U children's programming block.
The show will feature similar learning games and adventures as the PBS program to encourage preschooler to learn, dance and play.
Familiar faces include beloved characters Elmo, Cookie Monster, Bert and Ernie and Rosita who will be joined by several Latino celebrities and Univision personalities, including Diego Luna, Carlos Calderon, Tony Dandrades and Pablo Ramirez.
Univision is the fifth-largest U.S. broadcaster with 2.8 million nightly viewers, and this move appears to be the network's latest to capitalize on and serve its bilingual audience.
"While versions of 'Sesame Street' air in more than 150 countries, 'Sesame Amigos' will provide Spanish-speaking preschoolers the tools they need to succeed in the United States," Alberto Ciurana, president of Univision's programming and content, said in a statement.
The garden and the back of 123 Sesame Street. Sesame Workshop has revamped the long-running show's sets in order to give kids "a sense of place."
Sesame Workshop COO Steve Youngwood said the show will further the nonprofit organization's mission of "helping kids grow smarter, stronger and kinder by reaching new Hispanic audiences with our funny, furry content and characters in ways that reflect their language and culture."
Source: Los Angeles Times