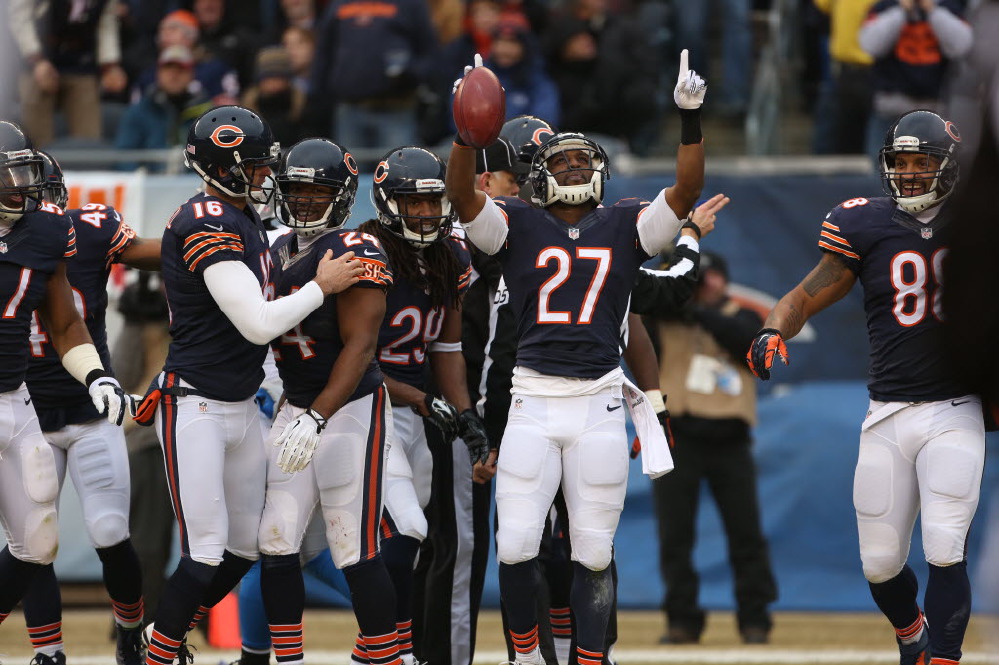 Sherrick McManis celebrates a recovered punt by the Bears in the fourth quarter in Sunday's final home game, December 21, 2014. | Jessica Koscielniak / Sun-Times
The Bears announced a new multi-year, Spanish-language radio partnership with Univision on Monday to provide simulcast coverage of all preseason, regular season and playoff games on WVIV-FM 93.5/103.1 FM and WRTO-AM Univision America 1200.
The stations will become the new Spanish-language home of the Bears, replacing 107.9 FM La Ley, with the on-air team of Hector Lozano and Omar Ramos.
"Chicagoland's Hispanic population continues to be a major focus for us," Bears Vice President of Sales and Marketing Chris Hibbs said in a statement. "We're committed to creating more and better content that speaks to them in their language and fits their lifestyle. We want to be an active member in the Hispanic community. It is important for us to create a connection at an early age and grow the relationship. This partnership with Univision not only strengthens our audio platform across their broadcasts, but in Univision we have a terrific community partner that can help us engage across multiple channels and touch points. We're really enthusiastic about our future with them."
"Working together with the talented group at the Chicago Bears allows us to continue to innovate ways to create exciting content for our audiences and effective ways for our advertisers to connect with the large number of Hispanic consumers," said Doug Levy, Senior Vice President/General Manager of Univision Local Media Chicago, in a statement. "We couldn't be more excited about our new partnership."
Source: Chicago Sun-Times
###