Univision Deportes Brings Fantasy Soccer to the U.S. New league based on Mexico's Liga MX
By Tim Baysinger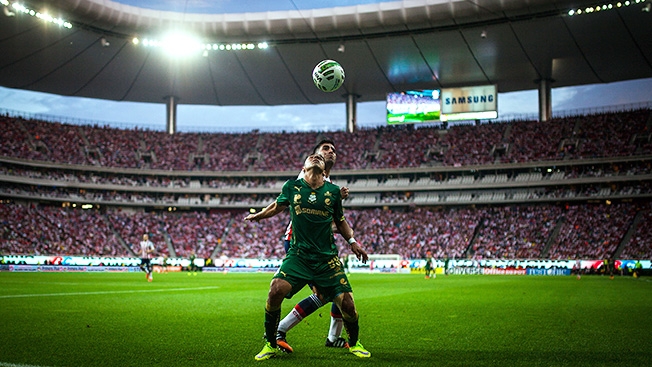 Soccer fans will have another reason to follow Liga MX this season. Getty Images
Unision Deportes is looking to capitalize on the burgeoning and lucrative world of fantasy sports, launching a fantasy soccer league in the U.S.
Univision Deportes Fantasy marks the first time the sport has had its own fantasy league stateside, a result of the growing popularity of soccer in recent years. The final of the Women's World Cup earlier this month drew 25.4 million viewers to Fox, though that was likely boosted by having the U.S. team in, and subsequently winning, the final.
The fantasy league will be based on Mexico's Liga MX, which kicks off its season Friday and is the most-watched league in the U.S.
Univision Deportes' on-air talent, including Adriana Monsalve, Felix Fernandez, Rodolfo Landeros, Hristo Stoichkov and Jorge Calvo, will compete in Univision Deportes Fantasy as well as their own league.
Univision has partnered with WorldSoccerShop.com to offer prizes including personalized soccer scarves and weekly cash payouts of $100. A grand prize at the end of the season includes an all-expenses-paid trip to the network's sports-awards show Premios Deportes and a spot in the 2016 fantasy talent league.
"We are proud to be the first to bring soccer fans this new way to engage with their favorite sport," said Juan Carlos Rodriguez, president of Univision Deportes. "Univision Deportes is the home of soccer 365 days a year, and we are passionate about delivering the overall soccer experience that our fans want."
This is not the first time Univision Deportes has tried to appeal to millennial audiences—soccer is one of the youngest-skewing sports in the U.S.—by offering more online engagement. The Spanish-language broadcaster partnered with Snapchat earlier this year to share highlights from a U.S.-Mexico match on the social-media platform.
Source: Adweek