By René A. Guzman
---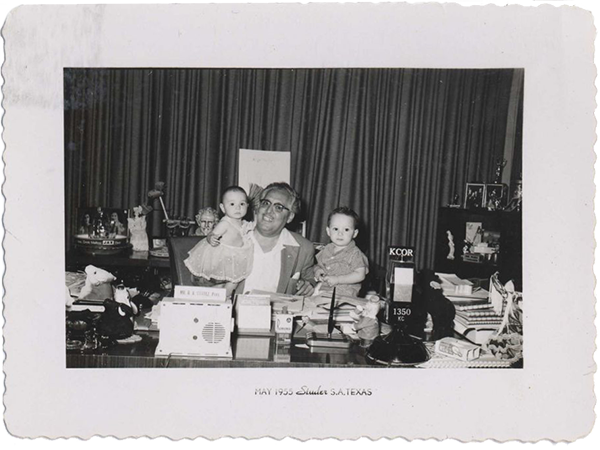 Photo: Courtesy Guillermo Nicolas Raoul Cortez (center) with grandchildren Miriam Nicolas Relyea and Emilio Nicolas Jr. in 1955. That year, Cortez launched KCOR-TV in San Antonio, the first Spanish language TV station in the United States.
---
For Emilio Nicolas Sr., Spanish-language television has long been about more than just entertaining and educating la gente, the collective community of Mexican-Americans he's long worked to see represented in mass media. It's also about familia.
After all, it was Nicolas' father-in-law, Raoul Cortez, who launched KCOR-TV, the nation's first Spanish-language TV station. KCOR-TV went on the air June 10, 1955, in San Antonio — less than a decade after Cortez brought KCOR-AM to the airwaves as the nation's first full-time Spanish radio station.
And it was Nicolas who took over the financially struggling TV station in 1961 to rebuild it as KWEX — a vital cog in the Spanish International Network, or SIN, a precursor to the powerhouse network that is now Univision.
That history-making TV station, now known as Univision 41 San Antonio, will celebrate its 60th anniversary with a small concert party Friday at Market Square, followed by a bigger public bash Sunday at Traders Village.
The Culture of San Antonio
Meanwhile, the retired 84-year-old Nicolas will attend a special ceremony in honor of "American Enterprise," a new exhibit at the Smithsonian's American History Museum in Washington, D.C., that traces the country's growth from a small, dependent nation to a major global economy. The exhibit will include photos and other mementos from KCOR-TV and its radio predecessor, with both Cortez and Nicolas represented.
That's the kind of recognition for history, for family, that Nicolas sees every time he walks into the library of his large Olmos Park home. There sits a framed black-and-white photo of Cortez with his wife, Genoveva, a reminder of the man who birthed a television industry and who invited his young son-in-law, then a medical research student, to take it to new heights.
"Mr. Cortez, my father-in-law, was the real pioneer of Spanish radio and Spanish television in the United States," said Nicolas, his voice a raspy, almost reverent whisper. "He was very active as a Mexican-American, for Mexican-American causes, always. He always had the voice of the people."
And he had the airwaves in his blood.
Cortez was born in 1905 in Xalapa, Veracruz, Mexico, one of nine siblings. His father was a radio man in Laredo. On the Spanish International Network Television website (sintv.org), Cortez's grandson Guillermo Nicolas recalls how Cortez sold eggs on the streets of Nuevo Laredo to earn money for airtime on local radio stations, where he would produce a variety hour in which he sold advertising to begin building his own media business.
Cortez would keep up that work ethic when he moved to San Antonio, be it dressing up windows in Penner's men's store or reporting for La Prensa, so he could raise cash for airtime on radio station KMAC, again to produce his own Spanish-language variety hour and sell ad time for his shows.
That initiative spurred Cortez to apply for his own radio license in 1944. The Spanish radio station KCOR-AM crackled to life in 1946. The station — and its call letters taken from Cortez's name — lives on at AM 1350.
Cortez would build a radio vanguard with the "Sombrero" radio network, a chain of stations across the country aimed at improving and promoting radio broadcasts.
Cortez built on that success with the launch of KCOR-TV in 1955 as not only the nation's first Spanish-language TV station, but also the city's first UHF channel. The TV station was based in a two-story studio for the production of local shows and a local newscast. It was situated just below the KCOR radio station.
Cultivating a Spanish-language TV station in a predominately English-speaking medium proved challenging. KCOR-TV could afford only five hours of daily programming. And with TV sets at the time only made to receive VHF channels, viewers had to buy UHF converters and antennas to access channels 14 and higher, which included KCOR-TV Channel 41.
By 1961, a weary Cortez approached a consortium of interested investors, which included his son-in-law Nicolas, a native of Ciudad Frontera, Coahuila, Mexico.
Along with Mexican entertainment mogul Emilio Azcárraga Vidaurreta, business partner Rene Anselmo and a handful of others, Nicolas purchased the TV station in '61 and renamed it KWEX, a nod to "Don Emilio" Azcárraga's XEW radio station in Mexico City.
As KWEX general manager, Nicolas went to Washington along with Anselmo to lobby Congress to make TV manufacturers offer converters and antennas for UHF channels. Anselmo would later go to New York in 1963 to manage SIN.
For years, KCOR and then KWEX aired numerous live news and variety programs, with announcers such as César Camacho, Carlos García, the first news director for KCOR, Lydia D'Garay and Carolina Villalongín. The fledgling station initially worked with just a single RCA camera.
"We used that one camera to do miracles," Nicolas said.
Andrés Ricardo Morín contributed his share of that magic. Morín joined KWEX in 1963, and wore the hats of camera operator, floor manager, booth announcer, newscaster and weatherman. He retired from the station in 2005, though he still speaks of it with an affectionate "we."
"That's what Mr. Cortez wanted — to serve the community," Morín said. "We always thought Channel 41 was and is something special."
Nicolas and Cortez pursued that service on and off the air.
Cortez served two consecutive terms as national president of the League of United Latin American Citizens, better known as LULAC, and also served as president of the Charro Association before his death in 1971.
Nicolas fired off editorials on SIN nationwide on immigration, education and other issues. He also launched the Teletón Navideño telethon with then Bishop Patrick Flores in 1975 to raise funds for underprivileged San Antonians during the holidays. And in 1976, Nicolas aired the first national broadcast of a Catholic mass, which continues to be broadcast from San Antonio. (Incidentally, that same year, SIN became the first U.S. broadcaster to deliver its signal by earth satellite.)
"We were there for the Hispanics who had nothing in those days," Nicolas said.
Martha Tijerina, a KWEX anchor in the 1970s and '80s, headed a live, one-hour public affairs show called "En San Antonio." She called her tenure with Nicolas and Univision "a blessing" for giving her a front-row seat to Chicano history, including the rise of the National Council of La Raza and the Mexican-American Unity Council as well as the local political transition from the Good Government League to representation by single-member City Council districts.
Tijerina tackled those cultural issues of the time, often with pointed on-air questions aimed at politicians on the show.
"I never thought that I was going to be a part of the history that was going to be made in television," said Tijerina, who now works in San Antonio as an interpreter in federal immigration court. "I think that the most important thing is that I was blessed to be part of the history."
That historic time also saw some internal schisms. In 1976, KWEX's parent company, Spanish International Communications Corp., or SICC, became engaged in what Guillermo Nicolas referred to as an 11-year-long lawsuit between old partners and friends. In 1986, a federal judge ultimately ruled in favor of Frank Fouce Jr., a partner who had sued SICC.
Nicolas Sr. negotiated the sale of the company to Hallmark Greeting Cards for $301.5 million. He left the company after the sale in 1987.
In 1989, Nicolas helped build a broadcasting group for Galavision, the third Spanish-language network in the United States, with Emilio Azcárraga Milmo, the son of Emilio Azcárraga Vidaurreta. Nicolas later affiliated those stations with Home Shopping Network.
SIN, the sales and programming arm for the SICC stations, was owned by the younger Azcárraga, He renamed it Univision and later sold it to Hallmark — only to buy the network and station group back with a group in 1992 headed by A. Jerrold Perenchio.
As for the original downtown home of the first Spanish-language TV station in the U.S., that building was razed in November 2013. More than a handful of preservation activists were arrested for temporarily obstructing its demolition with a protest that even included a brief taco break on a mini dining set.
Univision 41 now broadcasts from a state-of-the-art studio in a 43,200-square-foot building off De Zavala Road on the city's northwest side. It also has a downtown presence with a small studio and office space it leases in the Texas A&M University-San Antonio Centro de Artes at Market Square.
"It's a whole new dynamic and it's great being a part of this youthful energy that's coming in," said Roland Davila, production manager for Univision 41 San Antonio, who has worked at the station for more than 35 years.
Davila said that energy reminds him a lot of how the station was when Nicolas first hired him in 1978 — a family-like atmosphere with Nicolas as the father figure.
"And the people that know about it know that we have been a part of San Antonio for 60 years, entertaining and informing and empowering our people," Davila said. "It was what Mr. Nicolas used to instill in us back then, (and) we still do it today."
Nicolas still watches KWEX. And while he doesn't expect it to deliver the same fiery editorials of old in today's more corporate network climate, he does expect Channel 41 to keep on as long as it sticks to its community roots, its cultura. Preferably en Español.
"I hope they stay on the air for a long time," he said. "Because we think it's a valuable asset to Hispanics. Not only here but all over Latin America. And keep up the good work — in Spanish, 100 percent."
Source: San Antonio Express News
###