Danny Villanueva, co-founder of Univision, dies at 77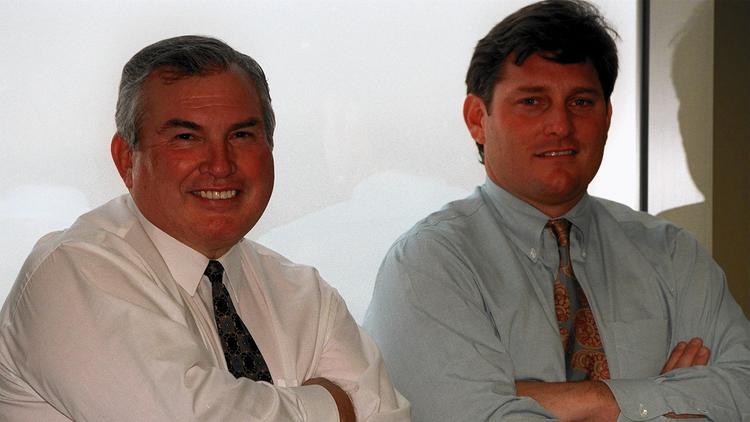 Danny Villanueva, left, with his son Danny in 1997.
(Gina Ferazzi, Los Angeles Times)
By DAVID COLKER
Danny Villanueva, a former pro football player who became key to the growth of Spanish-language broadcasting in the United States, was known as a gregarious, friendly executive.
Unless his principles were crossed.
In 1968, he was news director of KMEX-TV in Los Angeles when more than 10,000 students walked out of schools in East L.A. to protest the state of conditions there.
FOR THE RECORD: Danny Villanueva: A photo caption that accompanied the obituary of Spanish-language broadcast executive Danny Villanueva in the June 21 California section gave the wrong figure for his salary as a kicker for the Los Angeles Rams in the 1960s. It was $5,500 a year, not $5,500 a week. —
---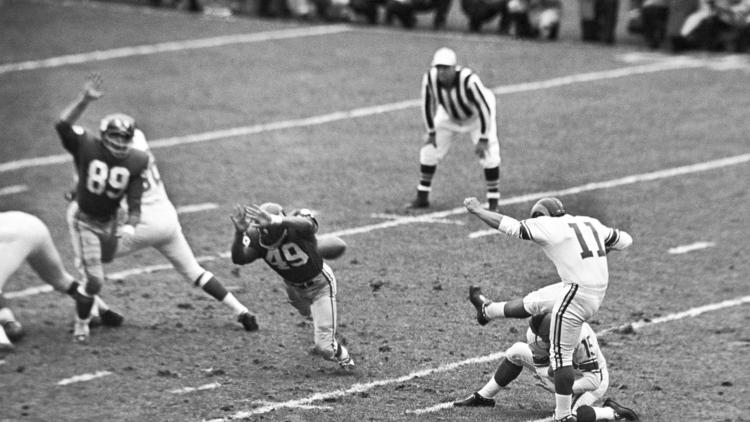 On Oct. 22, 1961, the Los Angeles Rams' Danny Villanueva (11) kicks against the New York Giants. Villanueva, a co-founder of Univision, has died at 77. (Associated Press)
---
Realizing it was a historic moment for the Latino community, Villanueva rushed to a technician and told him to switch from regular programming to a news feed. The technician refused.
"Do it and I'll take responsibility," Villanueva recalled telling the technician in a 1997 interview with The Times. "If you don't do it, let's go outside, because you're going to have to beat me up to stop me from doing it."
The technician took a look at the hulking, former pro player, and the switch was flipped.
Villanueva, 77, who was born in a hut in New Mexico and went on to co-found the powerful Univision network and become one of the wealthiest Latino executives in the country, died Thursday at Ventura County Medical Center.
The cause was complications from a stroke suffered earlier in the week, said one of his sons, also named Danny.
In addition to Univision, Villanueva had a financial interest at various times in rival network Telemundo, the soccer teams L.A. Aztecs and L.A. Galaxy, and the well-endowed investment firms Bastion Capital and Rustic Canyon/Fontis Partners.
He was also active as a philanthropist — he and his wife, Myrna, gave millions to educational and charitable causes.
Before he amassed his fortune, Villanueva spent eight years in the NFL. He started as a kicker for the L.A. Rams in 1960, at a time when it was rare for a Latino player to be on a pro team. In 1962, he led the league in punting and set a team record by kicking a 51-yard field goal.
His salary as a Ram: $5,500 a year.
To boost his income, he worked as a sportscaster at KMEX, which at the time was a tiny operation.
"Most of the TV shows were from Mexico," said
Felix Gutierrez, a retired USC journalism professor who lectured about Spanish-language media. "And the newscasts were rip-and-read, meaning the announcer just ripped the news off the wire machine and read it on air."
Villanueva kept working there, when possible, after being traded to the Dallas Cowboys in 1965. The trade boosted his salary to $15,000. "I thought I'd died and gone to heaven," he told the San Antonio Express-News in 2007.
After two years with the Cowboys — where he set the record for the most extra-point kicks made without a miss (56) — he retired from football and became news director of KMEX.
The station became the springboard of his eventual media empire.
As the station grew, he hired KMEX's first field reporter and others to cover specific areas such as entertainment. After becoming president of the station, he made it more community oriented, not just in news and sports coverage, but also with on-air fundraising and other events.
"We don't have an L.A. Times. We don't have a KCET. We have to be a little more than a TV station to our viewers," Villanueva told The Times in 1985.
It was a pattern copied by other Spanish-language stations seeking to forge a close connection with viewers.
"He was a trailblazer," said Gutierrez, who for a time had a public affairs show on the station.
Villanueva bought stakes in other stations and KMEX became the flagship of the Spanish International Communications Corp., the precursor to the national Univision network. Villanueva was part-owner of Univision when Hallmark Cards bought a majority stake in the network in 1988 for more than $260 million.
"It just goes to show you how much the Hispanic market has grown," Villanueva told the Miami Herald in 2002. "It's one of the great American stories."
During Villanueva's tenure, KMEX went from a niche operation to a cultural force in Los Angeles.
But still, much of the programming, including popular novellas, was imported. Long after Gutierrez was no longer associated with the station and had become a USC professor, he wrote a piece criticizing that trend.
Later, the two men ran into each other at a conference and had a friendly talk. "Well, everything worked out fine," Villanueva told him. "You got tenure and I got rich."
Daniel Dario Villanueva was born Nov. 5, 1937, in the small town of Tucumcari, New Mexico. He was the ninth of 12 children.
Only days after he was born, the family moved to Phoenix where his father, a Methodist minister born in Mexico, had been assigned to a new church. He later ministered to migrant workers in California, and Daniel spent most of his childhood in Calexico, just north of the border with Mexico.
Graduating form Calexico High School, he got a football scholarship to attend the University of New Mexico, where he earned a degree in English.
He attributed his drive to succeed to his mother, who stressed the importance of hard work and education, and practiced hardball tough love — such as when his high school team lost a football game.
"I'd get home and the house was dark," he told The Times in 1985. "She'd lock me out of the house and she'd let me think about it … and then she'd let me in."
In addition to his wife of 58 years, Myrna, and son Danny, he is survived by son Jim; sisters Mary Blank, Lily Hernandez, Noemi Prince and Ester Aguilar; brothers Samuel, Paul, Ben and Primo; five grandchildren and eight great-grandchildren.
david.colker@latimes.com – Twitter: @davidcolker – Source: Los Angeles Times
###