Why Univision Is One to Watch at the Upfront
CMO Jessica Rodriguez on what makes her network's audience unique
By James Cooper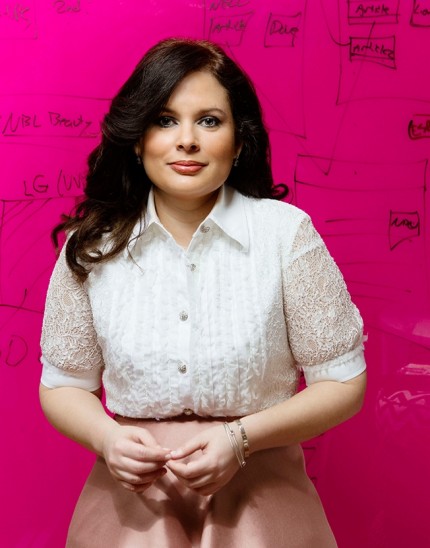 Jessica Rodriguez, CMO, says Univision Communications has a loyal millennial audience. Photo: Elizabeth Lippman
Specs:
Who Jessica Rodriguez
Current gig CMO, Univision Communications
Previous gig Evp, program scheduling, Univision Agency
Twitter @_RodriguezJess
Age 42
How are you using social as a marketing tool?
It's at the core of everything that we do. What's interesting, and speaks to the duality of our audience, is that they'll engage with our programming in Spanish, but when they go on Twitter, they comment in English. On Facebook, it's more of a mix. And I think there is a lot of runway to get our viewers excited about with our short video formats on Vice and Instagram.
Your most important hire for 2015?
It will be a head of local marketing. We started as [one] station in San Antonio 60 years ago, and we now have over 128 local radio and TV stations around the country to reach our audience. Add to that the incredible way we serve our local communities through our empowerment platform Univision Contigo—we have the ability to serve every Latino in this country in a powerful, intimate way.
What is the industry buzzword that you are most tired of?
The one I am over in a big way is all things "selfie." I don't own a selfie stick, and I never will.
How will Univision be positioned in the fast-approaching upfront?
I am working very closely with our sales leaders Keith Turner and Steve Mandala and the way that we are positioning ourselves around what makes us unique. Again, we have an audience that watches live every night, we have a very high rate of unduplicated viewing, and that in every single program offering we will have a digital and social component because we know our audience overindexes in digital and is highly engaged. We also spend a lot of time speaking about the beauty of our brand in that we're not just a network, but part of the journey of Hispanics in this country.
What do your millennial viewers want from the network?
Our millennial audiences seem to gravitate to aspiration stories and ultimately they're looking for great content. And because they can find that on Univision and find it in Spanish in a sincere and authentic way, we have a large and loyal millennial audience. They are also focused on community and when they see Univision in their local markets it resonates with them and that builds equity for our shows, novellas and the company.
What's the most important statistic about your audience that brand marketers should know, but don't?
There are two big ones. The first is that we have a fully engaged, live-viewing audience. We have 91 percent live viewing every night, and that's unheard of and speaks to the fact that our viewers come in every night and love the storytelling of our programming and socially engage with it. We also have a highly unduplicated audience, usually in the 70 percent range.
Source: Adweek