Cubans High on Prospects for Change with U.S. Ties
By Gregg Zoroya
---
Cubans say they are overwhelmingly optimistic about the hope of economic change from President Obama's decision to re-establish diplomatic ties with the island country, according to a survey the authors describe as the first independent poll there in decades.
Of those canvassed, 73% said they are optimistic about their future. All but 3% said the normalization of relations between the U.S. and Cuba is good for their country of 11 million, possibly improving basic standards of living from buying a car to starting a business.
Obama is among the island's most popular people with a positive rating of 80%, equaling that of Pope Francis and nearly double the 44% for former Cuban leader Fidel Castro.
With Cuba's ailing economy after 50 years under a U.S. trade embargo, most Cubans worry more about money than politics, the survey shows.
Nearly half said improving the economy is key. Despite high ratings for Cuba's free health care and educational systems, 55% said they would leave the island to live elsewhere if they could.
Only 24% of those surveyed said an open political system is uppermost for them, and more than half doubt that normal relations with the U.S. will change that.
The results released Wednesday were from door-to-door surveys of 1,200 Cubans in March by a Miami-based public relations research firm, Bendixen & Amandi International, for Univision in collaboration with The Washington Post.
The survey was done without the Cuban government being informed, said Fernand Amandi, co-author of the study.
"This, in our judgment, is the largest, most scientifically rigorous and independent national survey done of the Cuban population," Amandi said. "It was very surprising the degree of candidness and openness."
Scholars marveled at the accomplishment. "I'm just amazed that they got access to run that kind of sampling," said Louis Perez Jr., a history professor at the University of North Carolina who has written about Cuba.​
The survey results portray a young population — most born after the communist takeover — restless to improve their lives and confident that new relations with the U.S. will make that happen.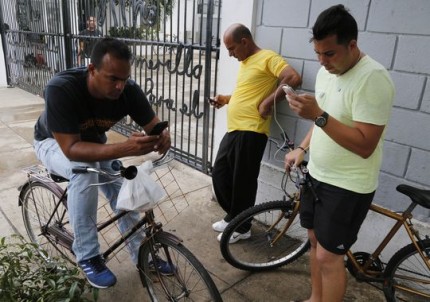 People stand in front of a center run by famed artist Kcho, to use the free Wi-Fi network in Havana on March 11, 2015.
(Photo: Desmond Boylan, AP)
Two-thirds said they hope to travel within the next five years. Other short-term dreams include opening a savings account, starting a business and buying a car or an appliance.
With the promise of expanded trade with the United States, Cubans said their top choices of new products or services are supermarkets, housing, pharmacies, cars and telephone industries.
The survey offered insight into Cuban life, noting that 61% already have cellphones, but only one in six have access to the Internet, mostly through Internet cafes or work. Those who do get online overwhelmingly use Facebook.
More than half the respondents have at least two years of college or is a technical school graduate. One in four have a college degree.
The results could come as a surprise to many in the United States, said Maria Cristina Garcia, a history professor at Cornell University who has studied Cuban migration.
"Cuba is a mystery to so many Americans. … Just because we see these old automobiles doesn't mean that Cuban society hasn't been changing," she said. "This poll reveals that dynamism. This is a population that is very well-educated, very informed."
Other findings:
• A third of those surveyed said they receive remittances from family members in the U.S. and use the money almost entirely for everyday expenses. The State Department said remittances from Cuban Americans pump $1.4 billion to $2 billion into the Cuban economy.
• More than 70% of Cubans are satisfied with their educational system, and nearly the same are happy with their free health care.
• Half said their biggest complaint about the island's political system is a lack of freedom, and 58% hold a negative view of the ruling Communist Party.
• Almost nine out of 10 would like Obama to visit the island. The last sitting U.S. president to do so was Calvin Coolidge in 1928.
• Only about 20% said they listen to Radio Marti, despite decades of U.S. financing to broadcast the station into the island.
• On religion, 44%, the largest single group, said they are not religious. Second to that, 27% said they are Catholic.
###