10 Reasons To Watch 'Amores Con Trampa' Episode 1 Premiere With Itati Cantoral On Univision!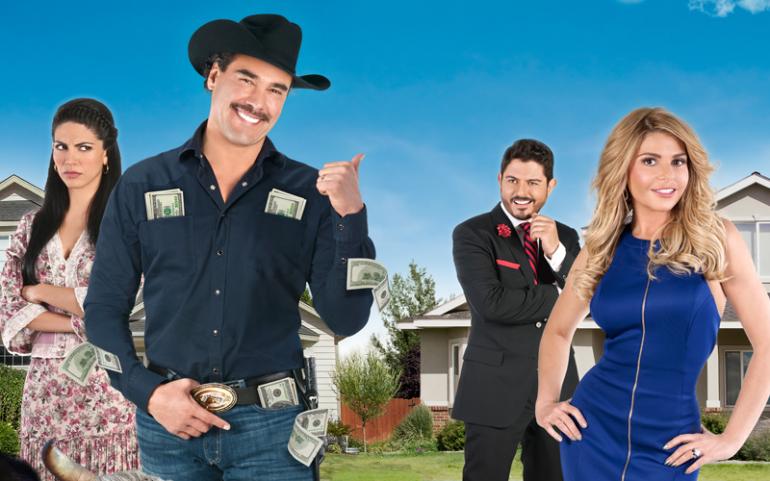 'Amores Con Trampa' is Univision's new comedy taking over 'Mi Corazón Es Tuyo.' These are the top reasons to watch… Televisa
Univision is premiering "Amores Con Trampa," the telenovela taking over the timeslot occupied by "Mi Corazón Es Tuyo." The brand new production stars Itatí Cantoral, Africa Zavala, Ernesto Laguardia and Eduardo Yáñez. This is the story of The Carmonas who live a simple and peaceful rural life at a village in Mexico's inland and they own one of the biggest mines of the region. They are forced to move to the city after the government pays them good money for their huge land. On arriving at the city, they must deal with several situations inherent to the adaptation process in the metropolis and at the same time family conflicts when some of its members want to go back to the quiet rural life in which they grew up. On the other hand, we have the Velascos, the elegant and sophisticated neighbors from the residential area where the Carmonas moved in.
The first conflict comes up when the Carmonas arrive to the city along with their farm animals which are mostly characters too, with a constant and relevant presence in the story, and who cause damages to the Velascos' house. That is how the gap between them opens. As the story develops, the Velascos realize that the Carmona's are millionaires and that they might be able to save the Velasco construction company if the Carmona's invests in it. "Amores con Trampa" is a telenovela with a comedy touch that will make you laugh, cry and discover an endless number of muddles, conflicts, adventures, misunderstandings and love affairs. These are the Top 10 Reasons To Watch "Amores Con Trampa":
1. Soraya Is Back!: One of Itati's most iconic characters on television is Soraya Montenegro on "María La Del Barrio" and we all remember how over-the-top she was. On "Amores Con Trampa," a version of Soraya is back in the form of Isabel. Itatí Cantoral plays an snobby woman that hates her new neighbors and is just as mad as Montenegro herself.
2. Comedy: What do we need after a long and stressful day at work? A comedy to relax and just laugh all the pain away. This new telenovela is exactly what it offers. All the characters are hilarious and make you LOL at the trouble they run into due to the change of lifestyle.
3. Rich Vs. Poor: We have been resorted to similar type of storylines in the past with "Una Familia Con Suerte" and "Que Pobres Tan Ricos." The first one was a poor family that becomes rich and the latter was about a wealthy family that loses everything. The comedy is how the families adjust to their new lifestyle as they have a difficult time to do so. In "Amores Con Trampa" we see a well accommodated family from a ranch move into the city and life in the big city is nothing like the normal and calm life of the ranch. Trouble and hilarity ensues when we see them coping with their new lives.
4. Itatí Cantoral: Yes, we mentioned her character, but we didn't mention how amazing Itatí is in this telenovela. Cantoral can go from drama to comedy and she does both so well. In the U.S. we are watching her on the MundoFox production of "¿Quién Mató A Patricia Soler?" which is a classic melodrama and on "Amores Con Trampa" she is the complete opposite.
5. Eduardo Yáñez Is Actually Likeable: We were not too exciting to seeing Yáñez back on the small screen after his horrible interventions on "Amores Verdaderos" and "Corazón Salvaje," but we gave this telenovela the benefit of the doubt. Eduardo is actually likeable in this. His character fits him to perfection and the macho-Mexican-type persona comes naturally to him with such great source material.
6. Africa Zavala Returns: This actress has been in many telenovelas and is another one that can move from the classic melodrama, to contemporary drama to comedy with such ease. Zavala was just on "La Malquerida" where she played a woman that was forced into prostitution. She cried a lot and was extremely timid. In her María role, she is timid, but she is a mother of four kids and humble origins. Africa surprises us again at how funny she can be and what a great actress she is.
7. Joan Sebastian: The singer and song writer composed a theme especially for the opening credits of this telenovela. At first it sounds boring, but as they continue playing it, it grows on you. "Se me hizo roca el corazón, se me hizo duro….," we sing it all day at work now and we are sure you will too.
8. Emilio Larrosa Production: When we see his name, we know what we are getting into. Larrosa loves to be campy and we love it when it's done properly. We didn't like "Dos Hogares" and "Libre Para Amarte," but we really loved "Hasta Que El Dinero Nos Separe," "Soñadoras," "Amigas y Rivales," "Muchachitas," "El Premio Mayor," "Dos Mujeres Un Camino," "Tu y Yo," "El Camino Secreto," should we keep going? Larrosa has many hits under his belt and "Amores Con Trampa" is another one of them.
9. Great Cast: The cast assembled for this telenovela includes a mix of new actors with seaseoned ones that gives it a great balance. As viewers we are sometimes over seeing the same actors again and again. Actors include like Ernesto Laguardia, Maribel Fernández, Nora Salinas, Luz María Aguilar and the legendary Ignacio López Tarso, give it that stamp of quality we all look for when watching a telenovela.
10. Family Time: Telenovela time is family time and "Amores Con Trampa" has a little bit of everything that all of the household will enjoy. "Amores Con Trampa" premieres on Monday, March 30 at 8pm ET/PT on Univision. Will you be watching?
Source: Latin Times