Hispanics shine bright amid US television's advertising gloom
By Shannon Bond
The US television industry is at a turning point, as broadcasters and cable networks digest the first evidence of what analysts say will be a long-term trend of slowing advertising sales and eroding audiences. Spanish-language channels, however, are booming.
While many Americans shift from watching scheduled TV programmes when they air to selecting from a growing range of on-demand and online services, Spanish-language networks are attracting ever more viewers to real-time broadcasts of shows like the telenovela Mi Corazón es Tuyo, Liga MX football games and La Voz Kids, a junior version of the singing competition The Voice.
Even as many advertisers shift money from TV budgets to digital platforms, this trend-bucking growth is luring brands with an eye on America's 56m Hispanics, whom Nielsen projects will wield $1.7tn in buying power by 2019.
The divergence between Hispanic media and the broader TV market is accelerating at the very moment that Univision, the largest Spanish-language broadcaster in the US, is preparing to pitch a $1bn initial public offering to investors.
In the first two months of 2015, ad spending at private equity-owned Univision and Comcast's Telemundo, the two biggest Spanish-language broadcasters, rose 11 per cent, contrasting with a 12 per cent drop in total TV ad bookings, according to Standard Media Index, which tracks 80 per cent of US media agency spending.
Last year, ad expenditures on the top six Spanish broadcasters — Univision, Telemundo, MundoFox, UniMas, Estrella TV and Azteca — rose 11 per cent, outpacing a 3 per cent gain for the biggest English-language broadcasters: CBS, ABC, NBC and Fox.
Univision sometimes beats English-language rivals among the sought-after audience of 18-49 year-olds in a market where advertisers now talk of five big broadcast networks — ABC, CBS, Fox, NBC and Univision.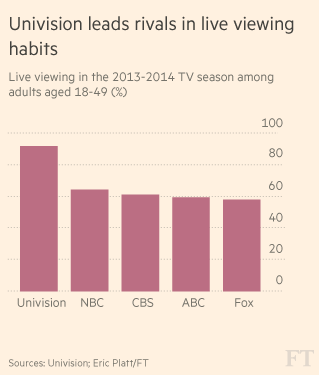 "Univision, along with other networks in the Hispanic media market, is serious competition for the English-language broadcast networks, and the SMI data highlight that perhaps ad dollars are finally beginning to catch up to ratings," said Scott Grunther, SMI's executive vice-president of media.
Despite the recent acceleration, however, Hispanic-focused networks still lag behind English language channels commercially. Last year, SMI calculates, Univision drew 16 per cent of the big five broadcasters' 18-to-49-year-old viewers — but it captured just 7 per cent of total ad spending.
Several factors are driving more advertisers into the arms of Univision and its peers, industry executives say.
The first is viewing habits among Hispanic audiences, who are less likely to record shows on DVRs or catch up on streaming services like Netflix and Hulu — meaning they are more likely to see commercials.
During the 2013-14 TV season, 92 per cent of Univision's viewers in the coveted 18-to-49-year-old demographic watched its programming live, compared with percentages in the high-50s and low-60s at the four big English-language broadcasters.
"Whether it's sports or telenovelas [nightly soap operas] that you can't delay viewing because you'll miss out the next night, we really sell the value of a live audience," said Keith Turner, Univision's president of sales and marketing.
Univision got a big boost last year from its rights to air the World Cup: the network recorded a 34 per cent jump in viewership from the 2010 tournament, according to SMI. But even stripping out lucrative football-related advertising, Univision says its ad growth significantly outpaced the industry.
Even outside of sports and telenovelas, Hispanic households spend less time than the US average watching time-shifted TV and streaming programmes, according to Nielsen. That may in part be due to technological barriers: Hispanics account for 13 per cent of US homes with a TV, but 18 per cent of homes without broadband, pointing to less access to new internet-based TV services from media companies including HBO, Dish Network and Sony.
Satellite provider Dish Network was, in fact, the biggest ad spender on the top Spanish-language channels last year, according to Kantar Media, highlighting how media groups see an opportunity to increase pay-TV subscriptions among Hispanics — even as the industry contracts among the broader US population.
Demographics trends are another attraction to advertisers. The median age of the US Hispanic consumer is 27, younger than that for the white, black and Asian-American populations. They make up more than a fifth of the millennial generation, which will pass the baby boomers to become the largest US population cohort this year.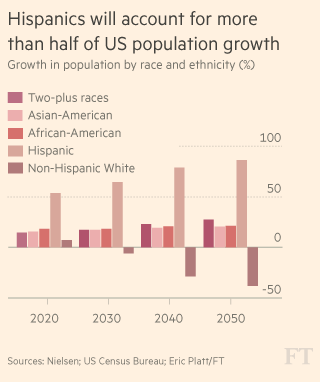 Hispanic-focused media companies are also benefiting from advertisers' desire to more precisely target their TV campaigns to make sure their messages reach the intended viewers.
"As the Hispanic market gets bigger, we're seeing slices of the market that are underserved by existing media options are now big enough to merit their own programming," said Alan Sokol, chief executive of Hemisphere Media, whose cable channels target the largest Hispanic groups in the US after Mexicans: Puerto Ricans, Central Americans and Dominicans.
An airline that wants to promote flights to the Caribbean can find a receptive audience on Hemisphere's WAPA Americas, aimed at Puerto Ricans — and at a lower price than on a big broadcast network, he said.
"Our pitch [to agencies] is: you are doing your clients a disservice not to allocate [budgets] to us because we are much more efficient."
Source: Financial Times