'Nuestra Belleza Latina' Turns Vine's 360 Booth into Another Camera Angle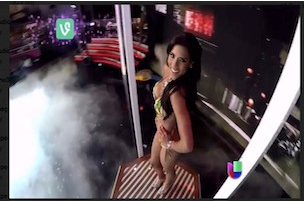 By Adam Flomenbaum
The ninth season of Univision's 'Nuestra Belleza Latina' ('Our Latin Beauty') may be winding down, but its production team is just beginning to heat up.
On Sunday's episode, the show integrated shots from Vine's 360 booth into the telecast for the first time. The booth functioned simply as another camera that could be leveraged by the show's director, giving fans a unique angle and giving the production team more options.
Sunday night's telecast was the number one reality series (on broadcast networks, including English and Spanish) according to Nielsen's Twitter TV ratings.
Source: Adweek