Mexican Cumbia Band Los Ángeles Azules Will Perform with Ninel Conde and Helen Ochoa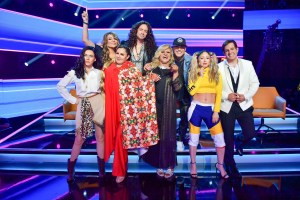 A Memorable Number Featuring the Judges and Celebrities Will Open the Show on Univision at 8 p.m. ET
WHAT'S NEW:
Following six spectacular galas filled with unforgettable performances and transformations by celebrity contestants, the reality competition comes to an end on Sunday night. Manny Cruz and Michael Stuart are leading with the highest cumulative score (45 points each). Helen Ochoa (44 pts), Kika Edgar (40 pts), Yahir (40 pts), and Ninel Conde (38 pts) remain within striking distance, closely followed by Christian Daniel (34 pts) and Sherlyn (30 pts).
The final gala will feature two performances by each contestant, a solo number and a duet with a fellow star participant.  The popular Mexican cumbia band Los Ángeles Azules will make a special appearance and perform with Ninel Conde and Helen Ochoa in their duet.
The solo performances are:
Helen Ochoa as the popular Yuri.
Christian Daniel as Latin star Sebastián Yatra.
Kika Edgar as the famous singer Natalia Jimenez.
Sherlyn as the iconic Shakira.
Manny Cruz as the vallenato star Carlos Vives.
Ninel Conde as pop idol Gloria Trevi.
Yahir as global icon Maluma.
Michael Stuart as the legendary Juan Gabriel.
The duets are:
Helen Ochoa as Yuri with Ninel Conde as Gloria Trevi, joined by Los Angeles Azules.
Christian Daniel as Sebastián Yatra with Manny Cruz as Carlos Vives.
Kika Edgar as Natalia Jimenez with Michael Stuart as Juan Gabriel.
Sherlyn as Shakira with Yahir as Maluma.
"Tu Cara Me Suena" is a co-production of TelevisaUnivision and Endemol Shine Boomdog.
Viewers can relive the performances by visiting YouTube.com/Univision and Univision.com/TuCaraMeSuena. To join the conversation use #TuCaraMeSuenaMXUS on Instagram and Facebook.
Following the season finale, "Detrás de Cámaras," hosted by Rafael Araneda, will bring users all the backstage action and never-before-seen footage from "Tu Cara Me Suena" for free on ViX.
Visit corporate.televisaunivision.com for more information on TelevisaUnivision and follow UnivisionPRTeam on Twitter and Instagram. 
CONTACT: Laura Paez lpaez@univision.net
###
Las estrellas de "Tu cara me suena" van con todo para el gran final de temporada el domingo por la noche
La banda de cumbia mexicana Los Ángeles Azules actuará con Ninel Conde y Helen Ochoa
Un número memorable con la participación de los jueces y celebridades abrirá el programa por Univision a las 8 p.m. hora del este
NOVEDADES:
Luego de seis galas espectaculares repletas de actuaciones y transformaciones inolvidables por los famosos concursantes, el reality de competencia llega a su fin el domingo por la noche. Manny Cruz y Michael Stuart lideran con la puntuación acumulada más alta (45 puntos cada uno). Helen Ochoa (44 puntos), Kika Edgar (40 puntos), Yahir(40 puntos) y Ninel Conde (38 puntos) se mantienen a corta distancia, seguidos de cerca por Christian Daniel (34 puntos) y Sherlyn (30 puntos).
La gala final contará con dos actuaciones de cada concursante, un solo y un dueto junto a otra de las estrellas participantes. La popular banda mexicana de cumbia Los Ángeles Azules hará una aparición especial y se presentará junto a Ninel Conde y Helen Ochoa en su dueto.
Las actuaciones en solo serán:
Helen Ochoa como la popular Yuri.
Christian Daniel como la estrella latina Sebastián Yatra.
Kika Edgar como la famosa cantante Natalia Jiménez.
Sherlyn como la emblemática Shakira.
Manny Cruz como la estrella del vallenato Carlos Vives.
Ninel Conde como la ídolo del pop Gloria Trevi.
Yahir como el ícono mundial Maluma.
Michael Stuart como el legendario Juan Gabriel.
Los duetos serán:
Helen Ochoa como Yuri junto a Ninel Conde como Gloria Trevi, acompañadas por Los Ángeles Azules.
Christian Daniel como Sebastián Yatra junto con Manny Cruz como Carlos Vives.
Kika Edgar como Natalia Jiménez con Michael Stuart como Juan Gabriel.
Sherlyn como Shakira junto a Yahir como Maluma.
"Tu cara me suena" es una coproducción de TelevisaUnivision y Endemol Shine Boomdog.
Los espectadores pueden revivir las actuaciones visitando YouTube.com/Univision y Univision.com/TuCaraMeSuena. Para unirte a la conversación usa #TuCaraMeSuenaMXUS en Instagram y Facebook.
Después del final de temporada, "Detrás de cámaras", presentado por Rafael Araneda, llevará a los usuarios toda la acción detrás del escenario y material nunca antes visto de "Tu cara me suena" gratis en ViX.
Visiten corporate.televisaunivision.com para más información sobre TelevisaUnivision y pueden seguir a UnivisionPRTeam en Instagram y Twitter.
CONTACTO: Laura Paez lpaez@univision.net
###