Presenting some of the best in global female international tournaments including Liga MX
WHAT: TUDN, the home of soccer, brings the best of women's international soccer this weekend to fans in the United States and Mexico. Starting on Thursday with the culmination of CONMEBOL's Women's U-20 Championship coverage in Chile as leaders Brazil, Colombia, Uruguay, and Venezuela face off in the final phase of competition. On Saturday, the action kicks-off early with a LIGA MX "Torneo Grita México" Clausura 2022 women's game between Pumas UNAM y San Luis. The match will be followed by the kickoff of CONCACAF's Women's U-217 Championship tournament which introduces sports fans to the next generation of female players.
TUDN, brings all the action via the newly launched streaming service, ViX. The free Spanish-Language streaming app can be downloaded for free on any Apple iOS and tvOS device, Android mobile and Android TV OS devices, Amazon Fire TV, Roku devices, Samsung Smart TV and can be enjoyed via web on vix.com.
WHEN/WHERE: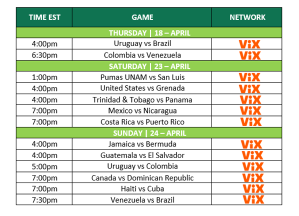 ADDITIONAL INFORMATION:
Visit televisaunivision.com/press for more information on TUDN and follow @UnivisionPRTeam on Twitter and Instagram.
CONTACTO: Melissa Agudelo magudelo@univision.net
###
TUDN Trae un Fin de Semana de Fútbol Femenil Solo Por ViX
Presentando algunos de los mejores torneos femeniles del mundo incluyendo la Liga MX
QUÉ: TUDN, la Casa de Futbol, traerá este fin de semana a sus fanáticos en Estados Unidos y Mexico lo mejor del futbol femenil internacional. La cobertura comenzar el jueves desde Chile con el Campeonato Femenil de la CONMEBOL Sub-20 donde los finalistas Brasil, Colombia, Uruguay y Venezuela se enfrentarán en la fase final de la competencia. Por su parte el sábado la acción arranca temprano con el partido femenil del Torneo Grita México de Clausura de la Liga MX entre Pumas UNAM y San Luis. El juego le da paso a la inauguración al Campeonato Femenil de la CONCACAF Sub-17 que le presentara a nuestros aficionados la próxima generación de jugadoras.
TUDN les lleva toda la acción a través del nuevo servicio streaming, ViX.  La aplicación gratuita está disponible en dispositivos Apple iOS,y tvOS, celulares Android y Android TV, Amazon Fire TV, dispositivos Roku, televisores inteligentes Samsung y se puede disfrutar vía el web en vix.com.
CUANDO / DONDE: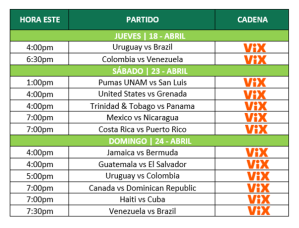 INFORMACIÓN ADICIONAL:
Visiten corporate.televisaunivision.com para más información sobre TelevisaUnivision y pueden seguirnos en Twitter e Instagram.
CONTACTO: Melissa Agudelo magudelo@univision.net
###