Mexican Actress Sherlyn Will Take the Stage as Superstar Camilo Becoming the First Celebrity to Impersonate Someone of the Opposite Sex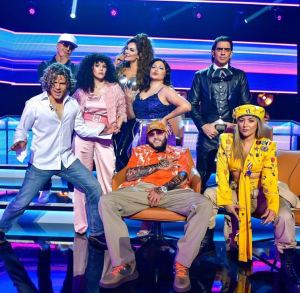 The Famous Contestants Will Deliver Performances as Music Icons Marc Anthony, Lady Gaga, Juan Luis Guerra, Jennifer Lopez, José José, Mon Laferte, and Marco Antonio Solis
Click here to download images of the first gala.
Show 2 Air Date: Sunday, April 3 at 8 p.m. ET/PT (7 p.m. CT) on Univision
WHAT'S NEW:
After showcasing their talent with incredible performances, "Tu Cara Me Suena" stars return to take on new icons in a gala filled with music, flair, and surprises. The awaited transformations include Latin legends José José, Juan Luis Guerra, Marco Antonio Solis, and global superstar Lady Gaga, among others. The gala will also feature the first celebrity of the season impersonating someone of the opposite sex, and a possible Jennifer Lopez and Marc Anthony reunion on stage.
This week, the celebrities will deliver performances by recognized musicians selected by the randomizer.
Manny Cruz: will transform into music idol Juan Luis Guerra.
Michael Stuart: will take the stage as salsa icon Marc Anthony.
Christian Daniel: will bring to life legendary singer José José.
Kika Edgar: will impersonate singer-songwriter Mon Laferte.
Helen Ochoa: will perform as global superstar Lady Gaga.
Ninel Conde: will turn into the iconic Jennifer Lopez.
Yahir: will become the beloved artist Marco Antonio Solis.
Sherlyn: will become the first woman in #TuCaraMeSuenaMXUS to interpret someone of the opposite sex when she takes on megastar Camilo.
Judges Charytín, Eden Muñoz, Victor Manuelle, and Angélica Vale will continue to evaluate the talented celebrities assigning scores from 3 to 10 points without being able to repeat the score given. Then, the celebrities will be able to give two extra points to a fellow contestant.
ON THE MOST RECENT "TU CARA ME SUENA" EPISODE
Season 2 kicked off with hosts Rafael Araneda and Ana Brenda Contreras presenting the show and introducing the eight stars participating in this second edition.
Following the judges' evaluations, Puerto Rican salsa singer Michael Stuart received the most votes. After the stars assigned their two extra points, Dominican singer Manny Cruz became the night's winner. He received $5,000 for UNICEF, his charity of choice. 
"Tu Cara Me Suena" is a co-production of TelevisaUnivision and Endemol Shine Boomdog.
Viewers can relive the performances by visiting YouTube.com/Univision and Univision.com/TuCaraMeSuena. To join the conversation use #TuCaraMeSuenaMXUS on Instagram and Facebook.
Visit corporate.televisaunivision.com for more information on TelevisaUnivision and follow UnivisionPRTeam on Twitter and Instagram.
CONTACT: Laura Paez lpaez@univision.net
 ###
"Tu Cara Me Suena" Presenta a Artistas Emblemáticos en su Muy Esperada Segunda Gala
La actriz mexicana Sherlyn interpretará a la superestrella Camilo y será la primera celebridad en convertirse en alguien del sexo opuesto
Los conocidos concursantes se presentarán como los ídolos de la música Marc Anthony, Lady Gaga, Juan Luis Guerra, Jennifer López, José José, Mon Laferte y Marco Antonio Solís
Clic aquí para descargar fotos de la primera gala.
Fecha de trasmisión del programa 2: domingo, 3 de abril a las 8 p.m. Este/Pacífico (7 p.m. Centro) por Univision
NOVEDADES:
Después de desplegar su talento con fabulosas actuaciones, las estrellas de "Tu cara me suena" volverán para interpretar a nuevos ídolos en una gala llena de música, talento y sorpresas. En las esperadas trasformaciones se imitará a las leyendas latinas José José, Juan Luis Guerra, Marco Antonio Solís y la superestrella internacional Lady Gaga, entre otros. La gala también contará con la primera celebridad de esta temporada que convertirá en alguien del sexo opuesto, y un posible rencuentro de Jennifer López y Marc Anthony en el escenario.
Esta semana, las celebridades ofrecerán interpretaciones de reconocidos artistas musicales, seleccionados por el randomizer.
Manny Cruz: se trasformará en el ídolo musical Juan Luis Guerra.
Michael Stuart: se presentará en el escenario como el ícono de la salsa Marc Anthony.
Christian Daniel: hará que cobre vida el legendario cantante José José.
Kika Edgar: personificará a la cantautora Mon Laferte.
Helen Ochoa: saldrá como la superestrella mundial Lady Gaga.
Ninel Conde: se convertirá en la emblemática Jennifer López.
Yahir: se convertirá en el popular artista Marco Antonio Solís.
Sherlyn: será la primera mujer en #TuCaraMeSuenaMXUS que interprete a alguien del sexo opuesto cuando imite a la superestrella Camilo.
Los miembros del jurado, Charytín, Edén Muñoz, Víctor Manuelle y Angélica Vale, continuarán evaluando a las talentosas celebridades y asignarán un puntaje de 3 a 10 puntos, sin la posibilidad de repetir un puntaje otorgado. Luego las celebridades podrán otorgar dos puntos extra a otro concursante.
EN EL MÁS RECIENTE EPISODIO DE "TU CARA ME SUENA"
La segunda temporada empezó con Rafael Araneda y Ana Brenda Contreras como anfitriones del show y presentaron a las ocho estrellas que participan en esta segunda edición.
Tras las evaluaciones del jurado, el salsero puertorriqueño Michael Stuart recibió el mayor número de votos. Después de que las estrellas otorgaron sus dos puntos adicionales, el cantante dominicano Manny Cruz pasó a ser el ganador de la noche. Recibió $5,000 para UNICEF, la obra benéfica que seleccionó.
"Tu cara me suena" es una producción conjunta de TelevisaUnivision y Endemol Shine Boomdog.
Los televidentes pueden volver a ver las actuaciones en YouTube.com/Univision y Univision.com/TuCaraMeSuena. Para participar en la conversación, usen #TuCaraMeSuenaMXUS en Instagram y Facebook.
Visiten corporate.televisaunivision.com para más información sobre TelevisaUnivision y pueden seguir a UnivisionPRTeam en Instagram y Twitter.
CONTACTO: Laura Paez lpaez@univision.net
 ###