The All-star Lineup Includes Ninel Conde, Manny Cruz, Christian Daniel, Kika Edgar, Helen Ochoa, Sherlyn, Michael Stuart, and Yahir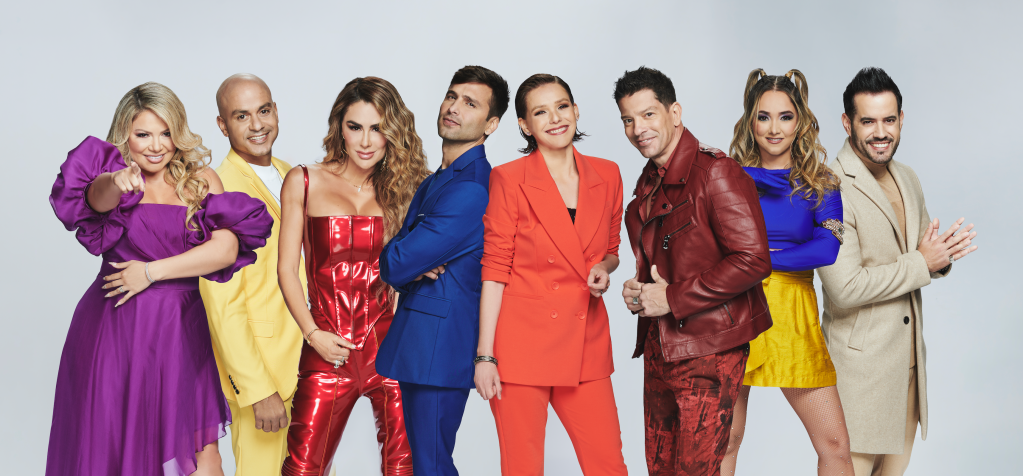 The International Hit Music Competition Premieres on Sunday, March 27 at 8 p.m. ET on Univision
MIAMI, MARCH 3, 2022 – Univision announced today the all-star lineup of eight celebrities, a mix of actors, singers and TV personalities, who will transform into music icons in the new season of "Tu Cara Me Suena." Part of Univision's "Domingos en Familia" (Family Sundays), "Tu Cara Me Suena" premieres on Sunday, March 27 at 8 p.m. ET/ 7 p.m. CT on Univision.
The dazzling array of stars who will entertain audiences with their talent and transformations every week are:
Ninel Conde is a famous Mexican singer, actress, and television personality who has captivated fans with her participation in popular telenovelas including "Luz Clarita," "Rebelde," "En Tierras Salvajes," and more. She has released several music albums including "El Bombón Asesino" which became her very popular nickname.
Manny Cruz is an acclaimed Dominican singer, composer, and producer of tropical music. He achieved viral success with his merengue "Santo Domingo," dedicated to the land of his birth, and has collaborated with iconic artists such as Elvis Crespo and Miriam Cruz.
Christian Daniel is a popular Puerto Rican pop singer, songwriter, and actor. His songs, including "Ahora Que Te Vas" and "Me Vuelvo un Cobarde," have ranked in Billboard charts. His latest single "Si Tu Te Vas" is currently number one in Puerto Rico. (
Kika Edgar is a beloved Mexican actress, dancer, and singer with a distinguished career in ballet. Kika has been called La Nueva Gran Intérprete de Mexico ("The New Great Performer of Mexico") after her participation in "Cantando Por un Sueño" and the release of five best-selling solo albums.
Helen Ochoa is a recognized Regional Mexican singer from California. Helen released her first studio album "Si Yo Fuera un Chico" at the Grammy Museum in Los Angeles and quickly started to conquer the hearts of the Mexican audiences.
Sherlyn is a charismatic Mexican actress and singer who recently completed a U.S. tour with the hit play "Divorciándonos Mi Amor." Sherlyn started her career from an early age making her debut as an actress in the 1993 film "Zapatos Viejos" alongside Gloria Trevi.
Michael Stuart is a Puerto Rican award-winning salsa singer and actor. He has received numerous special recognitions for his acting, and his notable albums including "Retratos," "Back to da Barrio," "Sentimiento de un Rumbero," and more.
Yahir is a renowned Mexican singer-songwriter and actor with many successful studio albums including his gold album "Elemental" and "VI" with songs by Camilo Sesto. He also participated in the debut of Mexican singing competition show "La Voz" as one of the coaches.
Each week, the popular celebrities will deliver unforgettable performances, learning new choreographies and staging to deliver unique impersonations. Each celebrity contestant will represent a charity that will be announced in the upcoming weeks.
Beloved hosts Rafael Araneda and Ana Brenda Contreras return to reprise their roles. The distinguished panel of judges includes Angélica Vale, who will also serve as mentor to the celebrities; Charytín Goyco, Victor Manuelle, and Eden Muñoz. 
Tu Cara Me Suena is co-produced by TelevisaUnivision and Endemol Shine Boomdog. This new edition will broadcast simultaneously in the U.S. and Mexico.
Click here to download photos and videos.
Visit corporate.televisaunivision.com for more information on TelevisaUnivision and follow UnivisionPRTeam on Twitter and Instagram.
CONTACT: Laura Paez lpaez@univision.net
### 
Univision Revela las Celebridades que se Trasformarán en Ídolos Musicales en "Tu Cara Me Suena"
Ninel Conde, Manny Cruz, Christian Daniel, Kika Edgar, Helen Ochoa, Sherlyn, Michael Stuart y Yahir son parte de la lista de estrellas 
La exitosa competencia internacional de música se estrena el domingo, 27 de marzo a las 8 p.m. Este por Univision
MIAMI, 3 DE MARZO DE 2022 – Univision anunció hoy que ocho estrellas serán parte de la lista de celebridades, una mezcla de actores, cantantes y personalidades de la televisión, que se trasformarán en ídolos musicales en la nueva temporada de "Tu Cara Me Suena". El show se estrena el domingo 27 de marzo las 8 p.m. Este/7 p.m. Centro como parte de "Domingos en Familia" por Univision.
La impresionante lista de estrellas que entretendrán a las audiencias con sus talentosas actuaciones y trasformaciones cada semana son:
Ninel Conde es una famosa cantante, actriz y personalidad de televisión mexicana que ha cautivado a los fans con su participación en populares telenovelas, entre ellas "Luz Clarita", "Rebelde" y "En Tierras Salvajes". Ha sacado varios álbumes musicales como "El Bombón Asesino", el cual se convirtió en su popular apodo.
Manny Cruz es un aclamado cantautor y productor dominicano de música tropical. Logró éxito viral con su merengue "Santo Domingo", dedicado a la tierra que lo vio nacer. Ha colaborado con ídolos musicales como Elvis Crespo y Miriam Cruz.
Christian Daniel es un popular cantautor y actor. Sus canciones "Ahora Que Te Vas" y "Me Vuelvo un Cobarde", han llegado a los primeros lugares del Billboard. Su último sencillo "Si Tu Te Vas" es actualmente el número uno en Puerto Rico.
Kika Edgar es una reconocida actriz, bailarina y cantante mexicana con una distinguida carrera en el ballet. A Kika la llamaron la Nueva Gran Intérprete de México tras su participación en "Cantando Por un Sueño" y sus cinco popularísimos álbumes que sacó como solista.
Helen Ochoa es una cantante de música regional mexicana de gran renombre. Helen es de California y tras presentar su primer álbum de estudio "Si Yo Fuera un Chico" en el Grammy Museum de Los Ángeles, rápidamente empezó a conquistar los corazones del público mexicano, cuando se dio a conocer en ese país.
Sherlyn es una carismática actriz y cantante mexicana que recientemente realizó una gira en Estados Unidos con la exitosa obra "Divorciándonos Mi Amor'. Sherlyn empezó su carrera a temprana edad y su debut como actriz fue en 1993, en la película "Zapatos Viejos" junto a Gloria Trevi.
Michael Stuart es un puertorriqueño ganador de varios premios como actor y cantante de salsa. Ha recibido numerosos reconocimientos especiales y entre sus álbumes más notables están "Retratos", "Back to da Barrio" y "Sentimiento de un Rumbero".
Yahir es un renombrado cantautor y actor mexicano con muchos exitosos álbumes de estudio, entre ellos el álbum de oro "Elemental" y "VI" con canciones de Camilo Sesto. También participó en el estreno de "La Voz", la competencia mexicana de cantantes, como uno de los asesores.
Cada semana, las populares celebridades presentarán actuaciones memorables, aprenderán nuevas coreografías para relizar personificaciones únicas. Cada celebridad representará a una entidad benéfica, la cual será anunciada en las próximas semanas.
Los populares Rafael Araneda y Ana Brenda Contreras regresan como anfitriones. El distinguido panel de jueces incluye a Charytín Goyco, Victor Manuelle, Eden Muñoz y Angélica Vale, quien también será la asesora de celebridades.
Tu Cara Me Suena es una coproducción de TelevisaUnivision y Endemol Shine Boomdog. Esta nueva edición se trasmitirá simultáneamente en Estados Unidos y México.
Clic aquí para bajar fotos y videos.
Visiten corporate.televisaunivision.com para más información sobre TelevisaUnivision y pueden seguir a UnivisionPRTeam en Instagram y Twitter.
CONTACTO: Laura Paez lpaez@univision.net
###