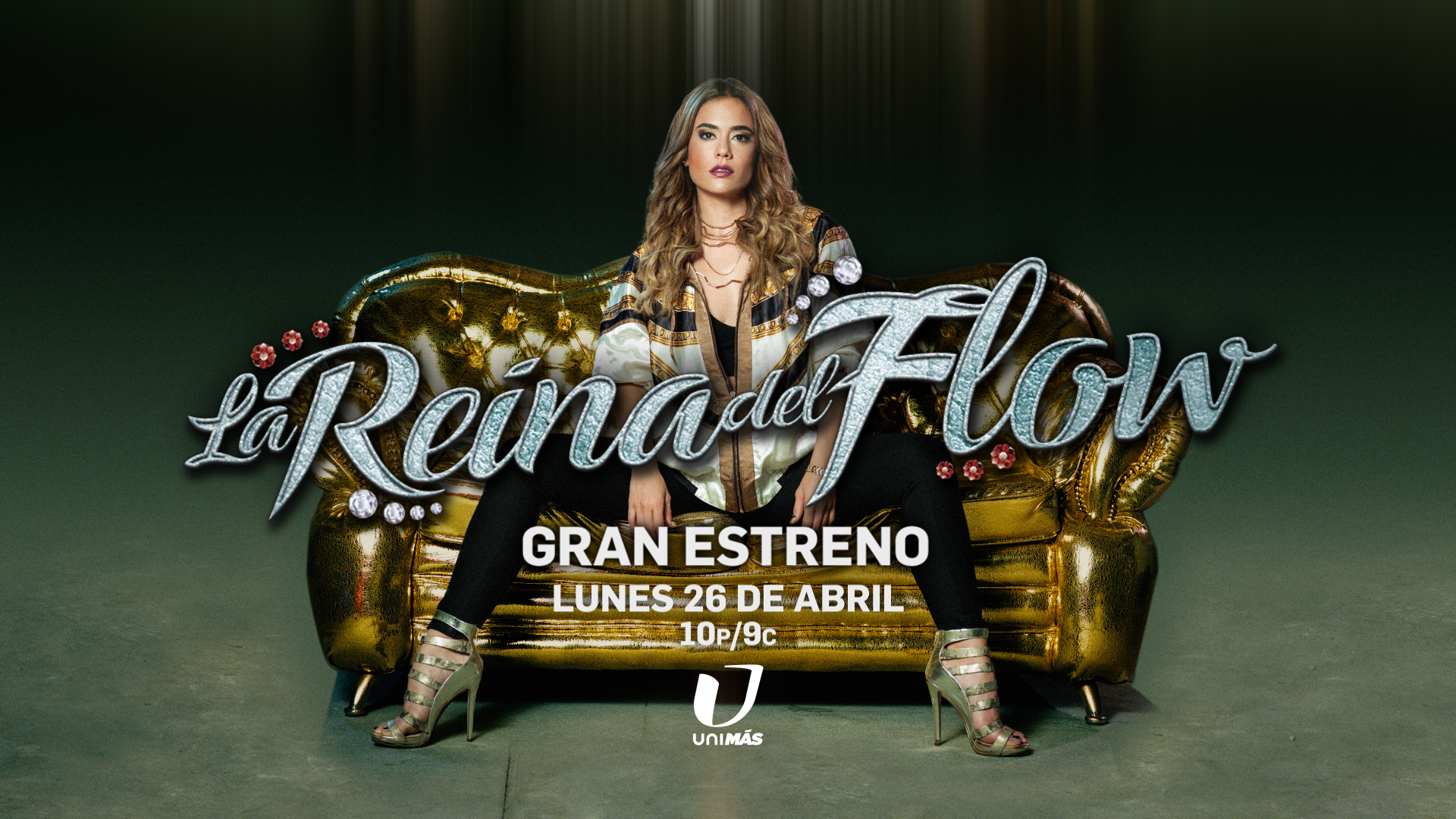 The International Award-Winning Hit Series "La Reina del Flow" (The Queen of Flow) Brings Passion, Action and Music to UniMás Starting on April 26
Season 1 of the series will air Monday to Friday at 10 p.m. ET/PT (9 p.m. CT)
WHAT: Season 1 of "La Reina del Flow," winner of an International Emmy Award for Best Telenovela, is coming to UniMás on Monday, April 26 at 10 p.m. ET/PT (9 p.m. CT). Brimming with rhythm, love and revenge, "La Reina del Flow" will tell the story of characters who, despite growing up in difficult situations, persevere and find in outlet in music to overcome obstacles and reach their dreams.
The series unfolds in the heart Medellín, Colombia, and tells the story of Yeimy Montoya, a young woman who, after being betrayed by the man she loved, serves an unjust prison sentence in New York. Years later, when she is about to be freed, Yeimy survives an attempt on her life, which strengthens her thirst for vengeance and her decision to cooperate with law enforcement to capture Manín, the mobster who killed her family years earlier. Yeimy will fake her own death, leading to her new identity as Tammy Andrade, a well-known music producer who will return to her country in search of justice.
With a first-class cast headed by Carolina Ramírez as Yeimy Montoya, Carlos Torres playing Charly "Charly Flow" Cruz and Andrés Sandoval as Juan Camilo "Juancho" Mesa, the plot will captivate viewers with the love triangle that develops among the main characters and with its soundtrack, which has racked up more than 420 million plays worldwide.
In addition, season 1 of "La Reina del Flow" features special appearances by Sebastián Yatra, Karol G and Joey Montana, among other well-known singers.
WHEN AND WHERE: Monday through Friday at 10 p.m. ET/PT (9 p.m. CT) beginning April 26 on UniMás.
ADDITIONAL INFORMATION: "La Reina del Flow" is a Caracol Televisión production. Viewers can join the conversation using the hashtag #ReinadelFlowUS and follow UniMás on Twitter with @Unimas as well as at Facebook.com/Unimas and on Instagram with @Unimas.
Visit corporate.univision.com/newco for more information on Univision and follow @UnivisionPRTeam on Twitter and Instagram.
CONTACT: Tatiana Oviedo 305.463.4614 toviedo@univision.net
 ###
Pasión, Acción y Música Llegan a UniMás con el Estreno de la Galardonada y Popular Serie Internacional "La Reina del Flow" el 26 de abril
La primera temporada de la serie se trasmitirá de lunes a viernes a las 10 p.m. Este/Pacífico (9 p.m. Centro)
QUÉ: La primera temporada de "La Reina del Flow", producción ganadora del Premio Emmy Internacional a la Mejor Novela, llega a UniMás el lunes 26 de abril a las 10 p.m. Este/Pacífico (9 p.m. Centro). Llena de ritmo, amor y venganza, "La Reina del Flow" mostrará la historia de perseverancia de sus personajes que, a pesar de crecer en condiciones adversas, encuentran una salida en la música para superar los obstáculos y alcanzar sus sueños.
La serie se desarrolla en el centro de Medellín, Colombia y cuenta la historia de Yeimy Montoya, una joven que, después de ser traicionada por el hombre que amaba, paga una injusta condena en una cárcel de Nueva York. Años más tarde, y a punto de recobrar su libertad, Yeimy sobrevive a un intento de asesinato, hecho que reafirma su deseo de venganza y decisión de colaborar con la ley para capturar a Manín, el capo que hace algunos años asesinó a su familia. Yeimy fingirá su muerte dándole paso a su nueva identidad: Tammy Andrade, una reconocida productora musical que regresará a su país buscando hacer justicia.
Con un elenco de primera, encabezado por Carolina Ramírez como Yeimy Montoya, Carlos Torres interpretando a Charly ´Charly Flow´ Cruz y Andrés Sandoval, como Juan Camilo ´Juancho´ Mesa, la trama cautivará a los televidentes por el triángulo amoroso que surge entre los protagonistas y su popular banda sonora que ha alcanzado más de 420 millones de reproducciones en el mundo.
Además, la primera temporada de "La Reina del Flow" presenta a la actuación especial de Sebastián Yatra, Karol G y Joey Montana, entre otros reconocidos cantantes.
CUÁNDO Y DÓNDE: Lunes a viernes a las 10 p.m. Este/Pacífico (9 p.m. Centro) por UniMás, a partir del 26 de abril. 
INFORMACIÓN ADICIONAL: "La Reina del Flow" es una producción de Caracol Televisión.
Los televidentes pueden unirse a la conversación con el hashtag #ReinadelFlowUS Y seguir a UniMás en Twitter vía @Unimas como también en Facebook.com/Unimas e Instagram vía @Unimas.
Visiten corporate.univision.com/newco para más información sobre Univision, y sigan @UnivisionPRTeam en Twitter e Instagram.
CONTACTO: Tatiana Oviedo 305.463.4614 toviedo@univision.net
###