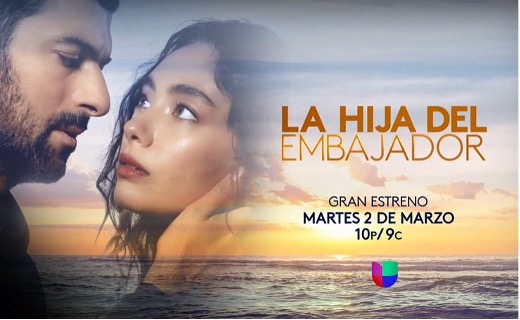 The Anticipated International Hit "La Hija del Embajador" (The Ambassador's Daughter) Premieres Tuesday, March 2, at 10 p.m. ET/ 9 CT, on Univision
Starring Neslihan Atagül, Best Known for Her Role as Nihan in Univision's Beloved Drama "Amor Eterno"
WHAT:  Univision premieres the international hit "La Hija del Embajador" (The Ambassador's daughter), an all-new series that tells the epic love story of Nare (Neslihan Atagül) and Sancar, (Engin Akyürek), a romance that will conquer the audience's heart as it is put through test by time and unexpected twists. Featuring beloved actress Neslihan Atagül (Nihan in "Amor Eterno") and the popular actor Engin Akyürek (Kerim in "Qué Culpa Tiene Fatmagül"), the awaited series premieres on Tuesday, March 2, at 10 p.m. ET.
The award-winning Turkish drama is the story of Nare, the ambassador's daughter, and Sancar, the son of a woodchopper, who meet and fall in love when they are kids. For the next 12 years they will only meet during the summer holidays, but a day won't go by that they don't think about each other. As time passes, because of family pressure, the two decide to get married in secret. Suddenly, on the night of the wedding, Nare disappears without leaving a trace. Sancar will move on and once again on his wedding night, to a new bride, destiny will strike again as Nare reappears with a secret that will change their lives forever. Despite all of these impossibilities, will these lovers be able to rebuild their epic love again?
WHEN: Monday to Friday at 10 p.m. ET/PT 9 p.m. CT (Premieres Tuesday, March 2)
WHERE: Univision
ADDITIONAL INFORMATION
"La Hija del Embajador" was produced by O3 Medya in astonishing locations along the Aegean Sea and shows the main character's global upbringing as she's traveled all around the world (Oslo, Tokyo, Cape Town, New Delhi and Ottawa)
"La Hija del Embajador" received the best series award at the famous Izmir film festival in Turkey. The actors that performed the roles of Menekse (wife of Sancar) and Gediz (Sancar's best friend) were also recognized, as well as Beren Gençalp  (best child actor for her role as Melek).
"La Hija del Embajador" will be available with English-language captions on CC3
Viewers can join the conversation on social media by following the hashtag #LaHijaDelEmabajadorUS on Facebook, Instagram and Twitter. For more information visit Univision.com
Visit corporate.univision.com/newco for more information on Univision and follow @UnivisionPRTeam on Twitter and Instagram.
Click here for press kit with more information, videos and images
CONTACT: Candice Georgi 305.471.4057 cgeorgi@univision.net
###
Univision Estrenará el Esperado Éxito Internacional "La Hija del Embajador" el Martes, 2 de Marzo a las 10 p.m. Este/ 9 Centro
Con Neslihan Atagül, mejor conocida por su papel como Nihan en el popular drama de Univision "Amor Eterno"
QUÉ:  Univision estrenará el éxito internacional "La hija del embajador", una nueva serie que cuenta la épica historia de amor de Nare (Neslihan Atagül) y Sancar, (Engin Akyürek), un romance que se ganará el corazón de la audiencia a medida que el tiempo y giros inesperados lo pongan a prueba. Con la querida actriz Neslihan Atagül (Nihan en "Amor Eterno") y el popular actor Engin Akyürek (Kerim en "Qué culpa tiene Fatmagül"), la muy esperada serie se estrenará el martes, 2 de marzo, a las 10 p.m. Este.
El galardonado drama turco cuenta la historia de Nare, la hija del embajador, y Sancar, el hijo de un leñador, quienes se conocen y enamoran de niños. En el trascurso de 12 años solo se ven durante las vacaciones de verano, pero no dejan de recordarse a diario. Con el tiempo, debido a presión familiar, deciden casarse en secreto. La noche de bodas, Nare desaparece repentinamente, sin dejar rastro alguno. Sancar retoma su vida y se vuelve a casar, y nuevamente en su noche de bodas, el destino entra en juego cuando Nare vuelve a aparecer con un secreto que les cambiará la vida para siempre. A pesar de todo, ¿estos amantes podrán reanudar su amor épico?
CUÁNDO: lunes a viernes a las 10 p.m. Este/Pacífico 9 p.m. Centro (estreno el 2 de marzo)
DÓNDE: Univision
INFORMACIÓN ADICIONAL
"La hija del embajador" es una producción de O3 Medya, que fue ambientada en lugares maravillosos en la costa del mar Egeo y muestra que la protagonista se crió por todo el mundo (Oslo, Tokio, Ciudad del Cabo, Nueva Delhi y Ottawa).
"La hija del embajador" recibió el premio a la mejor serie del conocido festival de cine de Izmir en Turquía. Los actores que interpretaron el papel de Menekse (esposa de Sancar) y Gediz (el mejor amigo de Sancar) también recibieron reconocimiento, así como Beren Gençalp  (mejor niña actriz por su papel de Melek).
Los televidentes pueden participar en la conversación en redes sociales si siguen el hashtag #LaHijaDelEmabajadorUS en Facebook, Instagram y Twitter. Para más información, visiten Univision.com
Visiten corporate.univision.com/newco para más información sobre Univision y sigan @UnivisionPRTeam en Twitter e Instagram.
Hagan clic aquí para ver los materiales de prensa con más información, videos e imágenes.
CONTACTO: Candice Georgi 305.471.4057 cgeorgi@univision.net
###