"Uforia Live" Returns Thanksgiving Weekend with Special Livestreamed Concert on November 29th featuring the Black Eyed Peas, Sebastian Yatra, Jhay Cortez and Mariah Angeliq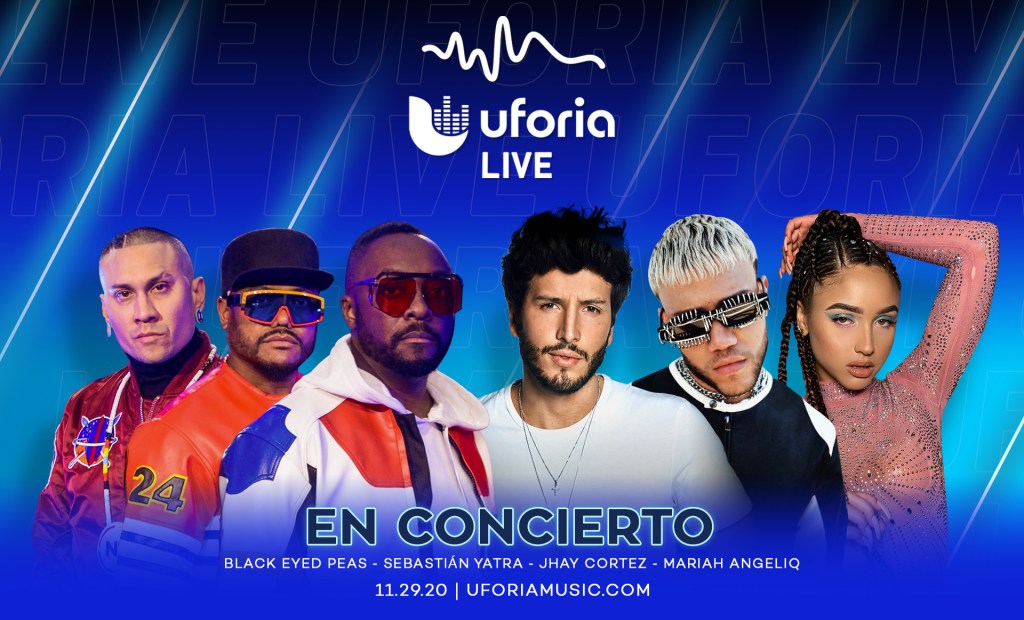 WHAT: "Uforia Live," part of Univision's Uforia Music Series, returns on Sunday, November 29 for a star-studded, livestreamed concert featuring GRAMMY Award® winning crossover supergroup The Black Eyed Peas along with Latin music superstars Sebastian Yatra, Jhay Cortez and Mariah Angeliq for an evening of unforgettable performances.
Sponsored by AT&T, this exclusive experience will be hosted by Uforia Countdown radio host Jackie Guerrido.
The Uforia Music Series, launched in 2018, features the biggest Latin music stars and emerging artists in pop, reggaeton and Regional Mexican. This year's edition kicked off with September's "Uforia Live" show featuring Bad Bunny in a historic surprise mobile livestreamed concert through the streets of New York City.
WHEN: Sunday, November 29 at 8pm ET / 5pm PT
WHERE: UforiaMusic.com, YouTube.com/UnivisionMusica and Facebook.com/UforiaMusic
Follow Uforia across social platforms using the hashtag #UforiaLive on Twitter, Instagram, and Facebook.
Visit corporate.univision.com/newco for more information on Univision, and follow @UnivisionPRTeam on Twitter and Instagram.
CONTACT:  Margaux Fleuranges, 646-522-8195, mfleuranges@univision.net
###
"Uforia Live" Regresa el Fin de Semana de Thanksgiving con un Concierto Especial y en Vivo por Internet el 29 de Noviembre, con The Black Eyed Peas, Sebastián Yatra, Jhay Cortez y Mariah Angeliq
QUÉ: "Uforia Live", parte de la serie musical Uforia de Univision, regresa el domingo, 29 de noviembre con un concierto estelar que se trasmitirá en vivo por internet con el supergrupo crossover The Black Eyed Peas, ganador del premio GRAMMY®, además de las superestrellas de la música latina Sebastián Yatra, Jhay Cortez y Mariah Angeliq, para una velada de actuaciones inolvidables.
Patrocinada por AT&T, esta exclusiva experiencia estará a cargo de Jackie Guerrido, locutora de radio de Uforia Countdown.
La serie musical Uforia, lanzada en 2018, presenta a las más grandes estrellas de la música latina y artistas nuevos de pop, reguetón y regional mexicana. La edición de este año de Uforia empezó en septiembre con Bad Bunny en un histórico concierto móvil sorpresa que se trasmitió en vivo por las calles de la ciudad de Nueva York.
CUÁNDO: Domingo, 29 de noviembre a las 8pm Este / 5pm Pacífico
DÓNDE: UforiaMusic.com, YouTube.com/UnivisionMusica y Facebook.com/UforiaMusic
Sigan a Uforia en las plataformas de redes sociales usando el hashtag #UforiaLive en Twitter, Instagram, y Facebook.
Visiten corporate.univision.com/newco para más información sobre Univision y sigan @UnivisionPRTeam en Twitter e Instagram.
CONTACTO: Margaux Fleuranges, 646-522-8195, mfleuranges@univision.net