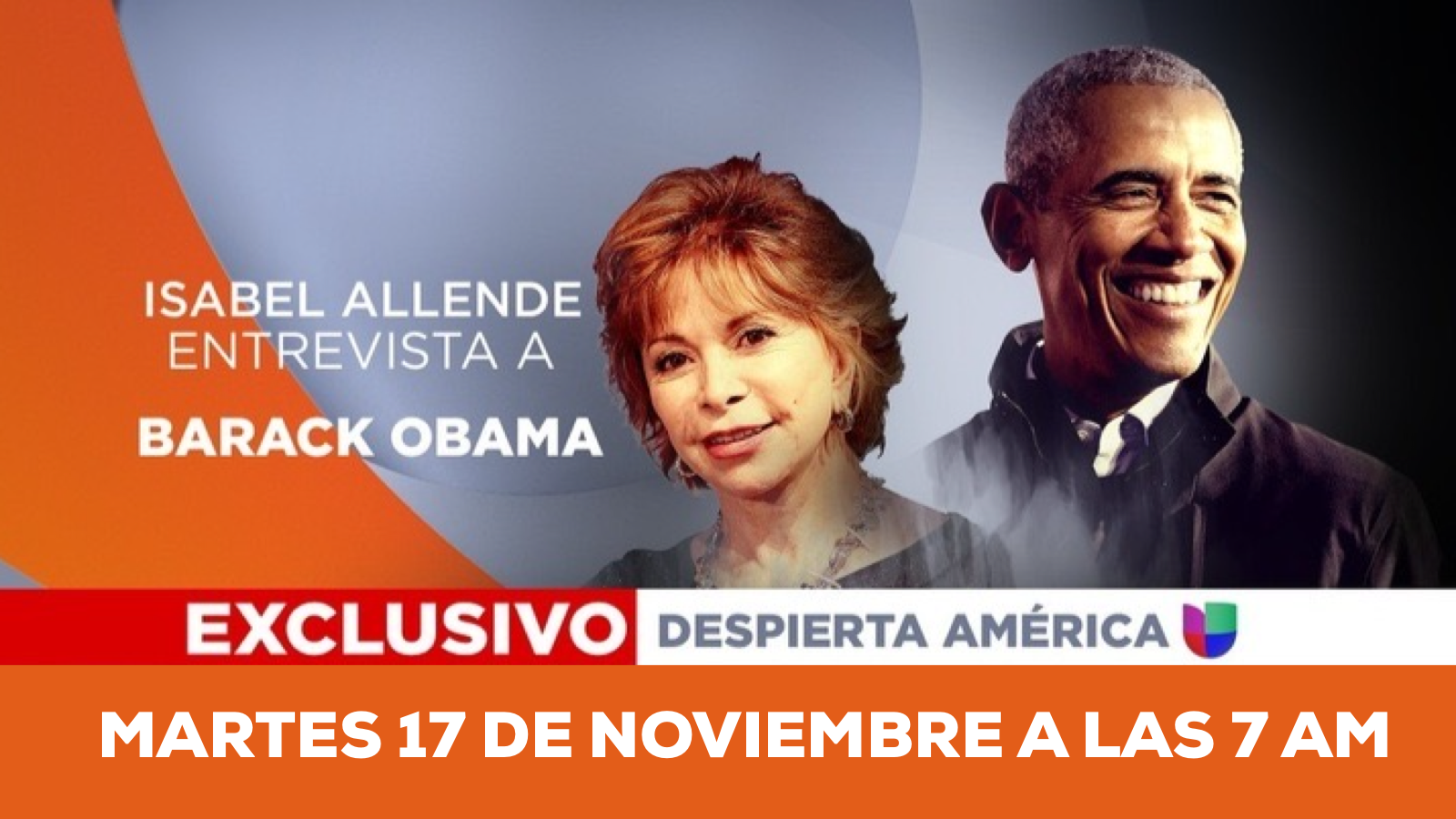 Univision's "Despierta América" Presents Exclusive Interview with President Barack Obama by Acclaimed Author Isabel Allende
WHAT: Univision announced today an exclusive Spanish-language interview to air during its Daytime Emmy Award winning morning show "Despierta América," with President Barack Obama by acclaimed Chilean author Isabel Allende.
The 44th President of the United States will present "Una Tierra Prometida" (A Promised Land), the first of the two volumes of his presidential memoirs. The awaited book is scheduled to release tomorrow, Tuesday, November 17, 2020 worldwide and will be available in 25 languages including Spanish. The book tells the story of Obama from a young man searching for his identity to making history as the first African American President of the United States.
WHEN: Tuesday, November 17, 2020 at 7 a.m. ET
WHERE: "Despierta América" on Univision
ADDITIONAL INFORMATION
Univision's "Despierta América" (Wake Up America) is the top Spanish-language morning show in the country. Two-time Daytime Emmy Award winner for Outstanding Morning Program in Spanish, Despierta America's high dose of entertainment and culturally relevant content creates a winning formula. Whether tuning in for breaking news, parenting advice, compelling human-interest stories, weather forecast or just to start your day accompanied with the hosts, the morning show provides the information needed to get the day going. It airs live Monday through Friday from 7:00 a.m. to 11:00 a.m. ET.
Visit corporate.univision.com/newco for more information on Univision and follow @UnivisionPRTeam on Twitter and Instagram.
CONTACT: Sandra Ramos 305.894.8563 sandraramos@univision.net
###
 "Despierta América" de Univision Presenta una Entrevista Exclusiva al Presidente Barack Obama por la Aclamada Autora Isabel Allende
QUÉ: Univision anunció hoy una entrevista exclusiva en español al presidente Barack Obama por la aclamada autora chilena Isabel Allende, que se trasmitirá durante su programa matutino "Despierta América", ganador del Emmy diurno.
El presidente número 44 de Estados Unidos presentará "Una tierra prometida", el primero de dos tomos de sus memorias presidenciales. El muy esperado libro se publicará mañana, martes, 17 de noviembre de 2020 a nivel internacional, y estará disponible en 25 idiomas, entre ellos el español. El libro cuenta la historia de Obama desde que era un joven en busca de su identidad hasta que hizo historia como el primer presidente afroamericano de Estados Unidos.
CUÁNDO: Martes, 17 de noviembre de 2020 a las 7 a.m. Este
DÓNDE: "Despierta América" por Univision
INFORMACIÓN ADICIONAL
"Despierta América" de Univision es el programa matutino en español de mayor sintonía en el país. Ganador en dos ocasiones del Emmy diurno a programa matutino sobresaliente en español, su alta dosis de entretenimiento y contenido con relevancia cultural crea una fórmula exitosa. Ya sea con noticias de último minuto, consejos sobre la crianza, interesantes reportajes de interés humano, el pronóstico del tiempo o solo para empezar el día acompañado de sus conductores, el programa matutino ofrece la información necesaria para el inicio de la jornada. Se trasmite de lunes a viernes de 7:00 a.m. a 11:00 a.m. Este.
Visiten corporate.univision.com/newco para más información sobre Univision y sigan @UnivisionPRTeam en Twitter e Instagram.
CONTACTO: Sandra Ramos 305.894.8563 sandraramos@univision.net
###