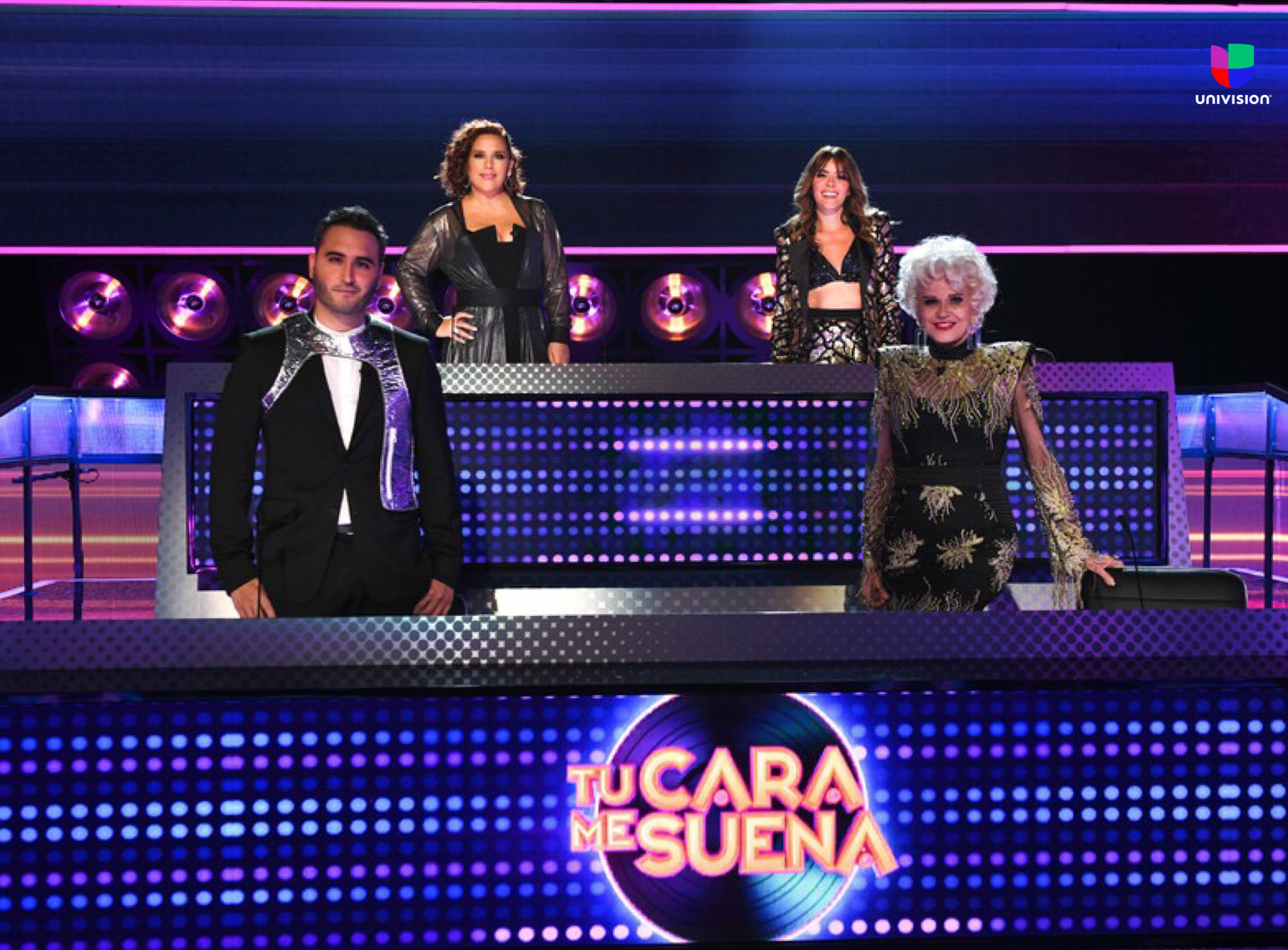 The Celebrities Will Recreate Performances by Beloved Music Icons Celia Cruz, Juan Gabriel and Jose Luis Rodriguez "El Puma," Among Others
WEEKLY UPDATE ON "TU CARA ME SUENA," UNIVISION'S NEW MUSIC COMPETITION
Show 2 Air Date: Sunday, October 11 at 8 p.m. ET/PT (7 p.m. CT) on Univision
WHAT'S NEW:
The stars of "Tu Cara Me Suena" are ready to transform into new music icons after showcasing their talent in the show's grand premiere last Sunday. Ready to take on new genres and impersonate great Latin music icons, the celebrities will bring their star-power to Univision's "Domingos en Familia" (Family Sundays) to recreate performances by legendary artists Celia Cruz and Juan Gabriel, among others.
The judges Charytín, Kany García, Jesús Navarro and Angélica Vale will continue with their tough job to evaluate the talented stars performing on stage, without being able to repeat the score given to each performer. Each judge gives a ranking to each performer from 3 to 10.
At the end of last show, the randomizer selected the following performances for this week
Chantal Andere will turn into Mexican pop rock singer Gloria Trevi
Gabriel Coronel will become Colombian vallenato singer Silvestre Dangond
El Dasa will characterize Regional Mexican and pop/balad singer, 'divo de Juarez, Juan Gabriel
Sandra Echeverría will transform into Regional Mexican star Paquita la del Barrio
Francisca Lachapel will interpret "La Guarachera de Cuba" Cuban artist Celia Cruz, with guaracha and salsa
Melina León goes into pop/rock to impersonate Alejandra Guzman
Llane will become his 'paisa' Colombian urban artist J Balvin
Pablo Montero will personify Venezuelan ballad artist Jose Luis Rodriguez "El Puma"
ON LAST SUNDAY'S SHOW:
The show began with a powerful music opening by the judges transforming into music idols: Charytín as Madonna; Jesus Navarro transformed into José José; Kany García personified Amy Winehouse; and Angélica Vale interpreted Cher.
Charytín received moving messages from several celebrities, celebrating her great return to the screen.
After the receiving their score from the judges, the celebrities were able to give two-points to fellow contestants. The top three of the night were:

1st place: Llane with 42 points interpreted Marc Anthony
2nd place: El Dasa with 39 points interpreted Marco Antonio Solís
3rd place: Sandra Echeverría with 35 points interpreted Shakira

The winner of the night was Llane who received $5,000 for the organization he represents "No More."
This competition doesn't have weekly eliminations. Every Sunday, the celebrities will receive a ranking score from 3 to 10 for their performance and the one with the highest points will be declared winner of the night.
The final scores will accumulate week after week and on the semifinal show the audience will be able to vote for the top 4 performers (from the accumulative scoreboard) to select the winner of the competition.
The winner of the show will receive the grand prize for the charity he/her represents.
"Tu Cara Me Suena" is hosted by Rafael Araneda and Ana Brenda Contreras, and Amara La Negra is the backstage host.
"Tu Cara Me Suena" is a co-production of Univision and Endemol Shine Boomdog.
ADDITIONAL INFORMATION:
Given the current circumstances imposed by COVID-19, Univision will follow strict guidelines and restrictions, in full compliance with local authorities and public health recommendations to bring this new show.
Viewers can join relive the performances by visiting YouTube.com/Univision and Univision.com/TuCaraMeSuena, also continue the conversation about the hit music competition on social media using the hashtag #TuCaraMeSuenaUS and by following Tu Cara Me Suena US on Instagram, Facebook and Twitter.
Visit corporate.univision.com/newco for more information on Univision and follow @UnivisionPRTeam on Twitter and Instagram.
CONTACT: Jenisei Couso 305-471-1692 jcouso@univision.net
###
  Leyendas Musicales Se Presentan en la Segunda Gala de "Tu Cara Me Suena" de Univision
Las celebridades recrearán actuaciones por los populares ídolos de la música Celia Cruz, Juan Gabriel y José Luis Rodríguez "El Puma", entre otros
ACTUALIZACIÓN SEMANAL SOBRE "TU CARA ME SUENA", LA NUEVA COMPETENCIA MUSICAL DE UNIVISION
Fecha de trasmisión del programa 2: domingo, 11 de octubre a las 8 p.m. Este/Pacífico (7 p.m. Centro) por Univision
NOVEDADES:
Las estrellas de "Tu cara me suena" están listas para transformarse en ídolos de la música tras mostrar su talento en el gran estreno del show el domingo pasado. Listas para presentar nuevos géneros y personificar a grandes ídolos de la música latina, las celebridades aportarán su poder estelar a "Domingos en Familia" de Univision para recrear grandes actuaciones por los legendarios artistas Celia Cruz, Jose Luis Rodríguez "El Puma", y Juan Gabriel, entre otros.
Los miembros del jurado Charytín, Kany García, Jesús Navarro y Angélica Vale continuarán la difícil labor de evaluar a las talentosas estrellas que se presenten en el escenario, sin poder repetir el puntaje que le dan a cada artista. Cada miembro del jurado califica del 3 al 10 a cada artista.
Al final del programa del pasado domingo, el randomizer seleccionó los siguientes números para esta semana:
Chantal Andere interpretará a la cantante mexicana de pop rock Gloria Trevi
Gabriel Coronel hará del cantante colombiano de vallenato Silvestre Dangond
El Dasa representará al cantante de música regional mexicana y pop/baladas Juan Gabriel, el "divo de Juárez"
Sandra Echeverría se transformará en la estrella de música regional mexicana Paquita la del Barrio
Francisca Lachapel interpretará a "la Guarachera de Cuba", la artista Celia Cruz, con guaracha y salsa
Melina León usará el pop/rock para convertirse en Alejandra Guzmán
Llane se convertirá en su "paisa", el artista colombiano de música urbana J Balvin
Pablo Montero personificará al artista venezolano de baladas José Luis Rodríguez, "El Puma"
DURANTE EL PROGRAMA DEL DOMINGO PASADO:
El show comenzó con un sólido acto inicial en el que los miembros del jurado se transformaron en ídolos musicales: Charytín hizo de Madonna; Jesús Navarro se transformó en José José; Kany García encarnó a Amy Winehouse; y Angélica Vale interpretó a Cher.
Charytín recibió mensajes conmovedores de varias celebridades que aplaudieron su gran retorno a la pantalla.
Después de recibir el puntaje del jurado, las celebridades pudieron otorgar dos puntos a otros concursantes. Quedaron en los tres primeros lugares esa noche:

1er lugar: Llane con 42 puntos, interpretó a Marc Anthony
2do lugar: El Dasa con 39 puntos, interpretó a Marco Antonio Solís
3er lugar: Sandra Echeverría con 35 puntos, interpretó a Shakira

El ganador de la noche fue Llane, quien recibió $5,000 a favor de la entidad que representa, "No More".
Esta competencia no tiene eliminatorias semanales. Todos los domingos, las celebridades reciben un puntaje del 3 al 10 por su actuación, y se declara ganador de la noche al que tenga más puntos.
Los puntos se van acumulando semana tras semana y, en las semifinales, la audiencia podrá votar por los cuatro artistas con mayor puntuación (del cuadro con puntos acumulados) para seleccionar al ganador de la competencia.
El ganador del show recibirá el premio mayor a favor de la entidad benéfica que representa.
Conducen "Tu cara me suena" Rafael Araneda y Ana Brenda Contreras, y Amara La Negra es la conductora backstage.
"Tu cara me suena" es una producción conjunta de Univision y Endemol Shine Boomdog.
INFORMACIÓN ADICIONAL:
Dadas las circunstancias actuales que el COVID-19 impone, para presentar este nuevo show, Univision seguirá estrictas pautas y restricciones, en pleno cumplimiento con las recomendaciones de las autoridades locales y autoridades de salud pública.
Los televidentes pueden volver a ver las actuaciones si visitan YouTube.com/Univision y Univision.com/TuCaraMeSuena, además de continuar la conversación sobre la popular competencia musical en redes sociales usando el hashtag #TuCaraMeSuenaUS and siguiendo Tu Cara Me Suena US en Instagram, Facebook y Twitter.
Visiten corporate.univision.com/newco para más información sobre Univision y sigan @UnivisionPRTeam en Twitter e Instagram.
CONTACTO: Jenisei Couso 305-471-1692 jcouso@univision.net
###