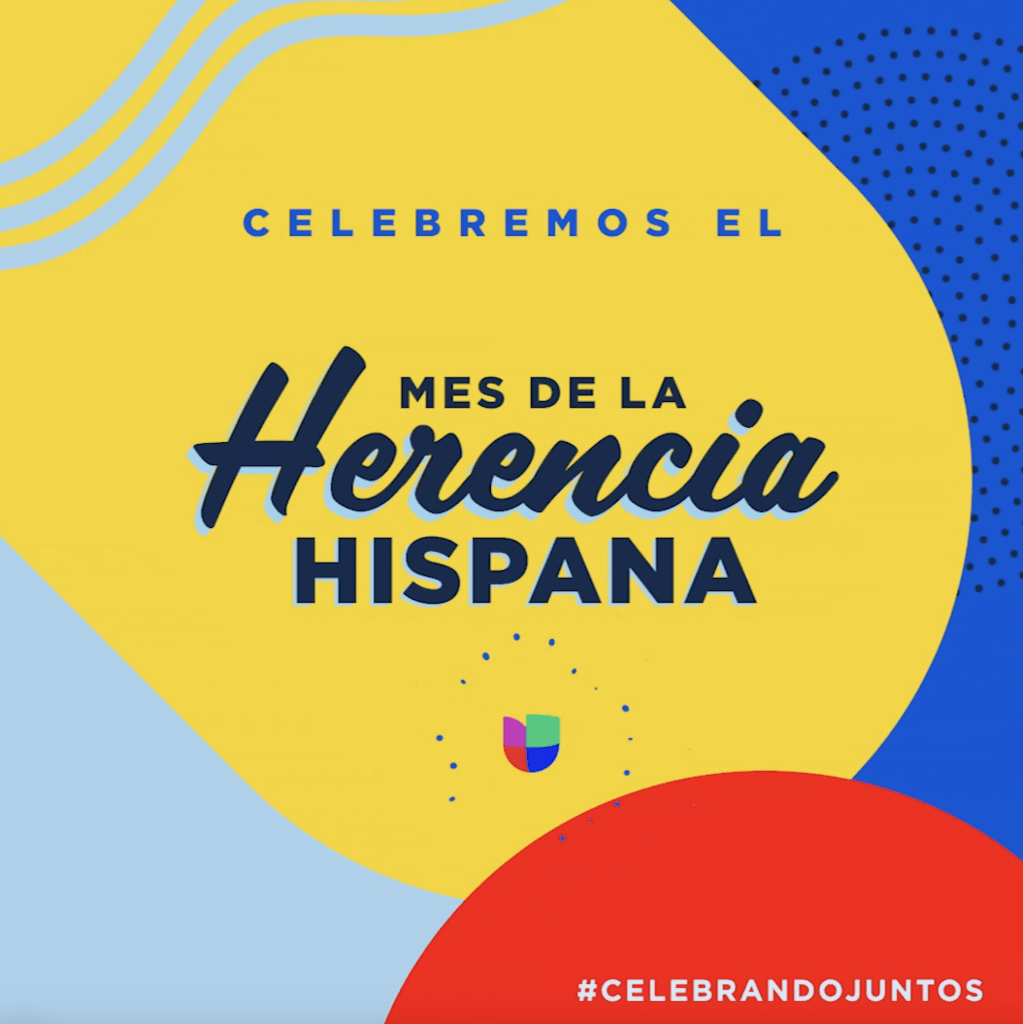 Univision Will Celebrate the Extraordinary Contributions of the Latino Community in the U.S. with a Multiplatform Hispanic Heritage Month Initiative
For the First Time, Univision Employees Will Join TV Personalities, Artists, Sports Figures and Influencers to Highlight the Important Role Hispanics are Playing in Shaping the Future of America 
Francisca Lachapel and Yarel Ramos Will Present "Se Habla USA Celebrando Juntos" Specials on Sunday, September 13 and September 20 at 5 p.m. ET/PT (4 p.m. CT) on Univision 
MIAMI – SEPTEMBER 11, 2020 – Univision, the leading Hispanic media company in the U.S., will recognize the extraordinary contributions of the Latino community with a comprehensive, multiplatform Hispanic Heritage Month initiative. Under the theme, "Somos Uno" (We Are One) America's Hispanic Super Brand will give Hispanics a platform to lend their voices and stories through original segments and spots, vignettes on its flagship shows, as well as specials on its linear, digital, social, sports and music platforms. The creative concept of the campaign uses bold and vibrant colors with a layered, multidimensionality design that represents Hispanic Americans, who come from a wide variety of countries and represent a range of ethnic groups and cultural experiences. 
The initiative showcases uplifting and celebratory Hispanic-pride spots that for the first time will feature Univision employees alongside beloved TV personalities, as well as global artists, renowned sports figures and popular influencers with an inspiring message of cultural pride and empowerment, telling a dynamic yet unique unified story, the story of the Latino community and its common dream. 
"We are proud to celebrate our Hispanic Heritage with a multiplatform initiative that showcases the rich diversity, culture and extraordinary contributions of Latinos in the U.S.," said Jessica Rodriguez, president of Entertainment and CMO, Univision. "As part of our commitment to inform, empower and entertain Hispanic America, we are highlighting the role our diverse and vibrant community plays in this country and elevating our diverse voices to tell the story of us." 
As part of the effort, Se Habla USA, Univision's bicultural and bilingual initiative celebrating Latinos all year long, will present "Se Habla USA Celebrando Juntos," two TV specials on Sunday, September 13 and September 20 at 5 p.m. ET/PT (4 p.m. CT) on Univision. 
Hosted by "Despierta América's" Francisca Lachapel and "Edición Digital California's" Yarel Ramos, "Se Habla USA Celebrando Juntos" (Se Habla USA Celebrating Together) will feature panels with notable guests, experts, entrepreneurs and influencers. The first special about maintaining Latino traditions alive through food and music, will cover how social media has evolved Latino foods, the current fusion of flavors and cultures, Latino music's influence through the generations and more. Guests include talented actress, singer, TV personality and backstage host of "Tu Cara Me Suena" Amara La Negra and the charismatic Chef Yisus of "Despierta América." Also participating in the show will be influencers Bryan Ford, Bricia Lopez, Chef Zee, "Abuelita's Kitchen" and entrepreneur Veronica Moreno of "Banderita Tortillas." 
In the second special, actress and activist Julissa Calderon, the celebrity power-couple Eduardo Capetillo and Biby Gaytán, "Primer Impacto's" Tony Dandrades and his wife Amy Rose Reyes, as well trauma therapist Adriana Alejandre and parenting coach Leslie Priscilla Arreola-Hillenbrand will discuss the modern Latino family. The topics they will debate include TV representation of Latino families through time, interracial couples, LGBTQ+ representation and bridging generational perspectives, and more. 
To continue with thetribute, the hit digital show "El Break de las 7" returns for a special episode on September 17. The show will bring celebrity guests to talk about pride, diversity and inclusion. The "El Break" will also give voice to the audience by showing the best posts with the hashtag #celebrandojuntos. 
For more images visit our Press Box and for more information about Univision's "Somos Uno" initiative visit: Univision.com/celebrandojuntos 
Visit corporate.univision.com/newco for more information on Univision and follow @UnivisionPRTeam on Twitter and Instagram. 
CONTACT: Tatiana Oviedo 305.463.4614 toviedo@univision.net 
### 
Univision Celebrará los Extraordinarios Aportes de la Comunidad Latina en Estados Unidos con una Iniciativa por el Mes de la Hispanidad en Plataformas Múltiples
Por primera vez, empleados de Univision se sumarán a personalidades de televisión, artistas, deportistas célebres e influencers para destacar el importante papel que los hispanos desempeñan al forjar el futuro de Estados Unidos   
Francisca Lachapel y Yarel Ramos presentarán los especiales "Se Habla USA Celebrando Juntos" los domingos, 13 y 20 de septiembre a las 5 p.m. Este/Pacífico (4 p.m. Centro) por Univision 
MIAMI –11 DE SEPTIEMBRE DE 2020– Univision, la principal empresa de medios dirigida a los hispanos en Estados Unidos, reconocerá los extraordinarios aportes de la comunidad latina con su primera iniciativa integral en plataformas múltiples por el Mes de la Hispanidad. Bajo el tema "Somos Uno", la supermarca de los hispanos en Estados Unidos les brindará una plataforma para que alcen su voz y compartan sus historias en segmentos originales, anuncios, reseñas en sus programas principales, además de especiales en televisión y medios digitales, redes sociales y plataformas de música. El concepto creativo de la campaña usa colores audaces y fuertes con un diseño multidimensional y en capas que simbolizan a los hispanos en Estados Unidos, quienes provienen de diversos países y representan una variedad de grupos étnicos y experiencias culturales. 
La iniciativa presenta anuncios de aliento y celebración sobre el orgullo hispano en los que saldrán por primera vez empleados y personalidades de televisión de Univision junto a valorados artistas internacionales, deportistas célebres e influencers populares con un mensaje inspirador de orgullo cultural y empoderamiento, contando una historia conjunta que es dinámica y única a la vez, la historia de la comunidad latina y su sueño común. 
"Nos enorgullece celebrar el Mes de la Hispanidad con una iniciativa en plataformas múltiples que destaca la rica diversidad y cultura, y los extraordinarios aportes de los latinos en Estados Unidos", dijo Jessica Rodríguez, presidenta de Entretenimiento y directora ejecutiva de Mercadeo de Univision. "Como parte de nuestro compromiso de informar, empoderar y entretener a los hispanos en Estados Unidos, estamos destacando el rol que nuestra diversa y dinámica comunidad desempeña en este país y nuestras diversas voces para contar nuestra historia". 
Como parte del esfuerzo, Se Habla USA, el proyecto bicultural y bilingüe de la Compañía que celebra a los latinos todo el año, presentará "Se Habla USA Celebrando Juntos," dos especiales de televisión, los domingos, 13 y 20 de septiembre a las 5 p.m. Este/Pacífico (4 p.m. Centro) por Univision. 
Conducidos por Francisca Lachapel de "Despierta América" y Yarel Ramos de "Edición Digital California", "Se Habla USA Celebrando Juntos" presentará paneles con destacados invitados, expertos, empresarios e influencers. El primer especial sobre cómo mantener vivas las tradiciones latinas a través de la comida y la música abarcará la evolución de la gastronomía latina debido a las redes sociales, la actual fusión de sabores y culturas, la influencia de la música latina en las diversas generaciones y más. Los invitados incluirán a Amara La Negra, actriz, cantante, personalidad de televisión y conductora backstage de "Tu cara me suena", y el carismático Chef Yisus de "Despierta América". También participarán en el show los influencers Bryan Ford, Bricia López, Chef Zee, "Abuelita's Kitchen" y la empresaria Verónica Moreno de "Banderita Tortillas". 
En el segundo especial, la actriz y activista Julissa Calderón, la célebre e influyente pareja Eduardo Capetillo y Biby Gaytán, Tony Dandrades de "Primer Impacto" y su esposa Amy Rose Reyes, además de la terapeuta especializada en traumas Adriana Alejandre y la experta en crianza de niños Leslie Priscilla Arreola-Hillenbrand, hablarán de la familia latina moderna. Los temas que debatirán incluirán cómo se ha representado a las familias latinas en la televisión a través de los años, las parejas interraciales, la representación de personas LGBTQ+ y cómo acortar las brechas generacionales, entre otros. 
Para continuar la celebración, el exitoso show digital "El Break de las 7" regresará para un episodio especial el 17 de septiembre. El show invitará a celebridades a hablar sobre el orgullo, la diversidad y la inclusión. "El Break" también dará voz a la audiencia al mostrar los mejores mensajes con el hashtag #celebrandojuntos. 
Para más imágenes visiten nuestro Press Box y para más información sobre el proyecto "Somos Uno" de Univision visiten: Univision.com/celebrandojuntos 
Visiten corporate.univision.com/newco para más información sobre Univision y sigan @UnivisionPRTeam en Twitter e Instagram. 
CONTACTO: Tatiana Oviedo 305.463.4614 toviedo@univision.net 
###