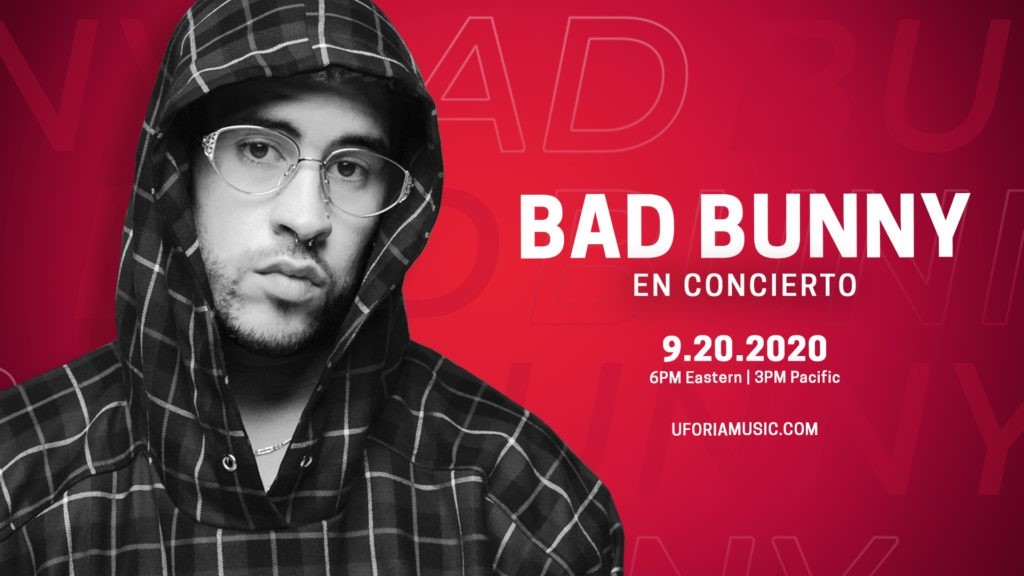 Univision's Uforia And Verizon Celebrate Hispanic Heritage Month With An Exclusive Livestream Concert By Global Superstar Bad Bunny On Sunday, September 20th 
Performance Can be Streamed via UforiaMusic.com and Bad Bunny's YouTube 
MIAMI – SEPTEMBER 14, 2020 – Uforia, The Home of Latin Music, today announced the return of the Uforia Music Series, the most influential Latin music concert series in America with an exclusive performance by global superstar Bad Bunny. The show, which will be streamed live on Sunday, September 20 at 6 p.m. ET/5 p.m. CT in partnership with Verizon, is a celebration of the Latinx community and will feature many of the renowned artists chart-topping hits. Music fans across the country can watch via UforiaMusic.com, Bad Bunny's YouTube, @UforiaMusic on Twitter, Twitch. 
"We are extremely excited to celebrate the richness of Latinx culture during Hispanic Heritage Month with this one-of-a-kind live streaming experience, and also commemorate the Puerto Rico community's resilience on the third anniversary of Hurricane Maria, in partnership with Verizon" said Jesus Lara, President of Radio, Univision. "We are proud to showcase the artistry of Bad Bunny who has had such a profound impact on our culture and the music industry at large." 
The exclusive performance is first of the Uforia Music Series's upcoming star-studded livestream concerts which will air once a month through the end of December under the banner Uforia Live. Additional dates and artist lineups will be announced in the coming weeks. 
Bad Bunny is proclaimed as one of the most popular artists in the world. The multi-platinum artist, winner of the Latin GRAMMY and nominated for the GRAMMY, constantly manages to break language and stereotype barriers around the globe, becoming an international culture and entertainment icon. Following the huge impact he has had on mass audiences, Bad Bunny became the first Latin Reggaeton artist in history to appear on the cover of Rolling Stone magazine. He is also the second male personality to appear alone on the cover of Playboy magazine, after its founder, Hugh Hefner. His leadership within the Reggaeton and Trap genres has led him to dominate large stages during prominent music festivals and international concert tours. 
His most recent album, "Las Que No Iban A Salir" debuted #1 on Billboard's "Top Latin Albums," dethroning himself over his previous albums, with "YHLQMDLG" at #2 and "X 100PRE" at #3. Bad Bunny is one of the Latin artists with the most entries to the global "Hot 100" list, with a total of 24 hits. In addition, with his album "YHLQMDLG," he became the first Latino artist in history to achieve the position #2 on the global list "Billboard 200." Each of Bad Bunny's releases has left their forceful mark on the history of Latin music. His artistic power and leadership in the entertainment world demonstrate his character as one of the most impactful artists of the moment and reaffirm his expansive position in the music industry. 
Follow Uforia across social platforms using the hashtag #uforialive on Twitter, Instagram, and Facebook. 
Visit corporate.univision.com/newco for more information on Univision, and follow @UnivisionPRTeam on Twitter and Instagram. 
CONTACT:  Yvette Pacheco, 646-560-4879, ypacheco@univision.net 
### 
Uforia De Univision Y Verizon Celebran El Mes De La Hispanidad Con Un Exclusivo Concierto Virtual De La Superestrella Internacional Bad Bunny El Domingo, 20 De Septiembre 
La actuación se podrá ver en UforiaMusic.com y el canal de YouTube de Bad Bunny 
MIAMI –14 DE SEPTIEMBRE DE 2020– Uforia, The Home of Latin Music, anunció hoy el regreso de la Serie Musical de Uforia, el más influyente conjunto de conciertos de música latina en Estados Unidos, con una actuación exclusiva de la superestrella internacional Bad Bunny. El show, que se trasmitirá en vivo por internet el domingo, 20 de septiembre a las 6 p.m. ET / 5 p.m. CT junto con Verizon, es una celebración de la comunidad latina y presentará muchos de los éxitos del renombrado artista. Los fans de la música en todo el país podrán verlo vía UforiaMusic.com, YouTube de Bad Bunny, @UforiaMusic en Twitter y Twitch. 
"Estamos sumamente emocionados de celebrar la riqueza de la cultura latina durante el Mes de la Hispanidad con esta experiencia única de streaming en vivo, además de conmemorar la resiliencia de la comunidad puertorriqueña durante el tercer aniversario del huracán María, junto con Verizon", dijo Jesús Lara, presidente de Radio de Univision. "Nos enorgullece destacar la habilidad artística de Bad Bunny, quien ha tenido un impacto tan profundo en nuestra cultura y el sector de la música, en general". 
La actuación exclusiva es la primera en la próxima estelar Serie Musical de Uforia, con conciertos virtuales en vivo que se trasmitirán una vez al mes hasta fin de diciembre bajo en nombre Uforia Live. Se anunciarán las demás fechas y artistas en semanas próximas. 
Bad Bunny es proclamado como uno de los artistas más populares del mundo. El artista multi-platino, ganador del Latin GRAMMY y nominado al GRAMMY, constantemente logra romper barreras internacionales de lenguaje y estereotipos, convirtiéndose en un icono global de lacultura y entretenimiento. Tras el gran impacto que ha tenido sobre audiencias masivas, Bad Bunny se convirtió en el primer artista latino del género reggaetón en aparecer en la portada de la revista Rolling Stone. Asimismo, es la segunda personalidad masculina en aparecer solo en la portada de la revista Playboy, después de su fundador, Hugh Hefner. Su liderazgo dentro del género Reggaetón y Trap, lo ha llevado a dominar grandes escenarios sobre prominentes festivales de música y giras de conciertos internacionales. 
Su álbum más reciente, "Las Que No Iban A Salir" debutó #1 en "Top Latin Albums" de Billboard, destronándose a sí mismo sobre sus álbumes anteriores, con "YHLQMDLG" de #2 y "X 100PRE"de #3. Bad Bunny es uno de los artistas latinos con más entradas al listado global "Hot 100" teniendoun total de 24 éxitos en el listado. Adicional a esto, con su disco "YHLQMDLG" se convirtió en el primer artista latino de la historia en lograr la posición #2del listado global "Billboard 200". Cada uno de los lanzamientos de Bad Bunny han dejado su marca contundente en la historia de lamúsica latina. Su poder artístico y su liderazgo en el mundo del entretenimiento, demuestran su carácter como uno de los artistas más impactantes del momento, y reafirman su posición expansiva en la industria musical. 
Sigan Uforia en las plataformas de redes sociales usando el hashtag #uforialive en Twitter, Instagram, y Facebook. 
Visiten corporate.univision.com/newco para más información sobre Univision y sigan @UnivisionPRTeam en Twitter e Instagram. 
CONTACTO:  Yvette Pacheco, 646-560-4879, ypacheco@univision.net