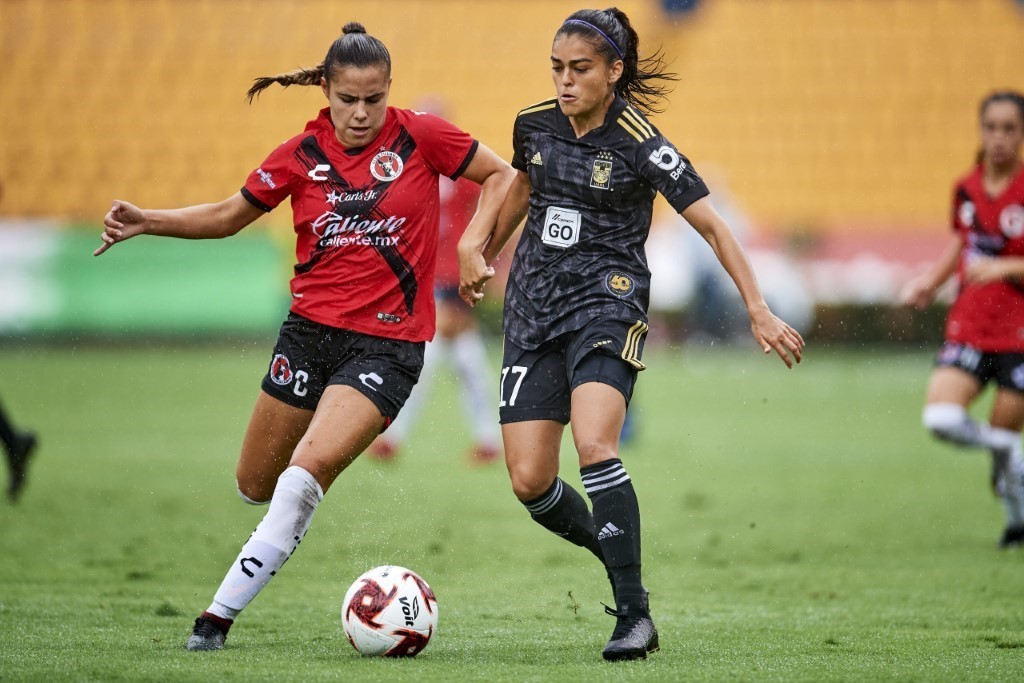 Univision's TUDN Partners with Facebook to Stream Matches from Mexico's Top-Tier Women's Soccer League Liga MX Femenil 
TUDN to Deliver 14 Contests from Current Guardianes 2020 Season Free to Fans on Facebook Watch at www.facebook.com/tudnusa 
Debuts Friday, September 18, with America vs. Santos Laguna at 4:55 p.m. ET 
MIAMI – SEPTEMBER 10, 2020 – Univision's TUDN, the undisputed Home of Soccer in the U.S., and Facebook today announced a partnership that will deliver fanáticos the very best women's soccer from Mexico streamed for free on Facebook Watch. Beginning September 18, fans will be able to view 14 total matches from this year's Liga MX Femenil Guardianes 2020 season produced by TUDN through the official TUDN USA Facebook page. 
"As the leader in soccer coverage in the U.S., we are committed to providing a platform for women's soccer, and are excited to partner with Facebook to bring added exposure to Liga MX Femenil," said Juan Carlos Rodriguez, president of Sports, Univision. "The popularity of the women's game is accelerating at an incredible rate, and TUDN is proud to be at the forefront as we continue to produce more women's matches than any other media company in the country." 
"Facebook is a place where people come to connect, search and find community, and sports play an important role in bringing people together in our platform where they can watch, share and comment around their favorite content," said Quentin Paquelier, Strategic Partner Manager for Sports at Facebook. "We are excited for fans of Women's Soccer League Liga MX Femenil to have a space to interact with others on Facebook". 
All matches streamed on Facebook Watch will also be available on the TUDN network. The schedule features 11 regular season and three playoff matches including nine Club América contests, as well as bitter rivalries such as the Clásico Regio between Tigres and Rayadas, and the Clásico Capitalino with Pumas-América: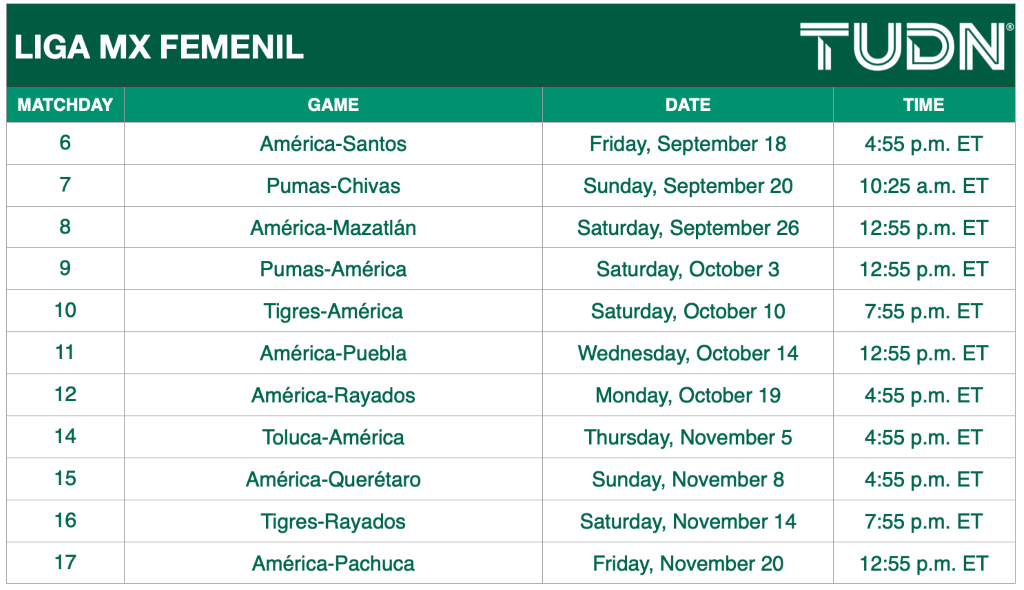 **Schedule is subject to change. 
Visit corporate.univision.com/newco/TUDN for more information on TUDN and follow @UnivisionPRTeam on Twitter and Instagram. 
CONTACTS: 
Tatiana Oviedo 305.463.4614 toviedo@univision.net 
Kevin Sornatale 212.455.5259 ksornatale@univision.net 
### 
TUDN de Univision se Asocia a Facebook para Trasmitir por Internet Partidos de la Destacada Liga MX Femenil 
TUDN presentará gratis 14 contiendas de la actual temporada 2020 de Guardianes a los fans en Facebook Watch, www.facebook.com/tudnusa 
 La cobertura empieza el viernes, 18 de septiembre, con América contra Santos Laguna a las 4:55 p.m. Este 
MIAMI -10 DE SEPTIEMBRE DE 2020– TUDN de Univision, el destino incuestionable del fútbol en Estados Unidos, y Facebook anunciaron hoy una alianza que les ofrecerá a los fanáticos el mejor fútbol femenil de México, trasmitido gratis por Facebook Watch. A partir del 18 de septiembre, los aficionados podrán ver un total de 14 partidos de la temporada 2020 de Guardianes de la Liga MX Femenil, producidos por TUDN en la página oficial de TUDN USA en Facebook. 
"Como líder de la cobertura del fútbol en Estados Unidos, tenemos el compromiso de ofrecer una plataforma al fútbol femenil, y nos entusiasma asociarnos a Facebook para brindar mayor exposición a la Liga MX Femenil", dijo Juan Carlos Rodríguez, presidente de Deportes de Univision. "La popularidad de los partidos de mujeres aumenta enormemente, y TUDN se enorgullece de estar a la vanguardia al seguir produciendo más partidos femeniles que todas las demás empresas de medios de comunicación en el país". 
"Facebook es un lugar al que la gente acude para conectarse, buscar comunidades y encontrarlas, y los deportes desempeñan un papel importante para congregar a personas en nuestra plataforma, donde pueden ver, compartir y comentar sobre su contenido favorito", dijo Quentin Paquelier, gerente de alianzas estratégicas de deportes de Facebook. "Nos emociona que los fans de la Liga MX Femenil tenga un espacio para interactuar con otros en Facebook". 
Todos los partidos que se trasmitan en Facebook Watch también estarán disponibles en la cadena TUDN. El horario tiene 11 partidos de la temporada regular y tres eliminatorios, incluidos nueve del Club América, además de grandes rivalidades como el Clásico Regio entre Tigres y Rayadas, y el Clásico Capitalino con Pumas y América: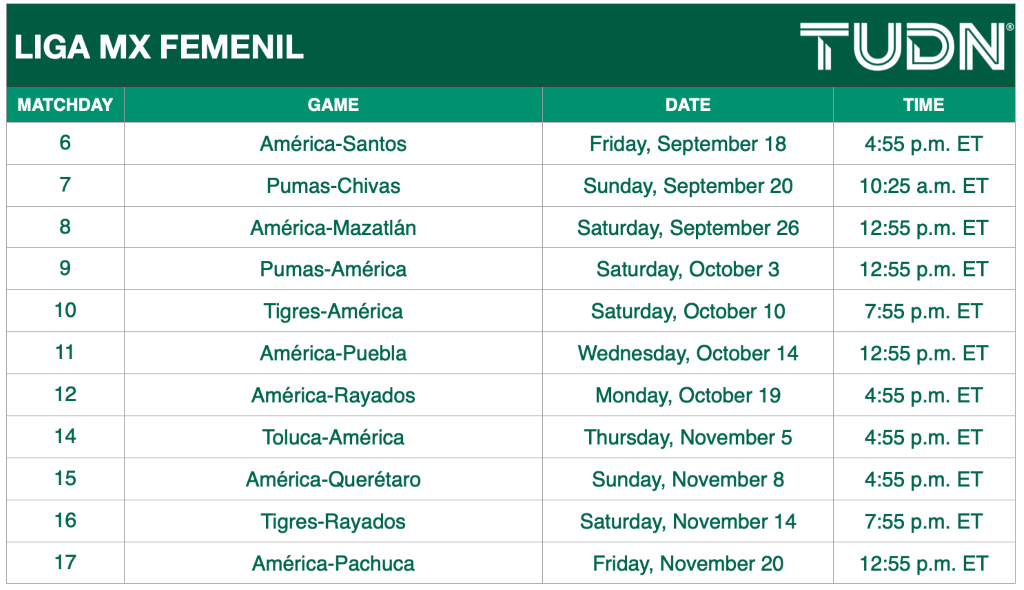 **El horario está sujeto a cambios.  
Visiten corporate.univision.com/newco/TUDN para más información sobre TUDN y sigan @UnivisionPRTeam en Twitter e Instagram. 
CONTACTOS: 
Tatiana Oviedo 305.463.4614 toviedo@univision.net 
Kevin Sornatale 212.455.5259 ksornatale@univision.net 
###