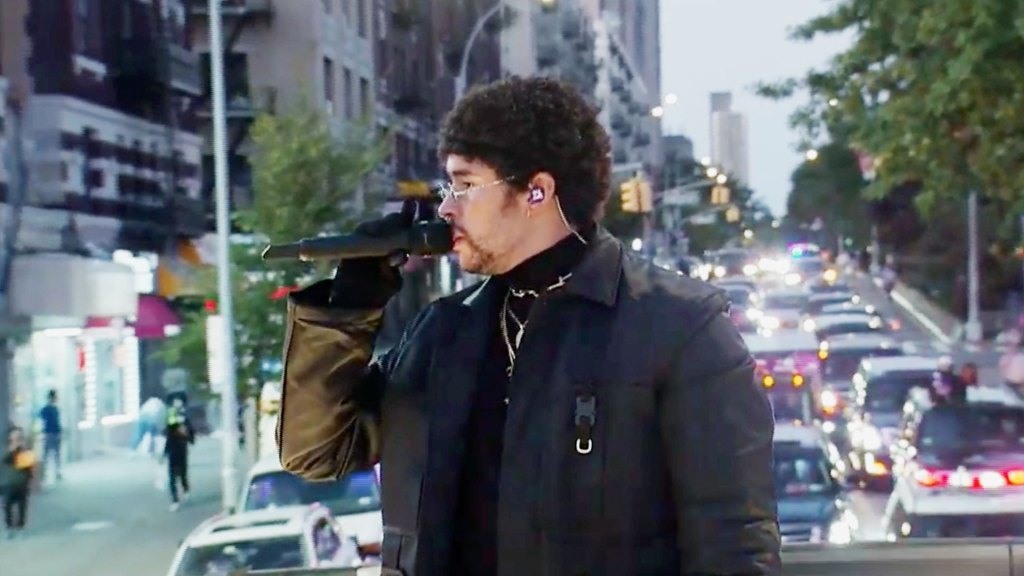 Uforia, La X 96.3 and Bad Bunny Surprise Fans with Epic Livestream Experience Through the Streets of NYC Presented by Verizon
With Special Virtual Guest Appearances by J Balvin, Sech and Mora, El Conejo Malo Performed His Biggest Hits on a Mobile Stage from Yankee Stadium and Washington Heights to Harlem Hospital in Honor of Hispanic Heritage Month
NEW YORK – SEPTEMBER 20, 2020 – Univision's Uforia, New York's La X 96.3 FM and Bad Bunny took New York City by surprise on Sunday evening, with a historic livestream experience on a mobile stage in celebration of Hispanic Heritage Month presented by Verizon. The "Uforia Live" event, which featured a groundbreaking performance by the genre-defying global superstar, was livestreamed for fans free of charge across the United States, Puerto Rico and internationally on both UforiaMusic.com and Bad Bunny's YouTube.
Hosted by Univision New York correspondent Damaris Diaz and La X 96.3FM on-air sensations Brea Frank and Shino Aguakate, the roving livestream experience began at Yankee Stadium and traversed parts of the Bronx and Washington Heights before ending in front of Harlem Hospital. The event culminated with a special finale for frontline workers in support of Verizon's Feed the Frontlines effort, which has served over 80,000 meals to health workers since April.
Featuring special virtual guest appearances by J Balvin, Sech and Mora, the livestream brought Bad Bunny fans all their favorite hits, including "BYE ME FUI," "Callaita," "Te Boté" and "Yo Perreo Sola."
In addition to honoring Hispanic Heritage Month and essential workers, the event also commemorated the third anniversary of Hurricane Maria making landfall in Bad Bunny's native Puerto Rico.
Along with Verizon, Truly Hard Seltzer and 7-Eleven also signed onto to "Uforia Live" as brand partners, enhancing the experience for fans with interactive online activations throughout the 90-minute show.
Press may access the following link for photos of the event.
The one-of-a-kind livestream experience was produced in collaboration with Elite Media and Marketing (EMM), IDEKO, the Mayor's Citywide Event Coordination and Management Office, The Mayor's Office of Media & Entertainment, the NYC Department of Transportation, the NYPD, Harlem Hospital and the Health and Hospital Corporation.
EMM is an award-winning company and world leading producer of live music entertainment. The company's unique 360 approach to music development and marketing has produced record breaking tours by Latin music's biggest artists, top charting albums and an impressive roster of artists in development. IDEKO is a New York-based full-service event experiential agency specializing in creating, permitting, and producing large-scale events.
Follow Uforia across social platforms including Twitter, Instagram, and Facebook.
Visit corporate.univision.com/newco for more information on Univision and follow @UnivisionPRTeam on Twitter and Instagram.
CONTACT: Julissa Bonfante, 305-894-8635, jbonfante@univision.net

About Univision Communications Inc.
As the leading Hispanic media company in the U.S., Univision Communications Inc. entertains, informs and empowers U.S. Hispanics with news, sports and entertainment content across broadcast and cable television, audio and digital platforms. The company's top-rated media portfolio includes the Univision and UniMás broadcast networks, as well as cable networksGalavisión and TUDN, the No. 1 Spanish-language sports network in the country. Locally, Univision owns or operates 65 television stations in major U.S. Hispanic markets and Puerto Rico. Additionally, Uforia, the Home of Latin Music, encompasses 58 owned or operated radio stations, a live event series and a robust digital audio footprint. The company's prominent digital assets include Univision.com, streaming service Univision Now, the largest Hispanic influencer network and several top-rated apps. For more information, visit corporate.univision.com/newco.
###
Uforia, la X 96.3 y Bad Bunny Sorprenden a los Fans con una Épica Experiencia Livestream desde la Ciudad de Nueva York Presentada por Verizon
Con actuaciones virtuales de los invitados especiales J Balvin, Sech y Mora, el Conejo Malo presentó sus más grandes éxitos en un escenario móvil desde el Estadio Yankee y Washington Heights hasta el Hospital de Harlem como homenaje al Mes de la Hispanidad
NUEVA YORK – 20 DE SEPTIEMBRE DE 2020 – Uforia de Univision, la X 96.3 FM de Nueva York y Bad Bunny le dieron una sorpresa a la ciudad de Nueva York la noche del domingo con una histórica experiencia en vivo por internet presentada por Verizon desde un escenario móvil para celebrar el Mes de la Hispanidad. El evento de "Uforia Live", que incluyó una innovadora actuación por la superestrella internacional que traspasa géneros, se trasmitió gratis y en vivo por internet a los fans en Estados Unidos, Puerto Rico y mundialmente en UforiaMusic.com y el canal de YouTube de Bad Bunny.
Conducido por Damaris Díaz, corresponsal de Univision Nueva York, y los sensacionales locutores de la X 96.3FM Brea Frank y Shino Aguakate, la experiencia musical empezó en el Estadio Yankee y atravesó el Bronx y Washington Heights antes de terminar frente al Hospital de Harlem. El evento culminó con un acto final especial para los trabajadores en el frente con el apoyo de la campaña Feed the Frontlines de Verizon, que ha servido más de 80,000 comidas a empleados de salud desde abril.
Con actuaciones virtuales de los invitados especiales J Balvin, Sech y Mora, la trasmisión ofreció a los fans de Bad Bunny todos sus éxitos favoritos, entre ellos, "BYE ME FUI", "Callaita", "Te Boté" y "Yo Perreo Sola".
Además de celebrar el Mes de la Hispanidad y homenajear a los trabajadores esenciales, el evento conmemoró el tercer aniversario de la llegada del huracán María a la patria de Bad Bunny, Puerto Rico.
Además de Verizon, las marcas Truly Hard Seltzer y 7-Eleven también patrocinaron "Uforia Live", realzando la experiencia de los fans con activaciones interactivas por internet durante todo el espectáculo de 90 minutos.
La prensa puede obtener fotos del evento en este enlace.
La épica trasmisión se produjo en colaboración con Elite Media y Marketing (EMM), IDEKO, la Oficina de Coordinación y Administración de Eventos y la Oficina de Medios y Entretenimiento del Alcalde, el Departamento de Transporte de la Ciudad de Nueva York, el Departamento de Policía de Nueva York, el Hospital de Harlem y Health and Hospital Corporation.
EMM es una galardonada compañía y productor líder en el mundo de entretenimiento musical en vivo. El singular enfoque 360 de la compañía hacia el desarrollo y mercadeo de la música ha producido giras que han rompido récords por algunos de los más grandes artistas de la música latina, exitosos álbumes y un impresionante grupo de nuevos artistas. IDEKO es una agencia de todo servicio de eventos experienciales con sede en Nueva York que se especializa en crear, otorgar permisos y producir eventos a gran escala.
Sigan Uforia en las plataformas de redes sociales, incluidas Twitter, Instagram y Facebook.
Visiten corporate.univision.com/newco para más información sobre Univision y sigan @UnivisionPRTeam en Twitter e Instagram.
CONTACTO: Julissa Bonfante, 305-894-8635, jbonfante@univision.net
Acerca de Univision Communications Inc.
Como la principal empresa de medios de comunicación dirigidos a los hispanos en Estados Unidos, UnivisionCommunications Inc. Los entretiene, informa y empodera con contenido de noticias, deportes y entretenimiento en televisión de señal abierta y cable, además de audio y plataformas digitales. La destacada cartera de propiedades de la compañía incluye las cadenas de señal abierta Univision y UniMás, y las cadenas de cable Galavisión y TUDN, el canal deportivo No. 1 en español del país. A nivel local, Univision es propietaria u opera 65 estaciones en los principales mercados hispanos de Estados Unidos y Puerto Rico. Además, Uforia, the Home of Latin Music, es propietaria u opera 58 estaciones de radio, presenta una serie de eventos en vivo y tiene una robusta presencia de audio digital. La prominente cartera digital de la empresa incluye Univision.com, el servicio de streaming UnivisionNow, la mayor cadena de influencers hispanos y varias de las aplicaciones más populares. Para mayor información,visiten corporate.univision.com/newco.
###