After a Resounding Victory Against Galatasaray, Real Madrid Hosts Powerful Paris Saint Germain at the Santiago Bernabeu Stadium
FC Barcelona – Borussia Dortmund and Juventus – Atlético de Madrid Matchups Headline Matchday 5
MIAMI – NOVEMBER 20, 2019 – The UEFA Champions League action returns to TUDN, the undisputed home of soccer in the U.S., for matchday 5 of the prestigious competition. All the matches will be available to fanáticos on linear networks UniMás, TUDN and Galavisión, as well as on TUDN's digital platforms and TUDN Radio.
The competition continues November 26-27 with Matchday 5 of the Group Stage. Highlights include:
Juventus vs. Atlético Madrid (11/26 at 2:50p.m. ET; Galavisión) Cristiano Ronaldo's Juventus has already qualified to the next round of the Champions League, now the Italian side will try to secure first place in Group D in a match against Hector Herrera's Atletico Madrid.
Real Madrid vs. Paris Saint Germain (11/26 at 2:50p.m. ET; UniMás/TUDN) A resounding victory against Galatasaray seems to have given Real Madrid its confidence back. Now, Los Merengues will host Neymar's Paris Saint Germain after a 3-0 loss to the French squad in the first matchday of the competition.
Valencia vs. Chelsea (11/27 at 12:00p.m. ET; Galavisión) Currently Ajax, Chelsea and Valencia have the same amount of points in Group H. A favorable outcome in this match for Christian Pulisic's Chelsea could be the decisive factor for them to qualify to the Round of 16.
FC Barcelona vs. Borussia Dortmund (11/27 at 2:50p.m. ET; UniMás/TUDN) Despite leading Group F, a misstep for Barcelona could dash its hopes in advancing to Round 16. Led by Lionel Messi, the Spanish will host Germany's Borussia Dortmund at Camp Nou Stadium.
Liverpool vs. Napoli (11/27 at 2:50pm ET; Galavisión) Both teams, Liverpool and Napoli, have almost secured their ticket out of the group stage. After defeating the British team in their first matchup of the season, Hirving Lozano's Napoli must repeat the feat again if they want to take the lead in Group E.
Watch, Listen and Interact:
Matches airing on UniMás/TUDN and Galavisión are available digitally to all authenticated TUDN subscribers via the TUDN app and TUDN.TV. Additional matches are available exclusively to subscribers of participating TV providers* via TUDNxtra, with whip-around coverage also available on "Zona Fútbol." Both services are accessible via the TUDN app, TUDN.TV and, in some cases, via TV providers' platforms.
*Fans can check with their TV providers to find out if they have access to TUDNxtra and "Zona Fútbol."
Select UEFA Champions League matches will also air across the country on the TUDN Radio network. Audio coverage is also available via the TUDN and Uforia apps.
Fanáticos can join TUDN in conversation around Champions League using the hashtag #UCL on Twitter and Instagram.
Visit corporate.univision.com/newco for more information on Univision, and follow @UnivisionPRTeam on Twitter and Instagram.
CONTACTS:
Tatiana Oviedo 305.463.4614 toviedo@univision.net
 Kevin Sornatale 212.455.5259 ksornatale@univision.net
###
TUDN de Univision Presenta La UEFA Champions League: Cada Punto es Importante en la Recta Final de la Fase de Grupos
Tras una victoria rotunda contra Galatasaray, Real Madrid recibe al potente Paris Saint Germain en el estadio Santiago Bernabeu
Los partidos entre FC Barcelona–Borussia Dortmund y Juventus–Atlético de Madrid predominan en la quinta jornada
MIAMI –20 DE NOVIEMBRE DE 2019– La acción de la UEFA Champions League vuelve a TUDN, el destino incuestionable del fútbol en Estados Unidos, para la quinta jornada del prestigioso torneo. Los fanáticos podrán ver todos los partidos en las cadenas tradicionales, UniMás, TUDN y Galavisión, además de las plataformas digitales de TUDN y TUDN Radio.
El campeonato continúa el 26 y 27 de noviembre con la quinta jornada de la etapa de grupos. Lo más emocionante incluirá:
Juventus vs. Atlético Madrid (11/26 a las 2:50p.m. Este; Galavisión) La Juventus de Cristiano Ronaldo ya se ha clasificado para la próxima ronda de Champions League. Ahora el equipo italiano tiene que tratar de asegurarse el primer lugar en el grupo D en un difícil partido contra Atlético Madrid de Héctor Herrera.
Real Madrid vs. Paris Saint Germain (11/26 a las 2:50p.m. Este; UniMás/TUDN) Una victoria rotunda contra Galatasaray parece haber hecho que Real Madrid recupere la confianza. Ahora, los Merengues recibirán a Paris Saint Germain de Neymar tras perder 3-0 ante el equipo francés en la primera jornada del certamen.
Valencia vs. Chelsea (11/27 a las 12:00p.m. Este; Galavisión) Ajax, Chelsea y Valencia tienen la misma cantidad de puntos en el grupo H en este momento. Un resultado favorable en este partido para Chelsea de Christian Pulisic podría ser el factor decisivo y hacer que se clasifique para los octavos de final.
FC Barcelona vs. Borussia Dortmund (11/27 a las 2:50p.m. Este; UniMás/TUDN) A pesar de encabezar el grupo F, un mal paso podría eliminar la esperanza de que Barcelona pase a la fase eliminatoria.  Encabezados por Lionel Messi, los españoles recibirán a Borussia Dortmund de Alemania en el estadio Camp Nou.
Liverpool vs. Napoli (11/27 a las 2:50pm Este; Galavisión) Tanto Liverpool como Napoli han obtenido un pase a la etapa de grupos. Tras ganar al equipo británico en su primer encuentro de la temporada, Napoli de Hirving Lozano debe repetir la hazaña si quiere volver a ser líder del grupo E.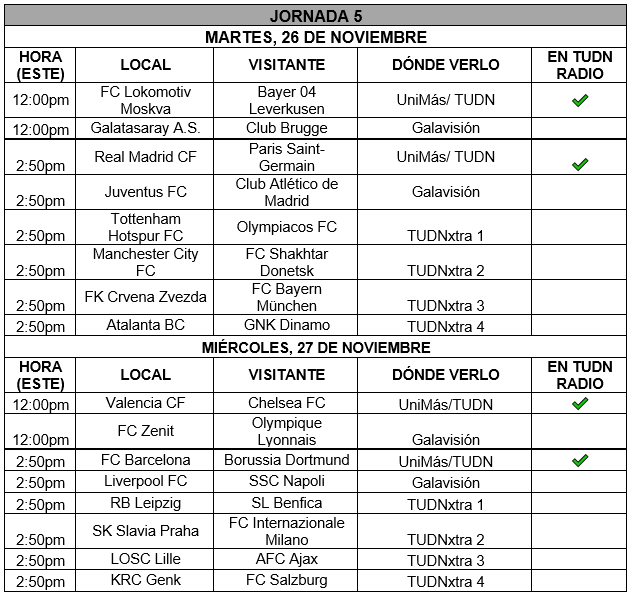 Los partidos que se trasmitirán por UniMás/TUDN y Galavisión estarán disponibles en medios digitales para todos los suscriptores de TUDN con autenticación vía la aplicación de TUDN y TUDN.TV. Solo pueden ver los demás partidos los suscriptores de servicios participantes de televisión* vía TUDNxtra, con cobertura resumida en "Zona Fútbol". Ambos servicios están disponibles vía la aplicación de TUDN, TUDN.TV y, en ciertos casos, plataformas de servicios participantes de televisión.
*Los fans pueden contactar a su servicio de televisión para averiguar si tienen acceso a TUDNxtra y "Zona Fútbol".
También se trasmitirán partidos selectos de Champions League de UEFA en todo el país por TUDN Radio Network. Además, se ofrece cobertura radial vía las aplicaciones de TUDN y Uforia.
Los fanáticos puedan participar en la conversación con TUDN sobre Champions League usando el hashtag #UCL en Twitter e Instagram.
Visiten corporate.univision.com/newco para más información sobre Univision y sigan @UnivisionPRTeam en Twitter e Instagram. 
CONTACTOS:        
Tatiana Oviedo 305.463.4614 toviedo@univision.net
Kevin Sornatale 212.455.5259 ksornatale@univision.net
###