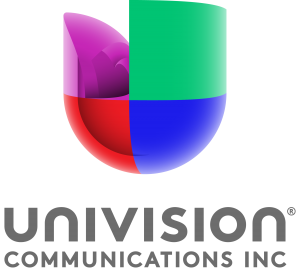 Celebrating 50th Anniversary, Multimedia Company Kicks off New Era as the "Hispanic Heartbeat of America"
---
NEW YORK – OCTOBER 17, 2012 – Univision Communications Inc., the leading media company serving Hispanic America, today unveiled a new brand identity, symbolized by the introduction of a new logo that signifies its growth and transformation, and celebrates the culture of innovation built over the company's 50-year history.
"The launch of our new brand logo kicks-off a new era at Univision that speaks to who we are as a company and that we are a direct reflection of the Hispanic community we serve – multidimensional, dynamic, modern and bold," said Randy Falco, president and CEO, Univision Communications, Inc. "We are proud to be ahead of the curve in a rapidly evolving industry, and our new brand identity will now illustrate how far Univision has come in its 50-year history. We've evolved from a single Spanish-language network to a multimedia portfolio, connecting with multiple generations of Hispanic Americans, while continuing to embody the passion, courage, ingenuity and tenacity that are the fundamental values of Hispanic culture."
Falco continued: "Univision has tremendous brand equity – on par with Apple, Coca-Cola and Kleenex – that far outpaces that of any other media company. Our unparalleled connection and leadership with our audience compels us to evolve with them. It is our duty and our ambition to leverage this incredible brand equity to celebrate our culture and connect America to the 52 million Hispanics in the United States. Through our steadfast commitment to informing, entertaining and empowering the Hispanic community, we are and always will be the 'Hispanic Heartbeat of America.' Our new identity is a symbol of this promise and just one of many exciting new developments to come."
The new logo, evocative of a human heart and three-dimensional in appearance, is a vibrant new take on Univision's prior logo, which represented the company for nearly 50 years since the company began as one television station in San Antonio, Texas in 1962.
"The new 'heart' logo joins the quadrants that were previously separated, representing unity, collaboration and the merging of cultures in the U.S., not to mention Univision's integration across its platforms," said Ruth Gaviria, senior vice president of Corporate Marketing, Univision Communications, Inc. "It is also three dimensional, representing the magnitude of the Univision brand and the U.S. Latino community, as well as the 360-degree approach we embrace as a company. The vibrant color palette and use of light in the design reflect the vivacity of the community we represent and its contributions to the U.S. landscape."
The launch of the updated logo and new brand identity was developed in collaboration with Wolff Olins, a global brand consultancy known for helping organizations grow through brand-driven creativity.
"Univision selected Wolff Olins as the brand partner for the launch of their new identity," said Jordan Crane, creative director, Wolff Olins. "As Univision's brand partner, our work included the development of the brand story, definition of the brand expression and the resulting logo that delivers on the organization's business growth goals and reflects its transformation into a thriving multimedia company. Wolff Olins is thrilled to have played a part in helping Univision further strengthen its ambition and unshakable commitment to the Hispanic American population and culture."
To download the new Univision logo and other visuals, please visit ftp.univision.net
Username: press; Password: univision
To view a video on Univision's new brand identity, click here.
CONTACT:  Marielena Santana, 212-455-5233, msantana@univision.net
---
UNIVISION DEVELA NUEVO LOGOTIPO QUE SIMBOLIZA LA TRANSFORMACIÓN DE LA COMPAÑÍA
Celebrando su 50 aniversario, la empresa multimedios inicia una nueva era como "el latido del corazón hispano de Estados Unidos"
---
NUEVA YORK – 17 DE OCTUBRE, 2012 – Univision Communications Inc., la principal empresa de medios de comunicación al servicio de la comunidad hispana en los Estados Unidos, develó una nueva imagen de marca a través de un nuevo logotipo que simboliza el crecimiento y la transformación de la empresa, y que celebra la cultura de innovación forjada a lo largo de sus 50 años de historia.
"El lanzamiento del nuevo logo de nuestra marca da inicio a una nueva era que representa lo que somos como compañía y el hecho de que Univision es un reflejo directo de la comunidad hispana a la cual servimos – multidimensional, dinámica, moderna y audaz", dijo Randy Falco, presidente y director ejecutivo de Univision Communications, Inc. "Nos sentimos orgullosos de estar a la vanguardia de una industria que evoluciona tan rápidamente, y nuestra nueva identidad de marca ahora refleja lo lejos que ha llegado Univision en sus 50 años. Nos hemos transformado de una sola cadena en español a una cartera de multimedios que se conecta con múltiples generaciones de hispanos en los Estados Unidos y personifican la pasión, la valentía, el ingenio y la tenacidad, que son los valores fundamentales de la cultura hispana".
Falco continuó: "Univision tiene un valor de marca impresionante – a la par de Apple, Coca-Cola y Kleenex – que supera por mucho el de cualquier otra compañía de medios. Nuestro liderazgo y nuestra incomparable conexión con nuestra audiencia nos obligan a evolucionar junto con ella. Es nuestro deber y ambición aprovechar este increíble valor de marca para celebrar nuestra cultura y conectar a Estados Unidos con los 52 millones de hispanos que viven en el país. A través de nuestro inquebrantable compromiso de informar, entretener y dar poder a la comunidad hispana, somos, y siempre seremos, 'el latido del corazón hispano de Estados Unidos'. Nuestra nueva imagen corporativa es un símbolo de esta promesa y sólo una de las emocionantes novedades que están por venir".
El nuevo logotipo, que evoca un corazón humano y tiene un aspecto tridimensional, es una fresca y flamante versión del logo anterior de Univision, el cual representó a la compañía desde hace casi 50 años, cuando la empresa comenzó con una sola estación de televisión en San Antonio, Texas, en 1962.
"El nuevo logotipo de 'corazón' une a los cuadrantes que antes estaban separados, para simbolizar la unidad, la colaboración y la fusión de culturas en Estados Unidos, además de la integración de Univision a través de todas  sus plataformas", explicó Ruth Gaviria, vicepresidenta sénior de Mercadeo Corporativo para Univision Communications, Inc. "También es tridimensional, lo que representa la magnitud de la marca Univision y de la comunidad latina en Estados Unidos, y adicionalmente, el enfoque de 360 grados que abrazamos como compañía. Los colores brillantes y el uso de la luz en el diseño reflejan la vivacidad de la comunidad que representamos y sus contribuciones al panorama nacional".
El lanzamiento del logotipo rediseñado y de la nueva imagen de marca fue desarrollado conjuntamente con Wolff Olins, una empresa global de consultoría de marca, conocida por ayudar a organizaciones a crecer a través de la creatividad enfocada en sus marcas.
"Univision escogió a Wolff Olins para que fuera su socio de marca en el lanzamiento de su nueva imagen corporativa", dijo Jordan Crane, director creativo de Wolff Olins. "Como socios de Univision en este proyecto, nuestra labor incluyó el desarrollo de la historia de la marca, la definición de la expresión de la marca y el  logotipo que surgió como resultado, el cual representa las metas de crecimiento comercial de la empresa y refleja la transformación que la ha convertido en una pujante compañía multimedios. En Wolff Olins estamos encantados de haber tenido la oportunidad de ayudar a Univision a fortalecer aún más sus ambiciones y su firme  compromiso con la comunidad hispana y su cultura".
Para descargar el nuevo logo de Univision y otras imágenes, por favor visita ftp.univision.net
Username: press; Password: univision
Para ver el video sobre la nueva identidad de marca, haga clic aquí
CONTACTO:   Marielena Santana, 212-455-5233, msantana@univision.net