MIAMI, FL – APRIL 11, 2012 – Univision Communications Inc., the nation's leading media company serving Hispanic America, today announced that Enrique Acevedo has joined its award-winning News team. Beginning in April 23, 2012, Acevedo will co-anchor the national late evening news, "Noticiero Univision Edición Nocturna," alongside Ilia Calderón.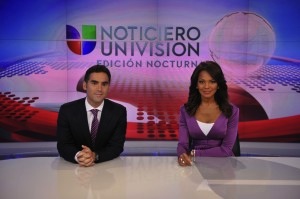 "We are excited to have Enrique join our Univision News team's efforts to inform our community through our highly-regarded 'Noticiero Univision Edición Nocturna," remarked Daniel Coronell, vice president of Univision News. "Having covered major breaking news events across the globe, Enrique will bring his wealth of knowledge and insight to help make our coverage even stronger."
Acevedo has reported on key news stories all over the world, including the earthquake and Tsunami in Japan, the AIDS epidemic in Africa, the humanitarian crisis in Haiti and the drug wars in Mexico. He joins Univision from NBC-Telemundo, where he served as special correspondent and anchor. Before that he worked as a senior reporter for Televisa's special investigations bureau in Mexico where he hosted "La Otra Agenda," a daily news program on ForoTV, Televisa's 24-hour cable news channel. Acevedo was also a correspondent for the network's investigative news magazine "Los Reporteros." Before joining Televisa, he was a national affairs reporter and special projects editor at Mexico's leading newspaper Reforma.
He has been honored twice with the National Journalism Award by Club de Periodistas de Mexico (Mexico's Journalism Club) and is the recipient of the prestigious José Pagés Llergo award. A graduate of Columbia University, Acevedo holds a master's degree in Journalism and serves on the editorial board of the London- based electronic newspaper, The Periscope Post.
Univision's award-winning News division is committed to informing the country's fastest growing segment across all media platforms, including TV, Radio, and Interactive. Hispanics count with the latest and most relevant content that impact the community through: Univision's evening, late evening and weekend national newscasts, "Noticiero Univision"; political Sunday affairs program, "Al Punto"; newsmagazine programs "Aqui y Ahora" and "Primer Impacto"; as well as morning news on "Despierta America." Univision also hosts statewide public affairs shows, "Voz y Voto," in Texas and California. In the last year, Univision has strengthened its news team and expanded its news operations by adding Investigative and Documentary Units.
CONTACT:    Carolina V. Valencia, 212-455-4712, cvalencia@univision.net
---
 EL GALARDONADO PERIODISTA ENRIQUE ACEVEDO COPRESENTARÁ "NOTICIERO UNIVISION EDICIÓN NOCTURNA"
---
MIAMI, FL – 11 DE ABRIL, 2012 – Univision Communications Inc., la principal compañía de medios de comunicación al servicio de la comunidad hispana en los Estados Unidos, anunció hoy que Enrique Acevedo se ha incorporado a su premiada división de Noticias. A partir del 23 de abril de 2012, Acevedo será copresentador del "Noticiero Univision Edición Nocturna", junto a Ilia Calderón.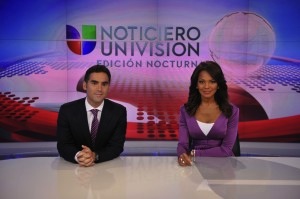 "Estamos encantados de tener a Enrique en el equipo de Noticias Univision para informar a nuestra comunidad a través del reconocido espacio 'Noticiero Univision Edición Nocturna'", comentó Daniel Coronell, vicepresidente de Noticias Univision. "Habiendo cubierto importantes sucesos noticiosos en el mundo entero, Enrique aportará su abundante conocimiento y experiencia periodística para ayudar a hacer nuestra cobertura noticiosa aún más fuerte". 
Acevedo ha cubierto noticias de gran importancia a nivel global, entre ellas el terremoto y tsunami en Japón, la epidemia de SIDA en África, la crisis humanitaria en Haití y la guerra contra el narcotráfico en México. Llega a Univision de NBC-Telemundo, donde trabajó como corresponsal especial y presentador. Anteriormente sirvió como reportero sénior para el buró de investigaciones especiales de Televisa en México, donde conducía "La Otra Agenda", un espacio diario en ForoTV, el canal de noticias 24 horas de Televisa. Acevedo también fue corresponsal del magacín noticioso de Televisa, "Los Reporteros". Antes de ingresar a Televisa, fue reportero para asuntos nacionales y editor de proyectos especiales para el diario principal de México, Reforma.
Ha sido honrado dos veces con el Premio Nacional de Periodismo, otorgado por el Club de Periodistas de México, y también recibió el prestigioso Premio José Pagés Llergo. Egresado de Columbia University, Acevedo tiene una maestría en Periodismo. Forma parte de la junta editorial de The Periscope Post, un periódico electrónico con base en Londres.
La galardonada división de Noticias de Univision se ha comprometido a informar al segmento demográfico de más rápido crecimiento del país a través de todas las plataformas de medios, entre ellas televisión, radio y medios interactivos. Los hispanos cuentan con el más reciente y pertinente contenido que afecta la comunidad con: los noticieros nacionales vespertinos, de noche y fin de semana de Univision, "Noticiero Univision"; el programa noticioso dominical de asuntos políticos "Al Punto"; las revistas noticiosas "Aquí y Ahora" y "Primer Impacto", como también las noticias matutinas en "Despierta América". Univision también presenta un programa estatal de asuntos públicos, "Voz y Voto" en Texas y California. En el último año, Univision ha fortalecido su equipo de noticias y ha expandido sus operaciones de noticias al agregar unidades de investigación y documentales.
CONTACTO: Carolina V. Valencia, 212-455-4712, cvalencia@univision.net