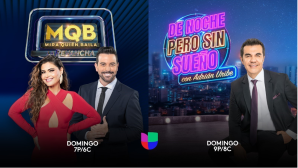 Lis Vega, Lambda García and Adrián Lastra vie to be crowned winner of Univision's hit dance competition
The season finale of DE NOCHE PERO SIN SUEÑO will mix charm and talent with Marjorie De Sousa and Edén Muñoz as special guests
Click here to download promotional assets
Miami, FL. – November 15, 2023 – Univision is set to host a spectacular season finale extravaganza this upcoming Sunday, November 19, at 7p/6c. The grand finale of MIRA QUIÉN BAILA LA REVANCHA will kick off the evening with an electrifying opening to the rhythm of "Bad," the iconic hit from the king of pop, Michael Jackson. The dance competition will be further elevated by the star power of the legendary cumbia group Los Ángeles Azules, who will join as special guests for a night that promises to be unforgettable and filled with surprises.
As the evening unfolds, finalists Lis Vega, Adrián Lastra, and Lambda García will compete in the "Yo Lo Bailo Mejor" segment. In this challenge, they will select and reinterpret a performance previously done by one of their peers before the jury. Right after this, there will be a second round of competition. In this round, the performances will determine the third finalist. Once the third finalist is chosen, the remaining two contestants will proceed to the final duel. It is after this decisive showdown that the season's winner will be announced.
Following the dance competition, Univision invites night owls to another episode of the most irreverent late-night show on Hispanic television, DE NOCHE PERO SIN SUEÑO, at 9p/8c. The charismatic Adrián Uribe will be joined by the talented and stunning actress Marjorie de Sousa, and musical star Edén Muñoz. Viewers should brace themselves for a night complete with entertainment, laughter, and unexpected delights.
In the season finale of DE NOCHE PERO SIN SUEÑO, singer Edén Muñoz will engage in a candid conversation about his encounters with fans, even sharing the most bizarre places he's been asked for autographs. Additionally, Muñoz will captivate the audience with a performance of his latest hit "Chale."
Alongside Marjorie de Sousa, Uribe will delve into her illustrious career playing lead and villainous roles in the world of telenovelas. They will also partake in the highly anticipated "snowball" dynamic, a mental agility game where they must list as many words as possible within specific categories, testing their wits. The twist: repeating a word or making a mistake triggers a mechanism releasing a high-pressure snow "avalanche" upon them. Marjorie will also join "El Vitor" for the daunting "hot questions," and they'll even dance to some cumbia beats.
Join the conversation on social media by following the hashtag #MiraQuienBaila and #DeNochePeroSinSueño on Facebook, Instagram, X y TikTok. You can also stay up to date with MIRA QUIÉN BAILA LA REVANCHA on WhatsApp. For more information, visit Univision.com/shows. 
Visit televisaunivision.com for more information on TelevisaUnivision and follow us on Twitter and Instagram.
CONTACTS:
Laura Paez lpaez@televisaunivision.com
Bettina Humphreys bhumpreys@televisaunivision.com
###
Este domingo por Univision: Gran Final de MIRA QUIÉN BAILA LA REVANCHA y DE NOCHE PERO SIN SUEÑO, a partir de las 7p/6c
Lis Vega, Lambda García y Adrián Lastra compiten por ser coronados como ganadores del exitoso reality de baile de Univision
La final de temporada de DE NOCHE PERO SIN SUEÑO combinará encanto y talento con Marjorie De Sousa y Edén Muñoz como invitados especiales
Haga clic aquí para descargar los materiales promocionales
Miami, FL. – 15 de noviembre de 2023 – Univision se prepara para una espectacular noche de cierre de temporada este próximo domingo, 19 de noviembre, a las 7p/6c. La gran final de MIRA QUIÉN BAILA LA REVANCHA dará inicio a la noche con un opening electrizante al ritmo de "Bad", el legendario éxito del rey del pop, Michael Jackson. El concurso de baile alcanzará nuevas alturas con la participación estelar del mítico grupo de cumbia Los Ángeles Azules, quienes se unirán como invitados especiales en una velada que promete ser inolvidable y llena de sorpresas.
A medida que avance la noche, los finalistas Lis Vega, Adrián Lastra y Lambda García competirán en el segmento "Yo Lo Bailo Mejor". En este reto, seleccionarán y reinterpretarán una actuación previamente realizada por uno de sus compañeros ante el jurado. Justo después, se llevará a cabo una segunda ronda de competencia. En esta fase, los números determinarán al tercer finalista. Una vez seleccionado, los dos concursantes restantes avanzarán al duelo final. Será tras este duelo de baile decisivo cuando se anuncie el ganador de la temporada.
Luego de la emocionante competencia de baile, Univision invita a los amantes de la noche a disfrutar de un nuevo episodio del late-night show más irreverente de la televisión hispana, DE NOCHE PERO SIN SUEÑO, a las 9p/8c. El carismático Adrián Uribe estará acompañado por la talentosa y deslumbrante actriz Marjorie de Sousa, y la estrella de la música, Edén Muñoz. Los espectadores pueden prepararse para una noche repleta de entretenimiento, carcajadas y sorpresas inesperadas.
En el episodio final de temporada de DE NOCHE PERO SIN SUEÑO, el cantante Edén Muñoz participará en una charla sincera sobre sus experiencias con los fans, compartiendo incluso los lugares más insólitos donde le han pedido autógrafos. Además, Muñoz encantará a la audiencia con una interpretación de su más reciente éxito, "Chale".
Junto a Marjorie de Sousa, Adrián Uribe explorará la destacada carrera de la actriz, resaltando sus roles protagónicos y de villana en el mundo de las telenovelas. También se sumergirán en la dinámica de las "bolas de nieve", un juego de agilidad mental en el que deberán listar la mayor cantidad de palabras posibles dentro de categorías específicas, poniendo a prueba su ingenio. El giro: repetir una palabra o cometer un error activará un mecanismo que desencadenará una "avalancha de nieve" sobre ellos. Marjorie además se unirá a "El Vitor" en las temibles "preguntas calientes", y hasta bailarán al ritmo de la cumbia.
Únete a la conversación en las redes sociales siguiendo el hashtag #MiraQuienBaila en Instagram, TikTok e X. También puedes mantenerte actualizado en el grupo de MIRA QUIÉN BAILA LA REVANCHA a través de WhatsApp. Para más información visita www.miraquienbaila.com   
Visita televisaunivision.com para obtener más información sobre TelevisaUnivision y síguenos en X e Instagram.
CONTACTOS:
Laura Paez lpaez@televisaunivision.com
Bettina Humphreys bhumpreys@televisaunivision.com