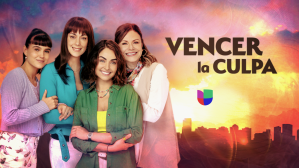 In the fifth installment of the VENCER franchise, four very different women unite after the unfolding of a mysterious event that could change their lives forever
Click here to download promotional assets
Miami, FL. – November 8, 2023 – Univision announced the premiere of its new primetime drama VENCER LA CULPA starting November 13, at 8p/7c. Produced by renowned producer Rosy Ocampo, the fifth season of the popular franchise promises an enthralling storyline that revolves around the theme of letting go of regrets and embracing new beginnings. The star-studded cast includes Claudia Martín, Gabriela de la Garza, María Sorté, Carlos Ferro, Romina Poza, Gabriel Soto, and Matías Novoa. Together, they bring to life a captivating tale that will keep viewers on the edge of their seats.
Like previous seasons, VENCER LA CULPA centers its story on four women: Manuela (Gabriela de la Garza), Amanda (María Sorté), Paloma (Claudia Martín), and Yaneli (Romina Poza), whose lives become intertwined when a young woman named Dulce goes missing. When Yaneli suspects that her brother may be involved in Dulce's disappearance, she decides to investigate, and along the way, she meets Manuela, Paloma, and Amanda. Their search leads them to build a strong friendship that helps them to overcome their own guilt and learn a valuable lesson.
Visit televisaunivision.com for more information about TelevisaUnivision and follow us on X and Instagram.
CONTACTS:
Laura Paez lpaez@televisaunivision.com
Mauricio Ginestra mginestra@televisaunivision.com
###
Univision anuncia el estreno de su nueva telenovela primetime VENCER LA CULPA
el 13 de noviembre a las 8p/7c
En la quinta entrega de la franquicia VENCER, cuatro mujeres muy distintas se unen tras un misterioso acontecimiento que podría cambiar sus vidas para siempre
 Haz clíc para descargar material promocional 
Miami, FL. – 8 de noviembre de 2023 – Univision anunció el estreno de la muy esperada telenovela VENCER LA CULPA para el 13 de noviembre, a las 8p/7c. La quinta temporada de la emocionante franquicia, producida por Rosy Ocampo, cuenta un drama envolvente cuya premisa está centrada en dejar atrás los arrepentimientos para encontrar nuevos caminos protagonizado por Claudia Martín, Gabriela de la Garza, María Sorté, Carlos Ferro,Romina Poza, Gabriel Soto, y Matías Novoa.
VENCER LA CULPA se desarrolla en las vivencias de cuatro mujeres, Manuela (Gabriela de la Garza), Amanda (María Sorté), Paloma (Claudia Martin) y Yaneli (Romina Poza), que encuentran sus destinos entrelazados cuando Dulce, una joven que apenas conocen desaparece misteriosamente. Al tener dudas de que su hermano esté involucrado en la desaparición de Dulce, Yaneli decide investigar, encontrándose en el camino con Manuela, Paloma y Amanda. Su búsqueda las llevará a construir una fuerte amistad que las ayudará a superar su propia culpa y en ese camino aprender una invaluable lección.
Visita televisaunivision.com para obtener más información sobre TelevisaUnivision y síguenos en X e Instagram.
CONTACTOS:
Laura Paez lpaez@televisaunivision.com
Mauricio Ginestra mginestra@televisaunivision.com