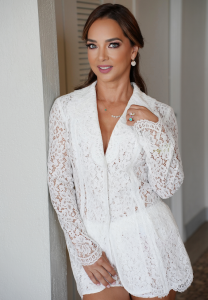 Miami, FL. – October 27, 2023 –TelevisaUnivision, the leading Spanish-language media and content company in the world, announced today that beloved actress and television presenter Adamari López has signed an agreement and will soon begin filming for a new project that will be broadcast in Mexico and the United States.
López, one of the most recognized and versatile figures in Spanish-language television, began her career at Televisa in the 1990s, starring in telenovelas such as SIN TI (1997), CAMILA (1998), AMIGAS Y RIVALES (2001) and GATA SALVAJE (2002). In 2008, she played an obsessive and ambitious woman in the telenovela ALMA DE HIERRO. In addition to her outstanding acting career, Adamari López has extensive experience as a host of morning shows, and she has participated in successful reality shows such as MIRA QUIÉN BAILA (2011) on Univision.
"I am very happy to return to the place where I internationalized my acting career. The TelevisaUnivision family has always opened its doors to me with opportunities that have played a decisive role in my professional growth, and I am sure that this will not be the exception," said Adamari López.
"Adamari López shines as a prominent international figure in the world of Spanish-language television, and today, we extend our warmest welcome to her as she returns home. Adamari's remarkable career in entertainment is a testament to her wealth of experience. She is unquestionably a talent known for her genuine warmth and heartfelt connection with our viewers," stated Ignacio Meyer, President of U.S.
Networks at TelevisaUnivision. "We are confident that her presence across all our content platforms will be greatly appreciated by our audiences," added Meyer.
More details about the project will be announced soon.
Visit televisaunivision.com for more information on TelevisaUnivision and follow us on X and Instagram.
CONTACTOS: 
Laura Paez lpaez@televisaunivision.com
Bettina Humphreys bhumphreys@televisaunivision.com
###
Adamari López regresa a su casa TelevisaUnivision e inicia grabaciones de nuevo proyecto
Haz clic para descargar imágenes
Miami, FL. – 27 de octubre de 2023 – TelevisaUnivision, la compañía líder de medios y contenido en español en el mundo anunció hoy que la actriz y presentadora de televisión Adamari López firmó un acuerdo e iniciará próximamente grabaciones para un nuevo proyecto que se transmitirá en México y Estados Unidos.
López, una de las figuras más reconocidas y versátiles de la televisión hispana, comenzó su carrera en Televisa en la década de 1990, protagonizando telenovelas como SIN TI (1997), CAMILA (1998), AMIGAS Y RIVALES (2001) y GATA SALVAJE (2002). En 2008, interpretó a una mujer obsesiva y ambiciosa en la telenovela ALMA DE HIERRO. Además de su destacada trayectoria como actriz, Adamari López tiene amplia experiencia como conductora de programas matutinos, y ha participado en realities exitosos como MIRA QUIÉN BAILA (2011) de Univision.
"Estoy muy contenta de regresar al lugar donde internacionalicé mi carrera como actriz. La familia de TelevisaUnivisión siempre me ha abierto las puertas con oportunidades que han jugado un rol determinante en mi crecimiento profesional, y estoy segura de que esta no será la excepción," dijo Adamari López.
"Adamari López es una estrella internacional de la televisión hispana a la que hoy le damos la bienvenida a esta que es su casa. Adamari ha demostrado su amplia experiencia en el entretenimiento, y es sin duda un talento que se caracteriza por su calidez y conexión entrañable con nuestras audiencias, quienes estamos seguros disfrutarán de su presencia en todas nuestras plataformas de contenido," agregó Ignacio Meyer, presidente de U.S. Networks, TelevisaUnivision.
Más detalles del proyecto se anunciarán próximamente.
Visite televisaunivision.com para obtener más información sobre TelevisaUnivision y síganos en X e Instagram.
CONTACTOS: 
Laura Paez lpaez@televisaunivision.com
Bettina Humphreys bhumphreys@televisaunivision.com