The New Production Began Shooting in Mexico City
Produced by Academy Award Winners Larraín Brothers from Fábula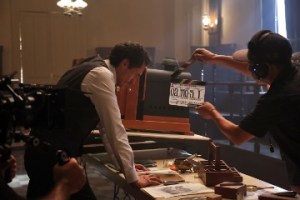 Demián Bichir during a scene of EL DENTISTA, filming in Mexico City
MIAMI – OCTOBER 26, 2023 – ViX, the leading Spanish-language streaming service in the world, announced its new original series EL DENTISTA (working title) in partnership with Movistar Plus+. The thriller series, based on a Julio Rojas' novel "The Foreign Visitor," has kicked off production in Mexico City and stars Academy Award nominee Demián Bichir ("The Hateful Eight," "A Better Life," "The Nun"), Camila Sodi ("Cualquier Parecido," "Enfermo amor" [Sick Love], "Luis Miguel: la serie") and Alberto Amman ("Narcos," "Upon Entry," "Presencias"). EL DENTISTA is produced by Fábula, owned by Academy Award winners Pablo and Juan de Dios Larraín.
"It is an immense joy for me to be part of this formidable group of actors and production team led by ViX and Fabula. Julio Rojas' story is such a powerful material that we are all enjoying enormously," said actor and executive producer Demián Bichir, adding "We hope people will love it too when they watch it."
"'El Dentista' is a series that brings together a true dream team of talent both in front and behind the camera. Our first project with Fabula, in a great partnership with the Larrain brothers, is an intelligent and passionate thriller created and written by the renowned screenwriters Julio Rojas and Israel Adrian Caetano and starring the Academy Award nominee Demián Bichir. The gripping pace of the plot and the elegance of the staging make this series a show that will not leave ViX viewers indifferent," said Rodrigo Mazón, Chief Content Officer ViX for TelevisaUnivision.
"Working alongside such brilliant teams as ViX and Fábula on a suspenseful thriller is an honor for us. We are sure that this series is going to delight us with the huge international run it has ahead of it," said María Valenzuela, GM Movistar Plus+ International.
EL DENTISTA tells the story of Nolasco Black, a forensic dentist, who investigates the brutal murder of a prostitute. As he delves deeper into the case, memories of his own tragic loss resurface, fueling his determination to catch the killer. He soon discovers that the infamous Jack the Ripper has made his way to America and is continuing his reign of terror. With the help of the secretive Flammarion society, Nolasco sets out to stop Jack before he can strike again. Along the way, he finds an unexpected ally in Sofia, a brilliant chemist and member of the Flammarion society. As they work together to solve the case, Nolasco falls for Sofia. When Jack learns that Nolasco and his gang are on his trail, a game of death begins with devastating consequences.
"It is wonderful to bring the Latin American imaginary to the world, based on a period thriller which faces our Dentist against the greatest serial killer in history: Jack the Ripper. Veracruz's historic harbor will be where this journey will be shot until the end of the year. We are delighted with the challenge and grateful to Vix for the opportunity," said Juan de Dios Larraín, CEO of Fábula.
The cast also includes Dagoberto Gama, Ianis Guerrero, Roberto Sosa, Claudia Ramírez, Carlos Aragón, Lisa Owen and Natasha Dupeyrón. The series is executive produced by Demián Bichir, Ángela Poblete and Mariano Carranco and directed by Hari Sama along with Israel Adrián Caetano also serving as executive producer and writer.
The international sales of the series will be handled by Movistar Plus+ Internacional.
ViX offers more than 75,000 hours of on-demand content and more than 100 streaming channels, all in Spanish. The app offers two levels of access, one free with ads and a premium one with a subscription, in the U.S., Mexico and most Spanish-speaking countries in Latin America, on all major mobile platforms, connected TV devices and online at vix.com.
Click here to download images.
Join the conversation using the hashtag #ViX and follow ViX on Instagram, X, Facebook and TikTok.
Visit televisaunivision.com for more information about TelevisaUnivision and follow us on X and Instagram.
CONTACTS:
United States and Latin America
Tatiana Oviedo toviedo@televisaunivision.com
Mexico
Sandra Oropeza soropezagonzalez@televisaunivision.com
###
ViX anuncia su nueva serie de suspenso EL DENTISTA (título provisional), una coproducción con Movistar Plus+, protagonizada por Demián Bichir
La nueva producción empezó grabaciones en Ciudad de México 
 La producen los hermanos Larraín, ganadores del Óscar, de Fábula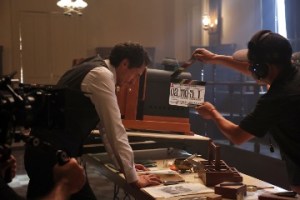 Demián Bichir durante una escena de EL DENTISTA, que se graba en Ciudad de México
MIAMI – 26 DE OCTUBRE, 2023 – ViX, el servicio de streaming en español líder en el mundo, anunció su nueva serie original EL DENTISTA (título provisional) en colaboración con Movistar Plus+. La serie de suspenso, que se basa en la novela "El visitante extranjero" de Julio Rojas, empezó grabaciones en Ciudad de México y sus protagonistas son Demián Bichir, nominado al Óscar, ("The Hateful Eight", "A Better Life", "The Nun"), Camila Sodi ("Cualquier parecido", "Enfermo amor", "Luis Miguel: la serie") y Alberto Amman ("Narcos", "Upon Entry" y "Presencias"). EL DENTISTA es una producción de Fábula, propiedad de Pablo y Juan de Dios Larraín, ganadores del Óscar.
"Es una alegría enorme para mí ser parte de este formidable grupo de actores y equipo de producción. La historia de Julio Rojas es un material tan impactante que todos la disfrutamos enormemente", dijo Demián Bichir, actor y productor ejecutivo, quien agregó: "Esperamos que a la gente también le encante cuando la vea".
"'El dentista' es una serie que congrega a un equipo realmente soñado frente y detrás de las cámaras. Nuestro primero proyecto con Fábula, en una excelente colaboración con los hermanos Larraín, es una inteligente y apasionada obra de suspenso creada y escrita por los renombrados guionista Julio Rojas e Israel Adrian Caetano y protagonizada por el nominado al Óscar Demián Bichir. El ritmo audaz de la trama y la elegancia de la escenificación hacen de esta serie un programa al que los usuarios de ViX no serán indiferentes", dijo Rodrigo Mazón, director ejecutivo de Contenido de ViX de TelevisaUnivision.
"Trabajar junto a equipos tan brillantes como los de ViX y Fábula en un thriller lleno de suspense, es un honor para nosotros. Estamos seguros de que esta serie nos va a hacer disfrutar con el enorme recorrido internacional que tiene por delante", dijo María Valenzuela, GM Movistar Plus+ International.
EL DENTISTA cuenta la historia de Nolasco Black, dentista forense, que investiga el cruel asesinato de una prostituta. Cuando ahonda en el caso, recuerda una pérdida trágica que tuvo, lo que aumenta su determinación de atrapar al asesino. Pronto descubre que el infame Jack el destripador ha llegado a América y continúa su reino de terror. Con la ayuda de una asociación secreta, Flammarion, Nolasco se propone detener a Jack antes de que vuelva a atacar a alguien. Mientras tanto, encuentra una aliada inesperada en Sofía, química brillante y miembro de Flammarion. Nolasco se enamora de Sofía mientras colaboran para resolver el caso. Cuando Jack se entera de que Nolasco y sus asociados le siguen la pista, empieza un juego mortífero con consecuencias devastadoras.
"Estamos felices de llevar el imaginario latinoamericano al mundo entero, a partir de un thriller de época, que enfrenta a El Dentista contra el mayor asesino en serie de la historia: Jack el Destripador. El histórico puerto de Veracruz será el escenario donde viaje y donde se filmará hasta fines de año. Estamos encantados con el desafío, y muy agradecidos de ViX por la oportunidad", dijo Juan de Dios Larraín, CEO de Fábula.
El elenco también incluye a Dagoberto Gama, Ianis Guerrero, Roberto Sosa, Claudia Ramírez, Carlos Aragón, Lisa Owen y Natasha Dupeyrón. Los productores ejecutivos de la serie son Demián Bichir, Ángela Poblete y Mariano Carranco, y los directores son Hari Samaa e Israel Adrián Caetano, quien se desempeña como productor ejecutivo y guionista.
Las ventas internacionales de la serie estarán a cargo de Movistar Plus+ International.
ViX ofrece más de 75,000 horas de contenido on demand y más de 100 canales de streaming, todos en español. La aplicación ofrece dos niveles de acceso, uno gratuito con anuncios y otro premium con suscripción, en Estados Unidos, México y la mayoría de los países hispanohablantes de Latinoamérica, en todas las principales plataformas móviles, dispositivos de televisor conectado y en internet en vix.com.
Haz clic aquí para descargar imágenes.
Participa la conversación usando el hashtag #ViX y sigue a ViX en Instagram, X, Facebook y TikTok.
Visita televisaunivision.com para más información sobre TelevisaUnivision y síguenos en X e Instagram.
CONTACTOS:
Estados Unidos y Latinoamérica
Tatiana Oviedo, toviedo@televisaunivision.com
México
Sandra Oropeza, soropezagonzalez@televisaunivision.com
###