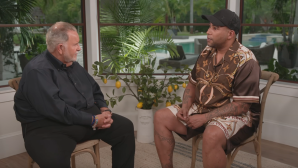 Click here for promotional assets
Miami, FL. – October 17, 2023 – After years away from the spotlight, the "King of Kings" Don Omar sat down for a heart-to-heart interview with EL GORDO Y LA FLACA's Raúl de Molina. The exclusive interview, which will air this Wednesday, October 18 at 4p.m. ET/PT on Univision, features the legendary urban figure sharing his biggest career regrets, the importance of his relationship with his father, and a surprising revelation about what he has been up to during his time away from music. Join the conversation on social media by following the hashtag #ElGordoYLaFlaca on Facebook,Instagram, and X. For more information visit Univision.com/ElGordoYLaFlaca.
To learn more about TelevisaUnivision, visit televisaunivision.com and follow us on X and Instagram.
CONTACT: 
Laura Paez lpaez@televisaunivision.com
Bettina Humphreys bhumpreys@televisaunivision.com
###
La leyenda del reggaetón Don Omar abre su corazón con Raúl de Molina en una entrevista exclusiva en  EL GORDO Y LA FLACA de Univision este miércoles 18 de octubre a las 4 p.m. ET/PT
Haz clic aquí para descargar material promocional
Miami, FL. – 17 de octubre 2023 – Después de algún tiempo alejado de la atención pública, el "King of Kings" Don Omar se sentó para una entrevista sincera con Raúl de Molina de EL GORDO Y LA FLACA. La entrevista exclusiva, que se trasmitirá este miércoles 18 de octubre a las 4 p.m. ET/PT por Univision, presenta al iconico cantante urbano hablando de sus mayores arrepentimientos en su carrera, la importancia de su relación con su padre y una revelación sorprendente sobre lo que ha estado haciendo durante su tiempo alejado de la música.
Únete a la conversación en las redes sociales siguiendo #ElGordoYLaFlaca en Facebook, Instagram y X. Para obtener más información, visite Univision.com/ElGordoYLaFlaca.
Visita televisaunivision.com para obtener más información sobre TelevisaUnivision y síguenos en X e Instagram.
CONTACTOS: 
Laura Paez lpaez@televisaunivision.com
Bettina Humphreys bhumpreys@televisaunivision.com