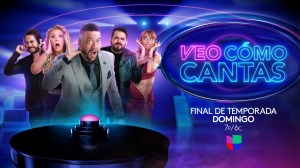 Up to $25,000 is at stake. Can the contestants tell the difference between the talent and deception of the celebrity singers? 
Click here for promotional material 
Miami, FL. – September 22, 2023 – Univision's VEO CÓMO CANTAS is coming to its highly anticipated season finale this Sunday, September 24 at 7p/6c. The hilarious guessing show that kept "Domingos en Familia" entertaining with music and fun for weeks, will have a star-studded finale, not only with guest advisors, but also with celebrity "singers" who will try to deceive the contestants.  
Hosted by actor and comedian Faisy, VEO CÓMO CANTAS will once again feature actress and model Marjorie de Sousa on its panel of advisors. Joining her will be actor José Eduardo Derbez, actress Erika Buenfíl, singer Beto Cuevas, and musical sensation Lasso, who makes his first appearance on the prestigious show.  
The biggest surprise of the final episode of VEO CÓMO CANTAS is that the group of "singers" who are tasked with deceiving the contestants with their vocal abilities is composed of celebrities. The lineup includes: sports commentator Memo Schutz, journalist Alberto Peláez, former Mexican footballer Chispa Velarde, Chef Oropeza, comedian Germán Ortega, sports journalist Ana Caty, actor Emmanuel Palomares, actress Oka Giner, and actor Jorge Losa. 
It will be interesting to see which of these celebrities will deceive the contestants, and who will surprise everyone with their singing on the final night of VEO CÓMO CANTAS. 
Join the conversation on social media by following the hashtag #VeoComoCantas on Instagram and X.  
Visit televisaunivision.com for more information and follow us on  X and Instagram.      
CONTACTS:      
Mauricio Ginestra mginestra@televisaunivision.com   
Laura Páez lpaez@televisaunivision.com  
###
El gran final de temporada de VEO CÓMO CANTAS llega con Lasso y Marjorie De Sousa como asesores invitados y un grupo de celebridades el próximo domingo, 24 de septiembre a las 7p/6c 
Hasta 25,000 mil dólares estarán en juego. ¿Podrán los concursantes distinguir entre el talento y el engaño de los famosos?   
Haz clic aquí para descargar material promocional    
Miami, FL. – 22 de septiembre de 2023 – VEO CÓMO CANTAS de Univision llega a su esperado episodio final este domingo 24 de septiembre a las 7p/6c. El hilarante guessing show que mantuvo "Domingos en Familia" con mucha música y diversión durante semanas, tendrá una noche final cargada de estrellas no sólo como asesores invitados, sino también como los "cantantes" que tendrán la misión de engañar a los concursantes.  
Presentado por el actor y comediante Faisy, VEO CÓMO CANTAS contará nuevamente con la actriz y modelo Marjorie de Sousa en el panel de asesores, junto al actor José Eduardo Derbez, la actriz Erika Buenfíl, el cantante Beto Cuevas y la sensación musical Lasso, por primera vez acompañando al prestigioso grupo.  
La mayor sorpresa de la noche final de VEO CÓMO CANTAS, es que el grupo de "cantantes" encargados de engañar a los concursantes con sus cualidades vocales está compuesto por famosos, ellos son: El comentarista deportivo Memo Schutz, el periodista Alberto Peláez, el exfutbolista mexicano Chispa Velarde, el Chef Oropeza, el comediante Germán Ortega, la periodista deportiva Ana Caty, el actor Emmanuel Palomares, la actriz Oka Giner, y Jorge Losa, también actor.  
Queda esperar atentos quién de estas celebridades tendrá lo que se requiere para engañar a los concursantes, y quién sorprenderá con una voz melodiosa en la noche final de VEO CÓMO CANTAS.  
Únete a la conversación en las redes sociales siguiendo el hashtag #VeoComoCantas en Instagram y X.    
Visita televisaunivision.com para obtener más información sobre TelevisaUnivision y síguenos en X e Instagram.     
CONTACTOS:      
Mauricio Ginestra mginestra@televisaunivision.com   
Laura Páez lpaez@televisaunivision.com