Paulina Dávila, Alicia Jaziz and Christopher von Uckermann Star in the New Original Production
Trailer available here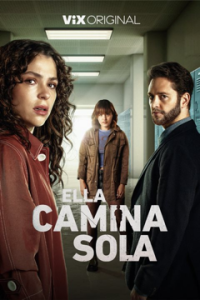 MIAMI –SEPTEMBER 18, 2023– ViX, the world's leading Spanish-language streaming service, announced today that its new original limited series ELLA CAMINA SOLA (She Walks Alone) premieres exclusively on September 29 on the service's Premium plan. The full 10-episode series of this story, which puts a twist on the classic "whodunit" genre to turn it into a "who's lying?" will be available from day one and the first episode will be available on ViX's free plan.
The original production stars Paulina Dávila ("Luis Miguel, La serie," "La hora cero" [The Zero Hour], "El comandante" [Hugo Chávez: The Commander]) Alicia Jaziz ("Ingobernable" [Ungovernable], "Caer en tentación" [Fall into Temptation]) and Christopher von Uckermann ("Diablero" [Demon Hunter]). The series is directed by Adriana Pelusi ("Control Z," "Rosario Tijeras" [Rosary Scissors], "El hubiera sí existe" [The Would Have Does Exist]), Inés Barrionuevo, Analeine Cal y Mayor and Cris Gris.
ELLA CAMINA SOLA explores the story of Carla, a young high school teacher who is tasked with investigating allegations of sexual harassment against a colleague and friend, Ricardo. The allegations come as a shock to the school and her community, as Ricardo is a beloved teacher. Instinctively, Carla does not want to believe them, particularly since they were made by Daniela, a complicated and troubled student at the school. As she unravels the case and with the twists and turns of the plot, Carla flashes back to her adolescence. As she seeks justice in the present, Carla tries to heal the past.
ViX offers more than 75,000 hours of on-demand content and more than 100 streaming channels, all in Spanish. The app offers two levels of access, a free ad-supported tier and a premium one with a subscription, in the U.S., Mexico and most Spanish-speaking countries in Latin America, on all major mobile platforms, connected TV devices and online at vix.com.
Click here to download the official poster of ELLA CAMINA SOLA.
Join the conversation using the hashtags #ViX and #EllaCaminaSolaViX and follow ViX on Instagram, Facebook, X and TikTok.
Visit televisaunivision.com for more information about TelevisaUnivision and follow us on  X and Instagram.
CONTACTS:
United States and Latin America
Tatiana Oviedo, toviedo@televisaunivision.com
Mexico
Sandra Oropeza, soropezagonzalez@televisaunivision.com
###
ELLA CAMINA SOLA, la nueva serie de suspenso de ViX, estrena el 29 de septiembre
Paulina Dávila, Alicia Jaziz y Christopher von Uckermann son protagonistas de la nueva producción original
Tráiler disponible aquí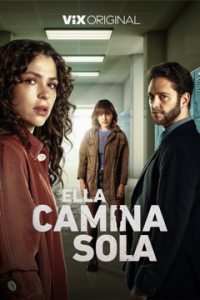 MIAMI –18 DE SEPTIEMBRE DE 2023– ViX, el servicio de streaming en español líder en el mundo, anunció hoy que su nueva serie original limitada ELLA CAMINA SOLA se estrena en exclusiva el 29 de septiembre en el plan Premium del servicio. La serie completa de 10 episodios de esta historia que pone un giro en el clásico género de "whodunit" o el arte de encontrar al culpable, para convertirlo en un "who's lying?" o ¿quién está mintiendo? estará disponible desde el primer día, y el primer episodio se podrá ver en el plan gratuito de ViX.
La producción original es protagonizada por Paulina Dávila ("Luis Miguel", La serie", "La hora cero"," El comandante") Alicia Jaziz ("Ingobernable", "Caer en tentación") y Christopher von Uckermann ("Diablero"). Dirigen la serie escrita por Adriana Pelusi ("Control Z", "Rosario Tijeras", "El hubiera sí existe"), Inés Barrionuevo, Analeine Cal y Mayor y Cris Gris.
ELLA CAMINA SOLA explora la historia de Carla, una joven maestra de secundaria a quien se le encarga investigar acusaciones de acoso sexual contra un colega y amigo, Ricardo. Las acusaciones sorprenden mucho a la escuela y su comunidad, pues Ricardo es un maestro muy querido. Por instinto, Carla no quiere creer las acusaciones porque las hizo Daniela, una alumna complicada y problemática en la escuela. A medida que desenmaraña el caso y con los giros de la trama, Carla vuelve a recordar su adolescencia. Mientras busca la justicia en el presente, Carla trata de sanar lo del pasado.
ViX ofrece más de 75,000 horas de contenido on demand y más de 100 canales de streaming, todos en español. La aplicación ofrece dos niveles de acceso, uno gratuito con anuncios y otro premium con suscripción, en Estados Unidos, México y la mayoría de los países hispanohablantes de Latinoamérica, en todas las principales plataformas móviles, dispositivos de televisor conectado y en internet en vix.com.
Haz clic aquí para descargar el póster oficial de ELLA CAMINA SOLA.
Participa en la conversación usando los hashtags #ViX y #EllaCaminaSolaViX, y sigue a ViX en Instagram, Facebook, X y TikTok.
Visita televisaunivision.com para más información sobre TelevisaUnivision y síguenos en X e Instagram.
CONTACTOS:
Estados Unidos y América Latina
Tatiana Oviedo, toviedo@televisaunivision.com
México
Sandra Oropeza, soropezagonzalez@televisaunivision.com
###