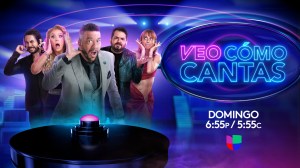 $25,000 is up for grabs for the character who can fool the contestants and advisors with their "supposed talent" 
Click here to download promotional material 
Miami, FL. – September 15, 2023 – Univision's VEO CÓMO CANTAS returns with a new episode this Sunday, September 17 at 6:55p/5:55c. The "Domingos en Familia" guessing show, hosted by actor and comedian Faisy, will feature guest advisors, singer-songwriter Edith Márquez and Venezuelan actress and model Marjorie De Sousa. De Sousa will join advisors Erika Buenfil, José Eduardo Derbez, and Beto Cuevas on the podium, while the ultra-talented Márquez will participate in the duet with the "supposed" singer who reaches the final round. 
Join the conversation on social media by following the hashtag #VeoComoCantas on Instagram and X.  
Visit televisaunivision.com for more information and follow us on  X and Instagram.    
CONTACTS:     
Mauricio Ginestra mginestra@televisaunivision.com  
Laura Páez lpaez@televisaunivision.com 
###
VEO CÓMO CANTAS entra en su etapa final con nuevo horario a las 6:55p/5:55c y Marjorie De Sousa y Edith Márquez se unen como asesoras el 17 de septiembre  
$25,000 estará en juego para el personaje que pueda engañar a los asesores y concursantes con su "supuesto talento" 
Haz clic aquí para descargar material promocional 
Miami, FL. – 15 de septiembre de 2023 – VEO CÓMO CANTAS de Univision regresa con un nuevo episodio este domingo 17 de septiembre a las 6:55p/5:55c. El divertido guessing show de "Domingos en Familia", presentado por el actor y comediante Faisy, contará con la cantautora Edith Márquez y la actriz y modelo Venezolana Marjorie De Sousa como asesoras especiales. De Sousa se unirá a los asesores Erika Buenfil, José Eduardo Derbez y Beto Cuevas en el podio, mientras que la ultra-talentosa Márquez participará en el dueto con el "supuesto" cantante que llegue a la ronda final. 
Únete a la conversación en las redes sociales siguiendo el hashtag #VeoComoCantas en Instagram y X.  
Visita televisaunivision.com para obtener más información sobre TelevisaUnivision y síguenos en X e Instagram.     
CONTACTOS:     
Mauricio Ginestra mginestra@televisaunivision.com  
Laura Páez lpaez@televisaunivision.com