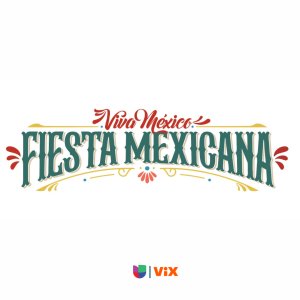 VIVA MÉXICO, FIESTA MEXICANA Will Also Be Available on ViX through N+ on The Same Day
Click here to download promotional assets 
Miami, FL. – September 12, 2023 – Univision will kick off Hispanic Heritage Month by joining the traditional "Grito de la Independencia" with the two-hour special VIVA MÉXICO, FIESTA MEXICANA, airing on September 15 at 11:50pm ET/PT/CT. The celebration will be hosted by DESPIERTA AMÉRICA host Alan Tacher and PRIMER IMPACTO host Michelle Galván, who will bring all the details of this event that exalts the purest essence of the Mexican people to the U.S. audience.
The event, which celebrates the 213th anniversary of Mexico's Independence, will air live from Mexico City's Zócalo and will mark the penultimate shout by Mexican President Andrés Manuel López Obrador. On the other hand, the evening will feature performances of the most important names in Mexican regional music, including Banda El Recodo, Recoditos, Calibre 50, Chiquis, Maribel Guardia, Mariana Seoane, among many others, who promise to get the audience moving to the rhythms that are characteristic of this celebration.
There will also be special appearances by the comedian and host of VEO CÓMO CANTAS Faisy, the actresses of the primetime telenovela MINAS DE PASIÓN Livia Brito and Cynthia Klitbo, and other stars who will join the people to exalt everything that makes Mexico unique.
To learn more about TelevisaUnivision, visit televisaunivision.com and follow us on X and Instagram.
CONTACTS:
Mauricio Ginestra mginestra@televisaunivision.com
Laura Paez lpaez@televisaunivision.com
###
Univision celebrará el 213 aniversario
del Grito de Independencia con VIVA MÉXICO, FIESTA MEXICANA,
un especial de dos horas presentado por Alan Tacher y Michelle Galván en vivo desde El Zócalo de la Ciudad de México el 15 de septiembre
VIVA MÉXICO, FIESTA MEXICANA también estará disponible por ViX a través de N+ el mismo día
Haz clíc para descargar material promocional
Miami, FL. – 12 de septiembre de 2023 – Univision iniciará el Mes de la Herencia Hispana uniéndose al mítico "Grito de la Independencia" con el especial de dos horas VIVA MÉXICO, FIESTA MEXICANA, que se transmitirá el próximo 15 de septiembre a las 11:50pm Este/Pacífico/Centro. La celebración será conducida por el presentador de DESPIERTA AMÉRICA, Alan Tacher, junto a la presentadora de PRIMER IMPACTO, Michelle Galván, quienes, desde el lugar de los hechos, le traerán la audiencia de Estados Unidos todos los detalles de este evento que exalta la esencia más pura del pueblo mexicano.
El encuentro que celebra el 213 aniversario de la independencia mexicana será en vivo desde El Zócalo y marcará el penúltimo grito que dará el presidente de México, Andrés Manuel López Obrador. Por otra parte, la nota musical de esta velada estará a cargo de los nombres más importantes del regional mexicano, entre ellos están: Banda El Recodo, Recoditos, Calibre 50, Chiquis, Maribel Guardia, Mariana Seoane, entre muchos otros que prometen poner a los presentes a bailar con ritmos característicos de esta fiesta.
También habrá apariciones especiales del divertido comediante y presentador de VEO CÓMO CANTAS, Faisy, las actrices de la telenovela estelar MINAS DE PASIÓN, Livia Brito y Cynthia Klitbo,  y otras estrellas que se sumarán para, junto al pueblo, enaltecer todo lo que hace único a México.
Visita televisaunivision.com para obtener más información sobre TelevisaUnivision y síguenos en X e Instagram.
CONTACTOS: 
Mauricio Ginestra mginestra@televisaunivision.com
Laura Paez lpaez@televisaunivision.com