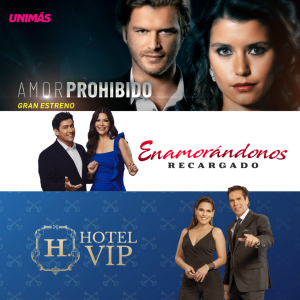 ENAMORÁNDONOS: RECARGADO Will Return to its Original Schedule at 8p/7c Followed by HOTEL VIP at 10p/9c 
Click here for promotional material 
Miami, FL. – September 6, 2023 – UNIMÁS announced today that starting September 11th, its primetime block will have changes in schedule to welcome the successful Turkish telenovela AMOR PROHIBIDO. The drama series will air at 7p/6c, followed by ENAMORÁNDONOS: RECARGADO and HOTEL VIP now at 10p/9c. 
The international sensation AMOR PROHIBIDO tells the passionate story of a wealthy family living in one of the best neighborhoods in Istanbul. The son of the family, Behlül, becomes a womanizer who has everything in life, except the love of the intriguing Bihter. Then, when Behlül succeeds in conquering Bihter, they build a true "forbidden love" that unearths family secrets and unleashes a series of events that will change their lives forever. 
UNIMÁS's flagship program, ENAMORÁNDONOS: RECARGADO returns to its original schedule at 8p/7c. This new recharged version features renewed dynamics, new "amorosos," and the same relentless search for true love. To conclude the night, UNIMÁS will air new episodes of its latest reality Hotel VIP at 10p/9c. Audiences will be in for a treat, two hours full of challenges, emotions, and, above all, more drama than ever!  
Viewers can join the conversation on social media with the hashtag #AmorProhibido on Instagram and X. For more information visit univision.com/unimas. 
Visit televisaunivision.com for more information about TelevisaUnivision and follow us on X and Instagram.  
CONTACTS: 
Mauricio Ginestra mginestra@televisaunivision.com 
Laura Paez lpaez@televisaunivision.com 
###
UNIMÁS anuncia el estreno del drama turco AMOR PROHIBIDO y cambios al horario de su programación primetime el 11 de septiembre 
ENAMORÁNDONOS: RECARGADO regresa a su horario original de las 8p/7c seguido por HOTEL VIP a las 10p/9c 
Haz clic aquí para descargar material promocional 
Miami, FL. – 6 de septiembre de 2023 – UNIMÁS anunció hoy que, a partir del próximo 11 de septiembre, su bloque estelar tendrá cambios de horario para dar la bienvenida al exitoso drama turco AMOR PROHIBIDO. La telenovela se emitirá a las 7p/6c, seguida por ENAMORÁNDONOS: RECARGADO a las 8p/7c y HOTEL VIP a las 10p/9c. 
El éxito internacional AMOR PROHIBIDO cuenta la apasionante historia de una familia adinerada que vive en uno de los mejores vecindarios de Estambul. El hijo de la familia, Behlül, se convierte en un mujeriego que tiene todo en la vida, excepto el amor de la intrigante Bihter. Luego, cuando Behlül logra conquistar a Bihter, construyen un verdadero "amor prohibido" que desempolva secretos familiares y desata una serie de eventos que cambiarán sus vidas para siempre. 
Por su parte, el programa insignia de UNIMÁS, ENAMORÁNDONOS: RECARGADO, regresa al horario de sus inicios a las 8p/7c. Esta nueva versión "recargada" cuenta con dinámicas renovadas, un nuevo palco y la misma búsqueda incesante del amor verdadero. Y para finalizar, las noches de UNIMÁS cerrarán con broche de oro a las 10p/9c con nuevos episodios del reality HOTEL VIP, dos horas repletas de retos, emociones y, sobre todo, ¡más drama que nunca! 
La audiencia puede unirse a la conversación usando el hashtag #AmorProhibido en las redes sociales. Para más información visita univision.com/unimas y síguenos en X e Instagram.     
Visita televisaunivision.com para obtener más información sobre TelevisaUnivision y síguenos en X e Instagram.   
CONTACTOS: 
Mauricio Ginestra mginestra@televisaunivision.com 
Laura Paez lpaez@televisaunivision.com