ViX Unveils Trailer and Key Art for its new Original Series Revolves Around the Mummies of Guanajuato
MIAMI– AUGUST 17, 2023 – ViX, the leading Spanish-language streaming service in the world, announced today that PINCHES MOMIAS, its new action-horror-comedy series, will premiere on September 1, with all its eight episodes available on launch day. Users will have a chance to view the first episode for free the day of the premiere and will be able to watch the full series available on the service's premium plan.
PINCHES MOMIAS is rooted in Mexican history and folklore with a story based on the Mummies of Guanajuato, one of the most fascinating collections of mummies in the world. The series follows a group of teenagers from Guanajuato who become their town's only hope to survive, when its renowned mummies come back from the dead during the Cervantine Festival, busiest week of the year.
Created by Santiago Limón and Jose Miguel Núñez, with Limón serving as Director and Showrunner, this scripted series promises to captivate audiences with its heart-pounding action, spine-chilling encounters, and humor as the young-adult heroes navigate the mysteries surrounding the Mummies of Guanajuato.
The original production features esteemed Mexican actors Rafael Inclán, Luis Fernando Peña, Carlos Aragón and Diana Bovio alongside a talented young cast including Xiunel Gonzalez, Daniel Abrego, Rogelio Cruz, Saak Figueroa Bórquez, Berenice Jonguitud, and Laura Wedel.
Executive produced by industry veterans Ben Silverman ("The Office," "Jane the Virgin," "Ugly Betty"), Howard T. Owens, Rodney Ferrell, and Isabel San Vargas, PINCHES MOMIAS showcases the exceptional talent of both renowned Mexican actors and rising stars.  Propagate Fuego and Perro Azul are producing the project.
ViX service offers more than 75,000 hours of on-demand content, and over 100 streaming channels all in Spanish. The app is available with two access tiers, one free with ads and one premium plan with a subscription, in the U.S., Mexico, and most of Spanish-speaking Latin America, across all major mobile platforms, connected TV devices and via web on vix.com.
Click HERE to download images and trailer of PINCHES MOMIAS.
Join the conversation using the hashtags #PinchesMomiasViX and #ViX and follow ViX on Instagram, Twitter, Facebookand TikTok.
Visit televisaunivision.com for more information on TelevisaUnivision and follow us on Twitter and Instagram.
CONTACTS:
United States and Latin America
Casandra Blanco, cmblanco@televisaunivision.com
Mexico
Sandra Oropeza, soropezagonzalez@televisaunivision.com
###
PINCHES MOMIAS, la muy esperada serie de acción, terror y comedia, se estrenará exclusivamente el 1 de septiembre por ViX
ViX revela el tráiler y el póster de su nueva serie original centrada en las momias de Guanajuato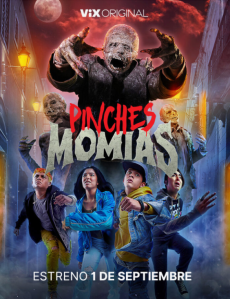 MIAMI – 17 DE AGOSTO DE 2023 – ViX, el principal servicio de streaming en español del mundo, anunció hoy que PINCHES MOMIAS, su nueva serie de acción, terror y comedia, se estrenará el 1 de septiembre, y los ocho episodios estarán disponibles el día del lanzamiento. Los usuarios tendrán la oportunidad de ver el primer episodio gratis el día del estreno y podrán ver toda la serie en el plan premium del servicio.
PINCHES MOMIAS, con raíces en la historia y el folclor mexicano, se basa en las momias de Guanajuato, una de las más fascinantes colecciones del mundo. La serie sigue a un grupo de adolescentes de Guanajuato, que representan la única esperanza de que su pueblo sobreviva cuando las renombradas momias resuciten durante el Festival Cervantino, la semana más ajetreada del año.
Creada por Santiago Limón y José Miguel Núñez, con Limón como director y showrunner, esta serie con guion promete cautivar a la audiencia con su emocionante acción, espeluznantes encuentros y sentido del humor cuando los jóvenes adultos enfrenten los misterios en torno a las momias de Guanajuato.
La producción original presenta a los conocidos actores mexicanos Rafael Inclán, Luis Fernando Peña, Carlos Aragón y Diana Bovio de lado de un talentoso elenco joven que incluye a Xiunel González, Daniel Abrego, Rogelio Cruz, Saak Figueroa Bórquez, Berenice Jonguitud y Laura Wedel.
Con los veteranos de la industria Ben Silverman ("The Office", "Jane the Virgin", "Ugly Betty"), Howard T. Owens, Rodney Ferrell e Isabel San Vargas como productores ejecutivos, PINCHES MOMIAS despliega el excepcional talento tanto de renombrados actores mexicanos como de nuevas estrellas. Propagate Fuego y Perro Azul producen el proyecto.
ViX ofrece más de 75,000 horas de contenido on demand y más de 100 canales de streaming, todos en español. La aplicación ofrece dos niveles de acceso, uno gratuito con anuncios y otro premium con suscripción, en Estados Unidos, México y la mayoría de los países hispanohablantes de Latinoamérica, en todas las principales plataformas móviles, dispositivos de televisor conectado y en internet en vix.com.
Haz clic AQUÍ para descargar imágenes y el tráiler de PINCHES MOMIAS.
Participa en la conversación usando los hashtags #PinchesMomiasViX y #ViX y sigue a ViX en Instagram, Twitter, Facebook y TikTok.
Visite televisaunivision.com para más información sobre TelevisaUnivision y síganos en Twitter e Instagram.
CONTACTOS:
Estados Unidos y Latinoamérica
Casandra Blanco, cmblanco@televisaunivision.com
México
Sandra Oropeza, soropezagonzalez@televisaunivision.com
###