Ludwika Paleta and Juanpa Zurita Star in the Original Film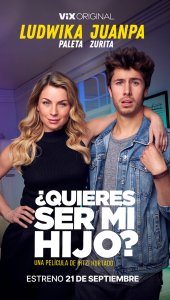 Download Key Art Here
MIAMI – August 16, 2023 – ViX, the world's leading Spanish-language streaming service, announced today that its new original romantic comedy film ¿QUIERES SER MI HIJO? premieres exclusively on September 21 on the service's premium plan.
Starring Ludwika Paleta ("Madre sólo hay dos" [Daughter From Another Mother], "Guerra de likes" [War of Likes]) and Juanpa Zurita ("Luis Miguel: la serie [Luis Miguel: The Series]", "¿Quién es la máscara?" [Masked Singer]), the Marvista Entertainment production is written and directed by Ithzi Hurtado("El guau" [Who's a Good Boy?], "Cecilia").
¿QUIERES SER MI HIJO? tells the story of Lu, a conformist woman in her forties who one day discovers her boyfriend, with whom she had been in a 15-year relationship, cheating on her. Stagnant, heartbroken and without a job, Lu decides to return to her single apartment to start from scratch, only to discover that her new neighbor is Javier, a handsome 23-year-old womanizer who is always partying and won't let her rest. To get the job she has always wanted, Lu decides to lie at her job interview; she says she is a family woman and has a 19-year-old son. As if that weren't enough, in the last test to be hired, Lu must spend a weekend with the company's executives and their families in Valle de Bravo. Desperate, Lu offers Javi a deal: he pretends to be her son and in exchange she allows him to party as much as he wants without calling the police. What neither of them knows is that, on that weekend among so many lies, an unexpected romance will arise between them, which will make them question what they really want in life.
The cast also includes Yururia del Valle ("Donde los pájaros van a morir" [Where Birds Go To Die], "Todo por Lucy" [I Love Lucy]), Harold Azuara("Casando a mi ex" [Marrying my ex], "Navidad en vivo" [The Christmas Games]) and Hernán Mendoza ("La caída" [Dive], "Amores incompletos" [Incomplete Lovers]).
ViX offers more than 75,000 hours of on-demand content and more than 100 streaming channels, all in Spanish. The app offers two levels of access, one free with ads and one premium with a subscription, in the U.S., Mexico and most Spanish-speaking countries in Latin America, on all major mobile platforms, connected TV devices and online at vix.com.
Click here to download the official key art for ¿QUIERES SER MI HIJO?
Join the conversation using the hashtags #QuieresSerMiHijoViX and #ViX and follow ViX on Instagram, Twitter, Facebook and TikTok.
Visit televisaunivision.com for more information about TelevisaUnivision and follow us on Twitter and Instagram.
CONTACTS:
United States and Latin America
Daniela Cuesta, dcuesta@televiaunivision.com
Mexico
Sandra Oropeza, soropezag@televisaunivision.com
###
¿QUIERES SER MI HIJO?, la nueva comedia romántica de ViX estrena el 21 de septiembre
 Ludwika Paleta y Juanpa Zurita son los protagonistas de la producción original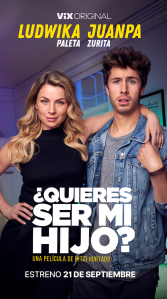 Descarga póster oficial aqui 
MIAMI – 16 de agosto de 2023– ViX, el servicio de streaming en español líder en el mundo, anunció hoy que su nueva película original de comedia romántica ¿QUIERES SER MI HIJO? se estrena en exclusiva el 21 de septiembre en el plan premium del servicio.
Protagonizada por Ludwika Paleta ("Madre sólo hay dos", "Guerra de likes") y Juanpa Zurita ("Luis Miguel: la serie", "¿Quién es la máscara?"), la producción de Marvista Entertainment es escrita y dirigida por Ithzi Hurtado ("El guau", "Cecilia").
¿QUIERES SER MI HIJO? cuenta la historia de Lu, una mujer conformista en sus cuarenta que un día descubre a su novio, con quien llevaba 15 años de relación, siéndole infiel. Estancada, con el corazón roto y sin trabajo, Lu decide regresar a su departamento de soltera para comenzar de cero, únicamente para descubrir que su nuevo vecino es Javier, un galán mujeriego de 23 años que siempre tiene fiesta y no la deja descansar. Para conseguir el trabajo que siempre ha querido, Lu decide mentir en su entrevista de trabajo; ella dice que es una mujer de familia y que tiene un hijo de 19 años. Por si fuera poco, en la última prueba para ser contratada, Lu debe pasar un fin de semana con los directivos de la empresa y sus familias en Valle de Bravo. Desesperada, Lu le ofrece a Javi un trato: él se hace pasar por su hijo y a cambio ella le permite hacer todas las fiestas que quiera sin llamar a la policía. Lo que ninguno sabe es que, en ese fin de semana entre tanta mentira, surgirá un inesperado romance entre ellos, que los hará cuestionarse lo que realmente quieren en la vida.
El elenco también cuenta con la participación de Yururia del Valle ("Donde los pájaros van a morir", "Todo por Lucy"), Harold Azuara ("Casando a mi ex", "Navidad en vivo") y Hernán Mendoza ("La caída", "Amores incompletos").
ViX ofrece más de 75,000 horas de contenido on demand y más de 100 canales de streaming, todos en español. La aplicación ofrece dos niveles de acceso, uno gratuito con anuncios y otro premium con suscripción, en Estados Unidos, México y la mayoría de los países hispanohablantes de Latinoamérica, en todas las principales plataformas móviles, dispositivos de televisor conectado y en internet en vix.com.
Haz clic aquí para descargar el póster oficial de ¿QUIERES SER MI HIJO?
Participa en la conversación usando los hashtags #QuieresSerMiHijoViX y #ViX y sigue a ViX en Instagram, Twitter, Facebook y TikTok.
Visita televisaunivision.com para más información sobre TelevisaUnivision y síguenos en Twitter e Instagram.
CONTACTOS:
Estados Unidos y Latinoamérica
Daniela Cuesta, dcuesta@televisaunivsion.com 
México
Sandra Oropeza, soropezag@televisaunivision.com
###